Lynne's Column for Week of December 6th Lori Bowden
This week, we get up close and personal with Hawaii Ironman World Champion, Lori Bowden. Lori shares with us how it felt to win Hawaii, her preparation leading up to the race, what she eats during an Ironman, her running secrets, her thoughts on her famous body paint Triathlete magazine cover, her advice on Ironman success…and more!
RW: Your progression in the Ironman has been nothing short of phenomenal. If you could attribute it to any one thing, what it be?
Lori: Probably the biggest influence on my performance has come from my relationship with Peter. (Lori's husband, Peter Reid, won the Hawaii Ironman in l998 and placed 2nd in l999.) I've always trained and raced for the fun of it, including the competition, but I was never focused or disciplined enough to be consistent with my training.
My training was really socially-oriented before I met Peter. It didn't matter to me when I took many days off. Also, like most triathletes, I was always working full-time and trying to squeeze in training whenever I could. Living in Toronto, most of my cycling was limited to weekends. Once I moved to Victoria and started training full- time, it all clicked. I was able to cycle year-round because Victoria hardly gets snow, except for maybe one or two weeks in December or January.
RW: Most of us who race the Ironman have a hard time getting a handle on running a good marathon at the end. You, Lori, have got it aced. ( Lori ran 2:59 off the bike in Hawaii) What is the key?
Lori: I think many people training for Ironman put in way too many long, hard running miles. Their bodies never really get to recover. Transition runs are good to practice after your long bike rides and I usually run for 30 or 40 minutes maximum. I always hear of people that do crazy 2 and 3 hour transition runs, which is way too much in my opinion.
I don't do a lot of interval work. Since I do most of my training alone, I find it hard to be focused to go out and make myself hurt like that. Plus, coming from a running background, it's discouraging to go to the track and run times that seem way slower than when I used to just run.
Instead, I make sure I do a lot of hills and hill repeats. No matter how hard or easy you go up a hill, you still get a great benefit from it. Instead of measured intervals, I might run for time, but run across fields, through trails and all over the place, without any mapped out miles or distances. This way, I hardly ever have a negative workout.
Sometimes you think you're running fast, then you look at your watch and you're not, so then you get depressed. I never know how fast or slow I am really running, so each workout is positive if I've given a good perceived effort.
In Ironman racing, I think I ran one of my first Ironman marathons in the 3:30's, without much training. So, it was pretty easy to start reducing my times with a little training. A lot of the other pro's weren't running much faster, so I was satisfied. But then, seeing a couple good runners come along like Heather Fuhr, it was motivating to try and start running faster. I guess I didn't really know how to push myself, and found that by focusing better in the races (not talking to as many people as I ran along!) I could run a lot faster.
RW: Can you take us through this year's Hawaii? How did it feel running down Ali Drive knowing you'd won the big Kahuna?
Lori: Well, the swim start went well...too well! I started way to the left, and Thought: "Wow, I'm hardly getting beat up. What a great start." I think I would have been better off right in the thick of things to get a better swim time. I always seem to get a little scared, and end up doing most of the swim off to the side by myself!
This year, my swimming was going exceptionally well in the pool here at home in Victoria, and I figured I would surprise everyone at how fast I was going to swim in Hawaii. I was so shocked to see the time when I exited the water! Then, I thought that maybe everyone else had swam slow too, but I started hearing splits times of how far back I was, so obviously it was just me. I guess the one benefit of swimming slow in the past is that I am used to coming from behind and not panicking. I think this must be what helps me to bike fast. I sense the urgency of trying to make up time to get back into the race.
At around half way on the bike, I started to really get going. I think the long climb to Hawi always gets my legs going, and then I am ready to fly once I make the turnaround. So, when I'm getting my burst of energy, other people are starting to fade. By the time I came in off the bike, I could see where everyone else was, and suddenly I saw myself in the race again.
I was only a couple minutes down coming off the bike this year. When I started running, I started out steady, and began making up ground really quickly. By the time I got into town by the part known as the "hot corner," I was passing 2nd place, and Karen (Smyers) was just about 200m's ahead.
It was weird to be catching her. She's won before, and she's a fast runner. Plus, she's one of those great athletes who you totally look up to, so it just didn't seem right to be running by her. I caught her just towards the top of the big hill leading out of town, and then didn't look back. I figured she was right behind me, so I didn't want to look and see.
Sometimes in an Ironman it can take 8 or 10 miles before your legs start to feel good. So, I kept thinking that at anytime she would come around and then pick up the pace and fly by me. While I was running towards the energy lab, I was thinking how awesome it would be to say I was LEADING THE IRONMAN! Even if Karen passed me, I would have thought it had been great.
Then, I started thinking, well, it would feel even better to be able to WIN this thing! I managed to stay focused and think positive. I started looking for Peter to come running from the opposite direction, and wanted to be running well so that he would be proud of me when he saw me. Once we crossed paths, he was so happy, and yelling so loud for me, I couldn't even get a word in!
After the turn in the energy lab, you start to see everyone else coming. I never look at my watch so I just see everyone, and they look so close. This is good, because it scares you into keeping up the pace! There's a long gradual uphill to get out of the energy lab. I love this part, because it always makes my legs feel good, and then you turn back onto the highway and it's not much farther back to town.
I never actually let myself think I would definitely win, until I was running back down the hill into town, and there was no one close to me. I was almost crying. But, I didn't want to cry at such a great moment, so I just tried to stay focused again. Once I hit the final stretch on Alii Drive, I knew it. Then I was smiling. I couldn't believe I was going to win the whole race. It was so amazing.
I ran for the finish line and looked around. Suddenly, I saw Peter there waiting for me, and that was the best. Usually they haul him away for interviews and then drug testing so he doesn't get to be there for my finish. I was so happy that he could see me come across! It was just a reaction to totally jump up into his arms and wrap my legs around him. I think I cried a little bit then, but then pulled myself together again.
For a whole year I had lived in Peter's dream of winning the Ironman. If I had never won, that was okay, because I was so happy that Peter had. But now, I could actually see and feel what he felt when he crossed that line, so it was pretty amazing.
RW: What was your preparation like? What did you eat during the race?
(everyone loves to know this!)
Lori: This year, I had about 8 weeks between Ironman Canada and Hawaii. I always think Ironman Canada acts as the best training day you can have leading up to Hawaii. Last year was easy. With only 4 or 5 weeks in between the two, all I had to do was recover, then do a little bit of shorter, faster training.
I actually found this year's lead up more difficult, because of all the time in between the two races. I had to think more about my training, and get in a little more distance, but be careful not to overdo things. Probably the best thing, was being cautious, and not doing too much.
During the race I eat GU all day long. I ate one flask on the bike, which holds about 5 Gu's, and I almost always eat a Snickers chocolate bar as well. If I have a back pocket, then I will put a mixture of my favourite GU flavours so that each one is a surprise between chocolate and banana! On the run, I carried another flask of Gu, and ate whatever Gu I could get at the aid stations as well. This year, I think it definitely helped me in the run, because I tend to finish the races with a half- empty flask still in my hand. This year in Hawaii, I made sure to eat lots.
RW: Can you give us a run-down of your Ironman wins to date?
Lori: 1999 Hawaii Ironman 9:13:02
1999 Ironman Canada 9:14:03 1998 9:18 1997: 9:21
1999 Ironman Australia 9:08
RW: Other than Hawaii, what's been the most rewarding race so far?
Lori: Definitely Ironman Canada has been the most rewarding race other than Hawaii. It was the first Ironman I ever competed in, and now, living in BC, Penticton feels like a home-town race for me. The people of that town are so special. They totally get involved in the race, and treat the athletes so well.
Also, growing up doing Graham Fraser's Tri-Sport series of races, it is such a great feeling to have him there cheering you on in his Ironman race. He's seen me race at all my levels and abilities and it's great to have his support. Their whole family is amazing.
RW: What are your favourite Ironmans on the circuit? Why?
Lori: I would have to say my favourite Ironman is Canada. Mostly for reasons I talked about above. Also, it's the first Ironman I ever won, so that makes it extra special. Once you finally win one of the races, you get a huge confidence boost and that really carries you a long way in your training and racing.
RW: Who are your major sponsors?
Lori: Subaru, GU, JogMate Protein, Oakley, B&L Bikes, Nimble, Carnac, Profile, Giro
RW: How has life changed for you since winning Hawaii?
Lori: It actually hasn't changed a whole lot. Definitely, the media coverage in Canada is much better now, so any time we can increase triathlon coverage in the Canadian media, then it is a boost for our entire sport, and all the Canadian athletes.
Even though the Olympic triathlon and the Ironman are a lot different, it is good for the sport in general whenever it gets attention, so all the athletes benefit from it. Canada has great triathletes who are among the best in the world: Sharon (Donnelly), Simon (Whitfield), Heather (Fuhr), Peter. I would like to see them all get the credit they deserve, and slowly that is starting to happen.
RW: I loved that sexy body-painting photo of you that made the cover of Triathlete magazine. How did you feel about the public reaction?
Lori: Well, at first I didn't know if I would agree to do it. I didn't even know if I would have the courage to do it. I knew there would be a very mixed reaction to it. Peter, and my mom both were supportive about it. The best part was that Triathlete magazine sold out for the first time ever, and it attracted a lot of attention.
It wasn't even overly revealing, especially when you look and see a lot of the other cover shots of either women's butts in their bathing suits, or someone in a skimpy racing outfit. It looked quite like one of my cycling one piece suits, and was a lot less revealing than most people's one or two piece bathing suits.
It had it's time though, and now I am quite sick of seeing that photo. It doesn't really portray my true image or personality.
RW: To switch topics, when did you leave Toronto to move to Victoria? Why not California or Australia where most triathletes seem to go to train?
Lori: Three years ago, I moved to Victoria to be with Peter. He suggested I move out there with him. He had already lived there for a year by then.
Victoria is the only place in Canada where you can ride you bike year round, because of the small amount of snow. That's why most of Canada's top rower's and cyclists all live in here. Because of the Commonwealth Games that were here, there's also a huge sporting community and support. As well, living in the States would mean we couldn't work. Here in Victoria, Peter and I both had part time jobs at running stores when we first moved.
Also, there's some kind of good feeling staying in Canada. I love Canada, and am proud to be Canadian. This is my home. I also like the change of seasons. Even though I hate the cold, I think it's easier for us to take an off season and let our bodies recover. People who live in warmer climates tend to not do that. The rain and cold weather seems to make us tough, and when you get to a cold or rainy race, even though you don't enjoy it, you seem to fare better than most of the ones that just train in good weather.
RW: Speaking of Peter, what's it like to live with someone as immersed inthe sport as you are? (I get the sense he's the serious one; you're more carefree and casual one. Am I right?)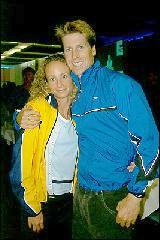 Lori: Yes, Peter is more serious. It's like having your coach watch over you all the time. That is good for me. I like training, but I definitely need that little push to get out the door. It's good that we're both into the same sport. Triathlon takes up an awful lot of time, so it would be very difficult for someone not involved in the sport to be understanding and supportive. Plus, we get to travel a lot together, so that's nice as well.
RW: What's next on your agenda?
Lori: Peter and I finally have a house. Last year, we were still moving in, so Christmas was a bit of a whirlwind for us. This year, we're looking forward to having a nice quiet Christmas together at home.
RW: What are your racing plans for next year?
Lori: I'm not sure about next year's schedule yet. I will probably do a few races in Chile in February just for fun, to get things going again. My goals are to keep improving, working on my swim, trying to get better in my cycling and running also. I'd like to just keep on trying to get better and still have fun at what I'm doing.
RW: If you could offer any advice to someone getting into the Ironman what would it be?
Lori: First of all, make sure you keep the fun in your training and racing. When days seem really tough, or a race seems really awful, ask yourself: "Why am I doing this?". Most often, it is a passion for most people, so don't forget the whole reason you are doing it.
Also, don't over-train. Over-training can kill your race more than under-training. Perhaps the biggest asset is keeping a positive outlook and attitude no matter how tough things get. The mental aspect of the race is almost as great as the physical aspect. Also, be good to your friends and family. It is just as hard to live with someone who is training for an Ironman, as it is to be the one training for it!
RW: Finally, what is the allure of the Ironman for you?
Lori: The training for Ironman is very much a lifestyle thing for me. I've always enjoyed it, and I've met so many great friends of all ages this way - people I would have never had the opportunity to meet. I love that.
I like triathlons of all distances, and even the sprint distances are amongmy favourites. I've also found that Ironman and 1/2 Ironman are distances I can excel at (I seem to go the same speed, no matter what the distance), so that also draws me to the longer races.
In Ironman, you learn something about yourself all the time, in your training and in your racing. A lot of times you have to dig really deep mentally and physically, which is a great way to challenge yourself and become a stronger person.
RW: Thank you, Lori!
Lori: It was my pleasure.
Contact Lynne via email @ lbermel@runnersweb.com