June 22, 2000
An Interview with Tania Jones
Tania Jones holds a special place in the Ottawa running community. She and her husband Colin lived in Ottawa before moving to Toronto last summer. During her five years with us, she was always a force to be counted on at any road race, often giving top male runners a run for their money. Her warm, affable persona belies a tenacious competitor within.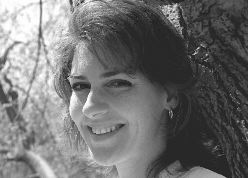 She made her debut marathon at last year's National Capital Marathon, struggling home in 2:48. Clearly disappointed, she was determined to conquer the distance in her next attempt - the Houston Marathon. Again, another disappointment for Tania: this time a 2:49. The training that followed under Coach Hugh Cameron indicated that Tania was ready to toe the line in her best shape ever. A couple of weeks before the NCM, she smashed her 10 kms PB by 32 seconds (33:22) at the Vancouver Sun Run. She was relatively injury free and running times in workouts that matched or exceeded those of other top marathoners coached by Hugh, including Sylvia Ruegger (2:30 marathoner).
After what she considered two failed attempts (most of us would kill for a 2:48 marathon) Tania was looking to the NCM for a positive experience - finally! She had a few difficult moments during the race but managed to come home in 2:40:08, finishing second to Quebec's Veronique Vandermissen (2:36:45). Here she relays her thoughts about the race and her plans for the future.
Runner's Web: How do you feel about your performance at the National Capital Marathon?
Tania: I was well prepared for it. I fuelled and watered well during the race and I believe I ran a smart race. I'm also optimistic that bigger results will come in the marathon. I'm also relieved. It is a good feeling to execute a decent marathon without medical tents or walking- both of which I experienced during earlier attempts at the distance.
In the same measure, I was disappointed. My time slower than we expected based on our training going into the race. I was also disappointed in that I couldn't race the leader over full distance. I ran tough to 31km and then I faded off the pace.
I was also surprised. My 2:40 gave me a third ranking in the marathon in Canada has resulted in some unexpected and much needed support. For example, I may qualify for Tier 2 support (medical, access to expertise) from the National Sport Centre.
Runner's Web: How did the race play out for you?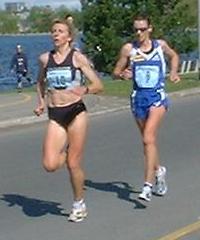 Veronique (L) and Tania

Tania: I ran behind Veronique for 31 km and was never more than 2 seconds behind. I fought the wind and could not cut through it. I was not as smooth as I would have liked on the hills in the second loop.

At 30-31km after Carleton near Hog's Back, I faded off of Veronique's pace. My left hamstring had started rippling. It was almost cramping which I deduced caused by extreme fatigue in the muscle. A similar thing happened to me during the Houston marathon in January.

I don't believe that Veronique increased her pace. She maintained it. I held on for decent paced kms for the final 6 miles but I was disappointed that I could not maintain the pace race through the finish.

Runner's Web: What were your preparations going into the National Capital Marathon?

Tania: After the Houston marathon January, I took a couple weeks off. I ramped up again about 13 weeks out from NCM. Started with a 2:51 training marathon in Austin.

My overall training block for the NCM improved compared to the Houston prep. For example, I maintained higher mileage throughout entire block.

I had some good race results during this period: Newark 20k and Vancouver Sun Run 10k (33:22). My quality workouts were right where I needed them to be as indicated by my 32 sec. 10k PB at the Sun Run

I started training with Gatorade in workouts and long runs. During the race, I began using Gatorade immediately. There was some confusion around the location of Gatorade at some of the stations resulted in me obtaining less than target fluid levels.

My coach, Hugh Cameron felt that I could have run a faster time than what was put down on the board. He is patient. He can see that I am developing as a marathoner and that this takes time. He has identified areas in the training program that I need to focus more heavily on.

Runner's Web: What's next for TJ?

Tania: I took one week completely off and two weeks as easy running. Hugh, my husband, Colin and I have just designed the next 6 months of racing and training. The full team (coach Hugh Cameron, husband Colin Fidler and medical support: Dr. Douglas Stoddard of the Toronto Sports and Exercise Medicine Institute & chiropractor Bill Wells) have identified all the key areas that I need to focus on for improvement in the marathon.

I will be doing a 3-month back-to-basics training block that includes some exciting racing including the Avon 10k in Toronto, Olympic Trials 5000m and Crim 10 miler.

In September, I'll begin my build-up for my next marathon, Sacramento (Dec. 3). This block will include some tough racing at the Scotiabank Half marathon and the Tufts 10k.

Runner's Web: You've run 33 and change this year in the 10k - a time which would support you well financially on the US road racing circuit. Does that hold any appeal?
Tania: I've chosen a few races on the US circuit which fit with my goals and schedule and which most importantly provide the most competitive fields. We do not enter these races with the expectation of making money. These races are included for experience. If money is made it is used to meet the costs of medical treatment needed to keep my body functioning or for expertise I need to develop the best training plan.
There a number of very exciting competitive races in Canada. I have included these in my schedule. The Vancouver Sun Run and the NCM were two of those races. I anticipate that the Avon 10k and Scotiabank Half marathon will bring out the best of the Canadians as well as the locally based international athletes.
Runner's Web: What support (sponsor, etc) do you receive?
Tania: There are two companies and two medical professionals who have been key supporters of my drive for success. The support from Adidas Canada feeds my voracious appetite for training shoes and provided incredible weather resistant clothing that helped me float through another Canadian winter.
Power Bar supplies my daily afternoon Harvest Bar to fuel the evening training. Dr. Douglas Stoddard at SEMI is a critical resource as I learn more and more about the marathon. His product "eload" (electrolyte replacement drink) is the starting fuel for all my long runs and races. Bill Wells provides critical Active Release Therapy.
Contact Lynne via email @ lbermel@runnersweb.com
For more on Lynne's background read this interview with Wayne Scanlan which appeared originally in the Ottawa Citizen.
Top of Article