August 18, 2000
The Life and Times of Sharon Donnelly - Part One
We met for lunch at a charming rustic restaurant at the foot of the Gatineau Hills. It was a funny feeling, really, sitting down to interview Sharon Donnelly and her husband Dave. She's been a friend for over 10 years. I've seen her develop from wide-eyed beginner to champion age grouper to one of the best elite racers in the world. Throughout the years, our paths have crossed many times: as military athletes off to one World championship or another, fellow competitors, teammates on the OAC racing team and as friends.
I just didn't know how I'd grapple with this one: How do you describe Sharon Donnelly - the athlete and the person- in one interview? I worried that my perspective would be somewhat biased because I've known her for so long and been a part her life.
It's a rare event to meet someone like her. What endears her is how natural she is, how unaffected she has become by her successes; how approachable and comfortable with her many talents... Yet at the same time, she's a tough, fierce competitor. She's one of those rare athletes who can balance her accomplishments and media attention with a sense of perspective, grace and an interest beyond her own performances. You can't help but want her to do well. She's proof that nice guys (and gals) really do finish first.
Sharon has always been in awe of others. I wonder if she realizes how much we've been in awe of her.
It's been a long and winding road but Sharon is on her way to Sydney as a medal hopeful in the women's triathlon - the opening event of the 2000 Games. What follows is the story of how she got there.
Olympic swimming hopeful




Sharon At Canadian Championships in Winnipeg
While the rest of Scarborough, Ontario slept; Sharon Donnelly was on her way to a 2-hour swim practice with her mother Phyllis and brother Allen. She was 10 years old. For the ensuing seven years, this would be her daily ritual. She'd put in 4 or 5 kms in the morning, followed by a day of classes. It was back to the pool that evening for another 2 hours, pounding out lap after lap with dreams of Olympic glory.
Sharon describes those years as her "geek" time in which, when she wasn't swimming, she had her nose in a book in the library or sequestered in her room listening to music. "I had coke rim bottle classes. I was really shy," she remembers. She says she never attended a single high school dance nor did she have a Christmas vacation. Early nights and swimming were the priority.
In l984, her last year of high school, she went to the Olympic Trials in the butterfly and free. She came within a fraction of making the team but it wasn't enough. She had to make a decision: To qualify for the 1988 Olympics would mean another 3 years of swimming as well as another 4 years on a university swimming scholarship. Coaches told her she was a late bloomer and hadn't yet begun to explore her potential but, she recounts: " I thought about it and wasn't sure if I really wanted to swim that long."
Instead, she made up her mind to go to university. Swimming would take a backseat. She applied to Queens, Western and Laurentian University. One day her mother came home with a newspaper article about a military scholarship program offered at the Royal Military College (RMC) in Kingston, Ont. "I had never considered military college but I thought it sounded cool." She applied and was accepted.
Sixteen years later, not long after she was named to the 2000 Canadian Olympic Triathlon Team, she asked Phyllis what she thought of her decision at 17 to focus on school instead of aspiring to be a world champion swimmer: "I was disappointed," said Phyllis. "I never told you that because it was your decision to make. But you, Allen (Sharon's brother) and I had put so much into your swimming. I wanted you to see it through."
The next four years of Sharon's life at "Mil Col" would change her life forever. It was there that she was first introduced to triathlons and it was also where she met and fellow Cadet, Dave Rudnicki.
Sharon found life at the College allowed her to shed her shy image. She found she could carry her own weight, often beating male cadets in endurance and physical activities. Did she miss elite competition? "Not really. I accepted the fact that swimming was no longer my priority." The close living and socialization at the College were a good way to bring her out of her shell.
Her first Tri
Sharon at Nationals
Winnipeg, 1998
Her full course load at the College, along with the required military routine, allowed little time for much else. She played on the Waterpolo squad for a year and ran on the College's Track and Cross-Country teams for two but they were diversions, not serious commitments.
After her third year at the College (1989), Sharon heard about the RMC triathlon team. They invited her along to a race in Grimsby, Ontario. "Why not?" she said and borrowed a bike. Her first question at race site was: "Where do we change after the swim?" "A real neophyte," thought the lady behind the desk. "Let me introduce you to someone." She brought Beth Primrose - unbeknownst to Sharon, the reigning Canadian Champ at the time - who gave her some friendly advice. Sharon remembers wistfully; "I didn't take it and I paid for it. I wore running shorts (instead of a bathing suit as Beth had recommended) and chafed beyond all compare on a bike 2 sizes too big for me." Nevertheless, she managed a second place in her age group. She was hooked. Beth won the race. Sharon had found a mentor and a new calling.
She bought her first bike that summer - a $350 Fuji. "I still have that bike," she says. She raced a few more times in Ontario that summer and won more than a few of them.
Bungie Jumping
It was in l989 that I first met Sharon Donnelly. She had just graduated from RMC and was named to our small military triathlon team for the first-ever World Military Championships in Ghent, Belgium. A week or so before our departure, I got a call from a Phyllis Donnelly asking if I would mind bringing her daughter's bike box to Lahr because Sharon was already in Europe on a backpacking excursion.
Sharon met our team at the airport in Lahr, Germany. She had a farmer's tan, a wide grin and a suitcase full of stories, including how her try at bungie jumping (the extent of her pre-race preparation apparently). One of the first things she said to me was: "I hope you are don't mind me being on the team." Mind? She was a budding talent in our little pool of military athletes and we all knew it. She had every right to be there. I liked her right away.
Dave's epiphany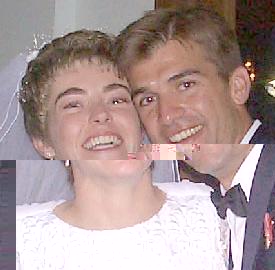 Sharon and Dave at their wedding
That summer, Sharon decided to enter the K-Town (Kingston, Ontario) Tri. She called up her old RMC "bud," Dave Rudnicki, who had been posted to Kingston. She asked if he'd mind her staying at his digs. No problem, said Dave. "I'd like to watch the race," he said. Dave had been dating Queen's girls off and on and had never thought about Sharon beyond a platonic friend. But something happened while watching her race at K-Town. "I saw the effort, the drive and I was impressed." And so it beganů










---
Part Two Next Week...

Visit Sharon's web site at: SharonDonnelly.com
---
Contact Lynne via email @ lbermel@runnersweb.com
For more on Lynne's background read this interview with Wayne Scanlan which appeared originally in the Ottawa Citizen.
Top of Article