---
Posted: August 4, 2003
Athletics: The US College Athletics Scholarship Experience - Part III
Background:
Tracy Montgomery, Mary Jane (MJ) Middelkoop, and Stephanie Duffy are currently members of the Ottawa Athletic Club Racing Team, an Ottawa based women's running and triathlon club. All three attended university in the US on athletic scholarships. The Runner's Web asked them about their scholarship experience. This is part one of a three part series. This column interviews Mary Jane (MJ) Middelkoop.
Name: Mary Jane Middelkoop
Hometown: Tara, Ontario
University: University of Tennessee-Chattanooga
Location: Chattanooga, Tennessee
Primary Events: 3000m, 5000m
1. Runner's Web (RW): Could you describe the recruiting process and how you came to be offered an athletic scholarship - how the initial contact was made, whether a high school or club coach was involved, did you communicate with the university head coach or an assistant, etc.
Mary Jane Middelkoop (MJ):It wasn't until my final year of high school that I made the decision to pursue an athletic scholarship in the United States, so for the most part (excluding an over-zealous coach from Eastern Michigan) my contact with university coaches did not begin until after my last cross-country season at Chesley District High School. To market my abilities south of the border I sent over 35 letters (this was before email, remember) to head coaches and/or assistant coaches at universities across the United States. My selection of universities was based on a combination of factors, including the academic programs offered, the school's academic reputation, the performance of the track/cross-country program, and, I've got to admit, climate.
2. RW: Once the scholarship was offered, did you accept immediately? If not what processes did you go through such as discussion with family, local coaches, peer groups, etc.? Were you offered a four-year deal or a one-year renewable scholarship?
MJ: Prior to the signing deadline I had been unofficially offered several full scholarships. So, to help with the decision-making process, I went on several paid and unpaid trips to the universities that (a) offered me a full scholarship; and (b) that I would actually consider attending. The trips turned out to be very revealing, particularly my discussions with the athletes, who – and I thank them for this – were very honest about the positive and negative aspects of their respective programs. Visiting schools also gave me the chance to scope out potential academic programs, to talk to professors, and to get a sense of what it would be like to live in the city or town where the university was located. Most of the decision-making was done by me, with minimal input (but unquestionable support) from family, high school coaches, and friends.
Once I made my decision, I was offered a one-year renewable scholarship, with an unofficial guarantee of support for a four-year period.
3. RW: How much communication was there between you and the university from the time you accepted until you arrived at the school?
MJ: After accepting the offer in April I had minimal contact with my new coach. It was suggested that I continue training with my club coach throughout the summer, in recognition of the fact that my existing training program was comparable to what had been established for returning athletes.
4. RW: After arriving at the school, what was your initial response (over the first few weeks) to your decision to accept the scholarship?
MJ:
My first few weeks at University felt like a spring training camp. Apart from the change in training partners and workout styles, I was immersed in a different culture (the south!) and a new lifestyle. My initial response was very positive, both to the academic atmosphere and to the new training environment.
5. RW: Describe your feelings for the first month or so after you started training with the team? How did you feel you fit into the team from a performance perspective? How many other first year recruits were there? Were you accepted immediately by team members that had been there a year or more? Did you ever seriously question your decision in the first few months?
MJ: When I started training with the team I expected to struggle with both the pace and the volume of the work. However, building on the strength of high quality training over the previous months under the guidance of my club coach, I had little difficulty adjusting to the workouts and soon found myself leading several of the more grueling sessions. After easily winning my first collegiate race, I did in fact find myself questioning my decision to select UTC, and I even contemplated transferring to a University with a more intense track program. However, cooler heads prevailed and I decided to stay – largely because of the close relationship I had established with my coach and teammates, and because of the high level of satisfaction with my academic program.
6. RW: What was the greatest issue you encountered throughout your time at the university?
MJ: Funding was always an issue for our track and cross-country programs. The university's athletic department was defined by high profile sports such as men's basketball and football, with only limited funding (relatively speaking) being directed at smaller sports such as ours. We traveled with the utmost frugality: at times we would jam 15 athletes into a van, drive several hours to the race venue, and then hop back into the van to head home. It also limited our ability to travel to high profile meets, which meant fewer opportunities to run fast times.
7. RW: Did you continue to run for a local club when you came home for the summer?
MJ: For the first two summers I returned to Canada and resumed training with my club coach. The final summer I stayed in Chattanooga and trained essentially on my own, under the guidance of my university coach.
8. RW: What you consider your best performances while at university and why?
MJ: My best performances came during the Southern Conference outdoor championships in 1995 when I won two events (3000, 5000), both in personal best times. I had won both events the year before, and entered the races with a slight bit of trepidation as the defending champion. I was proud of the fact that I was able to keep everything together on race day, and that I was able to defeat some outstanding runners in the process.
9. RW: Did you feel pressure to race when you felt you were not ready? Were you asked (directed) to double or triple or run an event that was not your normal racing distance? How were you treated when (if) you were injured and could not compete?
MJ: Like many of my teammates, I was often asked to compete in both off-distance and relay events. Although I did have to sacrifice some of my better events by first running an off-distance race, my coach ultimately gave me the option to choose the events in which I wanted to compete. At this stage in my career I was focused on team scoring rather than individual performance – admittedly often at the expense of individual success.
I was fortunate enough not to incur a major injury during my career at UTC. However, I did contract mononucleosis during my final year and was forced to take several weeks of rest. My coach was very understanding, and allowed me to return to workouts and competition on my own schedule.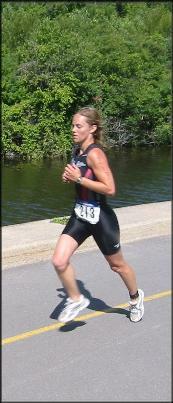 10. RW: Did competing (and travelling) interfere with your academic schedule?
MJ: Our travel schedule often required us to be on the road from Thursday evening to Sunday afternoon. This interfered with both class and exam schedules, but for the most part the professional staff at the university was very understanding, provided that ample notice was given. Each student-athlete was responsible for notifying their instructors beforehand of any impending absences.
11. RW: Describe your "typical" racing season in terms of numbers of meets, location in terms of travel requirements, distances raced, doubling or tripling for points, etc.
MJ: A typical cross-country season involved four or five invitational meets (mostly at home, as a means of raising money), the Conference Championships, and the NCAA Regional meet. The indoor track season commenced in early January, and finished in late February with the Conference Championships. Most of these meets were within an 8 – 10 hour drive, and consisted largely of relay meets and shorter distance events before stepping up to the longer distance events at the conference meet. The outdoor season was relatively the same, only it began in March and finished up in April. I competed in at least two events at every Conference championship, and averaged two to three races at the invitational meets, where I ran both relay events (ranging from the 4x400 to the 4x1600) and individual events (ranging from 800m to 5,000m).
12. RW: What do you estimate your scholarship was worth over the four years? Looking back on your experience do you feel there was a balance between your athletic contribution and the academic benefits you gained?
MJ: I would estimate the total value of my four-year scholarship to be approximately $80,000US. Looking back on my experience I would definitely say that my athletic contribution was well balanced by the academic benefits provided by the university. I received an excellent education while at the University of Tennessee, and did not feel as if my "job" as an athlete in any way diminished the quality of my academic experience.
13. RW: Would you recommend the scholarship route to others , unconditionally or with conditions?
MJ: I would recommend the scholarship route to others, but with conditions. Selecting a university is a very personal and individual choice. Athletes must realize that a "perfect" environment for one athlete might be the definition of hell for another. Furthermore, searching for a school with an excellent running program without consideration of the academic and social environment, might lead to very unhappy times when the running aspect of your life goes in the tank. The bottom line? Look for a well-rounded school that matches your specific needs and will meet your long-term (i.e. post-university) goals.
14. What were the highs and lows of your years at university, both from an athletics and an academic perspective?
MJ: To be honest, I never really experienced any serious lows while at university. My bout with mononucleosis occurred during my last semester, and although I would have liked to have gone out with a bang, it gave me the chance to ease off running, focus on being a student, and prepare for the next stage in my life.
15. RW: Overall how would you rate your experience?
MJ: My overall experience was very positive, both academically and athletically. My running times dropped significantly throughout my university career, and my academic experience positioned me well for entry into graduate school.
16. RW: After leaving the university did you continue to compete or run? If so at what level? If not, for how long did you stop and why?
MJ: At the end of University I took several months completely off, with no running at all. My body – as well as my mind – was extremely tired from the long three and a half years of working out twice a day. In addition, after years of not having a choice of whether or not I wanted to run, I desperately wanted to resume control over my life. However, in the spring of this year, I realized that I couldn't keep myself away from running forever, and the urge to strap on the shoes and chase some fast people around a track re-surfaced. I now find myself running with some very inspirational ladies at the Ottawa Athletic Club Racing Team.
17. RW: Last comments - feel free to touch on anything not covered previously.
MJ: Many Canadian athletes leaving high school are faced with a relatively simple choice: stay in Canada and pay for school and athletic expenses; or, head south of the border where for a free education and significantly greater support (financial and otherwise) for your athletic pursuits. For most athletes, the choice is clear: head south of the border where the grass is greener.
However, this is not to say that Canadian universities should lure Canadian athletes back to this side of the border by offering similar financial incentives. Quite the contrary, actually. I think the US system offers too much money to its athletes – and often at the expense of its academic programs. While in Chattanooga, I watched the construction of a new football stadium, while the laboratory facilities for the chemistry, biology and engineering programs became increasingly obsolete. To me, this seems backwards. Isn't a university a place for higher learning? And, although I agree that it is possible to learn through sport, shouldn't the pursuit of an academic degree be of foremost importance?
We may accuse the Canadian university system of not adequately supporting its student-athletes, but I applaud our academic institutions for keeping their focus where it should be: on the pursuit of academic excellence. If Canada is serious about wanting its elite athletes to stay, then I believe the provincial and federal governments should provide developing and elite athletes with the support they need to excel on the national and international stage. Our current funding program for athletes pales in comparison to that of other nations, and does little in terms of providing substantive support for full-time athletes. Until this situation changes, we will continue to lose both promising athletes and promising professionals to the United States.
More on Mary Jane:
This is part III of a 3 part feature.
Part I of the series.
Part II of the series.
---
Check out our FrontPage for all the latest running and triathlon news.
---
Top of News
Runner's Web FrontPage