---
Posted: November 13, 2002:
Women's Sports: Boomerang Strollercize Introduction:

Kelly Knoll a 3;09 marathoner, has been running a "baby jogger" class for new mothers since September of 2002. She currently has 60-80 members enrolled who meet Monday, Wednesday, Friday (soon Saturday) at 10:15 am for a run along Ottawa's Rideau Canal. Prior to getting serious about her own running, Kelly taught aerobics and spinning at the Ottawa Athletic Club. She is a member of the Ottawa Athletic Club Racing Team, an Ottawa based women's running and triathlon club.

The Runner's Web recently caught up to Kelly to talk with her about her training group.

Photo - Right: Kelly Knoll after winning the Canada Day 5K in July of 2000
---
Runner's Web: Kelly, could you tell us about the group and how it got started?
Kelly: The group is primarily new parents who want to exercise with their children.The exercise that is done is primarily running and walking . There is also some strength training. I have found that Most of the people are first time parents and professionals on maternity, paternity leave.Boomerang Strollercize was formed in the summer of 1997 by the owners or Boomerang Kids. It is a consignment shop for kids clothes,toys and baby equipment..ie.strollers, high chairs, car seats..etc. One of the owners got the idea after reading an article in her doctors office about different exercise to do with a stroller. So the Boomerang owners started a strollercize class to bring new moms together who were interested in getting into shape while pushing their babies. The class is free and the store provides a certified fitness and health instructor. The class is primarily attended by new moms and dads. The motives for taking this class ranges from getting back into shape, getting into better shape, Socializing for both parents and children, or just getting some fresh air.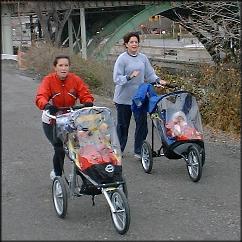 Runner's Web: Where do you meet for your group runs and how often?
Kelly: We meet at Boomerang kids at ....Bank street in Ottawa South on Monday, Wednesday, Friday (soon Sat) at 10:15AM. From There we get onto the Canal and take various 7km routes. 7km is usually the distance most people run, many do more and some do less.
Runner's Web: What motivates the women in your class to join the group? Were most of them runners before they had children?
Kelly: I have found that the most common motivator other than wanting to exercise with their baby's would be to lose weight and get back into shape. Next I would say to socialize for both the parent and the child. Other reason may just be something to do or get fresh air. A quarter of the women have been runners before, but I'd say 90% were in great shape before having children. As a result 75% become runners at some point during strollercize which is a surprise to a lot of the runners who never thought of themselves as "a runner"
Runner's Web: Is there a representative profile of the "average" member of your group?
Kelly: I would have to say the average person is a new mom, a professional on a one year maternity leave taking full opportunity to spend quality time with her new baby. The average participant has usually engaged in some other sport or activity that has made them very physically fit before and during pregnancy. Most have a strong desire and great discipline to get back into shape.
Runner's Web: How many runners do you get out on average for a training session?
Kelly: Well so far I would have to say a nice sunny day gets at least forty parents but it is not uncommon to see as many as 65. On a rainy day we are still seeing 30 parents.
Runner's Web: Have any of the group progressed on to competitive running?
Kelly: Yes a number of women have entered local races and have placed well. I am noticing that quite a few participants have plans to run a race ranging from all distances at the end of their mat leave(spring for this crew)
Runner's Web: Between your own running and other fitness activities, your family and your "real" work, how do you find the time to conduct this class?
Kelly: Well I have to tell you I had given up teaching all together because I really felt I didn't have the time . I wanted just a few hours to sit down and have a coffee and read the paper, but after one class I realized this was a higher priority for me. I haven't ever come across a more motivating way to run. Outside in the fresh air, with my child, along the canal, running between many different people but all with at least one thing in common. Exercising is all about priority and making time. I really don't believe anyone is too busy to exercise. As a mom running with your child has to be the most convenient, affordable and achievable ways to get into really great shape.
Runner's Web: If someone is interested in joining or just getting more information who should they contact?
Kelly: Boomerang Kids on Bank Street @ 730-0711
Runner's Web: Do you have any other comments you would like to make?
Kelly: Well just that I am sorry that I did not do this class a lot sooner, because if I think of all the time and money I spent on babysitting services just so that I could run, even on a treadmill, it makes me feel very tired. I often felt very guilty putting my children in day-care so that I could get my exercise. I felt guilty because they would not be getting any exercise. Now our society is facing concerns of childhood obesity getting our children active should be one of our biggest priorities. This way the kids can get out(once walking) and join in even if it is only for a few meters at a time.
---