February 23, 2002
Runner's Web Athlete Profile
This is a monthly feature in which we profile athletes from the sports of track and field, road running, triathlon and duathlon.
This month we profile multi-sport athlete Lucy Smith.
---
Name: Lucy Smith

Sport: multisport (I balance equally distance running with triathlon and duathlon)

Hometown: Victoria, BC

Age: 34

Coach: Lance Watson

Sponsors: PowerBar, Nike, Cervelo
---
Runner's Web: When and where did you start competing and in what sports?
Lucy: I started competing at 5 yrs old, racing laps against my siblings around the house. Then at 10 I took up sailing and running as sports. I won my first fun run, a local 3 miler in Bedford Nova Scotia, as an 11 year old.
Runner's Web: At what age do you consider you became a "serious" athlete?
Lucy: When I decided at 16 to try and make the Nova Scotia Canada Games Team, in the 1500m. That year I had my first personal coach as well, someone who took a direct interest in my development as a runner.
Runner's Web: Are you currently a full-time athlete?
Lucy: I have to say that I am a full time mother with an athletic career. I also coach.
Runner's Web: Who has had the greatest influence on your athletic career to date?
Lucy: My mother contributed unwavering support and love, my father taught me to enjoy being active and to do the best job I could at anything I tried, and Lance, my husband and coach, has given me the focus I needed to be one of the best in the world. I call Lance the 'Guru'-he has always has total belief in my abilities to be great, to rise beyond what I believe I can do.
Runner's Web: Could you discuss your training in terms of an average week's workouts prior to racing season? Also could you review, at a high level, your macro program for a year?
Lucy: This is very difficult as 1999 I only trained until May before having a season endind injury. The rest of 1999, 2000 and 2001 are lost in a wonderful blur of pregnancy, childbirth and life as a new parent. I managed to get back in form to win our National Duathlon, the US National Duathlon and come 3rd at Canadian Cross Country on a very unorthodox, low volume and flexible training regime that I would find it hard to outline. And now, 2002, I have been training for Ironman New Zealand, which is again unsual. Under normal circumstances, early season training would consist of longer base runs and rides each week, plus tempo sessions on both run and ride. I would get a fartlek run in each week to stay in tough with speed until intervals start closer to race season. Also, we usually will do bike focus weeks, which work really well for me. I will cut back running voliume and intensity for 1-2 weeks and bulk up on the riding. I only swim 3-4 times each week, as I have chronic shoulder pain, and I have developed a swim regime that worlks with this weakness.
As far as macros go, usually, it's endurance and bike focus weeks until mid-March and then early season races start. I will train for the triathlon and duathlon eak in July usually, take a few easy weeks if I can mid-summer and then start training for World Duathlon Champs which are late fall. After the multisport season, I will drop most bike sessions and go straight into a run focus for the fall road running and cross country season. I have run all my best road races on this program.
Runner's Web: What are your short-term (2002) and long-term goals?
Lucy: Short term is to successfully complete Ironman New Zealand my first crack at the distance; long term this year is to race North American triathlons (mainly longer non- drafting evetns and duathlons and some road races. I look at this season as the first season back really sicne Maia was born in 2000, and how New Zealand goes will likely dictate how I decide to race.
Runner's Web: What do you consider your best race to-date and why?
Lucy: Silver medal at World Duathlon Championships Italy, 1996. It was my highest World placing and also, they had implemented new drafting rules for that event and the race was a mess as far as organization goes. I had to overcome unfair and unexpected events while racing, but I managed to pull myself together mid-race and out race several women for the Silver medal.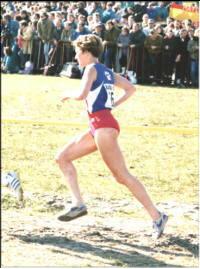 Runner's Web: What do you consider your strongest event?
Lucy: Duathlon/cross country running
Runner's Web: Can you see yourself becoming a coach after you stop competing?
Lucy: Yes; I am already on that path but then again I don't see myself stopping competing, ever.
Runner's Web: Drafting in ITU races is seen by non-pro duathletes/triathletes as changing the sport. What are your feelings regarding drafting?
Lucy: Change is good. There are many great events out there, drafting and non. We must embrace the new rules, have fair events no matter what style ther are, and find ways to succeed. I have excelled at both styles of racing. Many other sports are multi-event (cross country skiing, athletics, athletics). I don't see the problem.
Runner's Web: What do you consider your favourite race and why?
Lucy: I have to admit that the Vancouver Sun Run is one of my favourite races. I love the hype and the excitement, it has excellent management, and I always run well there. I love it so much that I ran it when I was 7 months pregnant and got to experience the crowds at the middle of the pack.
Runner's Web: What do you consider your greatest achievement in the sport?
Lucy: Still being here, happy and finding joy in what I am learning now that I am 34 and a mother!
Runner's Web: What is your opinion of the Powerman Duathlon versus the standard duathlon distances?
Lucy: Powerman feels much more extreme and makes an athlete go beyond what they feel they are capable of based on sheer training. Short distance du's are fun and tactical, you can really test your speed and fitness; Powerman creates such fatigue (especially during the 2nd run) that athletes have to be really mentally tough to stay positive and strong. It's a similar thing to Ironman-finishing is a huge goal of Powerman and tactics are less important.
Runner's Web: If you could design your perfect duathlon training route, what features would it have?
Lucy: For running I would go for a beautiful forest by the ocean, with varied terrain,. A place where I could run at least 20k without re-tracing my steps, on a soft but even surface, has shorter loops for intervals and has places for good hill running. Also a flat grassy field for drills and strides. For cycling, several hundred kilometers of farmland and forest routes where only local traffic goes, good hills and a 5km closed to traffic loop for intervals. (A great café within stone's throw would complete the picture!)
Runner's Web: Do you feel that Canada provides sufficient support for athletes and for potential Olympic team members in general?
Lucy: I think that Canadian athletes do extrmemly well for the level of support they get. We expect our athletes to compete on the world stage against countries that have superior athlete development systems, funding, and cultures that accept sports as a valid lifestyle choice. I think the issue is one of expectations versus results.
Runner's Web: What activities do you do away from sport to relax?
Lucy: I dream up fun outings and activities to do with Maia, who is now 20 months old. Current favourites include going to Goldstream Park to throw leaves in the river, riding the escalator at Eaton's downtown, and splashing in mud puddles, anywhere. I get great joy from preparing good meals, and I also love to write, but this activity gets pretty low priority at the moment.
Runner's Web: Races 2002
Lucy: I will start with IM Zealand and see where that leads me.
Runner's Web: Is there a track athlete or duathlete that you would pick as being the "best in the world" right now?
Lucy: Honestly, can't say.
Runner's Web: How long do you intend to compete at the top level?
Lucy: This is a good question. I never saw my career as being finite, but now that I am 34 and in my prime years, that does cross my mind. As far as I can see I will be competing at the top level for the next few years, then as a masters athlete when I am 40, and then in age group competition after that. I want to be one of those amazingly fit 60 year olds that so inspire me at World Championships! I think that what might change, is my devotion to a high performance lifestyle.
Runner's Web: Any other comments you would like to make....
Lucy: Sorry to all those people that have found my website and wondered what happened since 1999…I haven't updated it since I got pregnant! And thanks to my sponsors and to Triathlon Canada for standing by me when I was pregnant.
Visit Lucy's web site at: www.lucysmith.ca/
Top of Page