---
Thoughts of a Roads Scholar - Day One
June 15, 2009: 2 weeks removed from my last marathon. My first marathon in almost five years, by the way. And now, only 18 weeks out from the next one. Time to follow Hal's advice as best as I can.
Yesterday, was the last day before today's "official" 18-week training program kicked off. I was in Asheville, NC, visiting my parents. I wanted to be with my father for Father's Day, but a special couple is getting married next Sunday, at the finish line of a Triathlon, and I wouldn't miss it for anything. So dad and I moved Father's Day up by one week. I hope Hal is as forgiving if I occasionally tweak his schedule.
Let me tell you a little about my father. Dad was running even before the first running boom, but he really never raced back then. I got involved in running and racing at the tail end of the aforementioned boom in the early 80's, and immediately dragged dad into the New York racing scene. He quickly embraced it. We grew close through running, and that bond whose first strands were established when I was 26 has endured for more than half of my life, as his 7:30 pace gradually slowed to an eventual 11 minute shuffle before transitioning to a walk. So I spent my last day of "non-training" walking 4.5 miles with my father at a nice 17 minutes pace, enough for him to work up a nice sweat, and for us to add yet another memory to our tie, by doing what we have always done. We did it by placing one foot in front of the other, and talking.
From the time I started running, I had documented every run in a written log. I have piles of these paper logs, all well preserved, and consider them among my more highly prized personal and sentimental possessions. They capture not only my runs, but my life during that same period of time, or at least as much of my life as I could capture in four lines per day. But for some inexplicable reason, I stopped keeping these journals in 2002, in the midst of training for what I hoped would be a marathon PR. To this day, I can't say why I stopped. It just happened.
A couple of years later, something even more incomprehensible and totally unexpected happened. I stopped running. Just plain stopped. Lost interest.
Me.
Me????
Anyone who knew me as a runner would have found that unfathomable. Running had been one of the core fibers of who I was as a person, and anyone who knew me, knew that. If ever there was someone who embodied the passion of running, it was me. I couldn't really tell you if running left me behind, or I left running behind, but either way, running, and interest of running stopped happening for me. I really thought my running days were gone forever.
In October of last year, after a layoff of approximately four years, I took my first slow steps back. I had made numerous efforts during the layoff, but it never stuck. But this time it did. As a typical runner, I jumped into my first race back way too soon and way undertrained. I needed a sprint to the finish to break 29 minutes for my first 5K back. In a way, it was an embarrassment, but since then, I have come to realize it was a triumphant return. Running stuck.
Some of you know me as a person. Some of you know me as a runner. And some of you know me as a writer. Some of you know me as all three. And some of you have been subtly (and some not so subtly) hinting that I should start writing again.
Today, June 15th, 2009, I am on day one of Hal Higdon's 18 week advanced 1 program. I am sure already that I will not be able to stick to this demanding program perfectly day by day. In fact, I already slipped up this morning by running just a little bit longer than the schedule dictated. The hardest thing about the early weeks of a program like this is settling for a 3-mile run when you desire to run 5. But with 30 mile weekends looming in the not too distant future, I had better stick to the easy part of the plan as well as I can. So my entry for today is 3.32 miles (yes, I DO have a Garmin) in 34.30. Hopefully, this will be the first 3.32 miles in a return to a sub 4 hour marathon.
Today, June 15th, 2009, I start keeping a running journal again, and the 3.32 miles will be my first entry in it, along with a current weight of 163.2, and a day of eating right and resisting the common temptations of a bowl of ice cream and perhaps even a 2nd beer. If I'm really good, I'll even resist the first one. And of course, don't call me after 9:30. After all, I am in training, and need my sleep so I can be ready and refreshed when tomorrow morning's alarm goes off at 4:30
And today, June 15th, 2009, I am once again sharing my running thoughts and current journey to those who remember me, and introducing myself to those who are reading me for the first time. Over the next 18 weeks, I am sure I will be sharing much more than just the miles and the minutes. I will be sharing the thoughts of a roads scholar.
Today, June 15th, 2009, I am finally all the way back.
---
Thoughts of a Roads Scholar - It Never Gets Old
On November 8th, my father turned 81. Last year, when he turned 80, at about the same time my mother turned 75, we celebrated both of their "milestone" birthdays with a family get-together. This year, I flew down to beautiful Barenton, Florida to visit them somewhere between my mother's 76th and father's 81st birthdays, because I strongly believe that once you reach three quarters of a century of living, EVERY birthday is a milestone, and cause for celebration.
I've written about my father before, but it's been a while. When I first started running, now over 25 years ago, he was my inspiration. He was already in his mid 50's, older than I am now, when I ran my first miles. At that time, he had already been running for around 15 years, but until I started to run, he had never really raced. He ran primarily because he doctor told him he needed to, in order to combat high blood pressure and live a long and healthy life.
Well, I started racing, and soon, as a result of my dragging him to a race or two, he caught the racing bug as well. I was never really fast, but I was a lot faster than I am today. Since I was in my mid 20's at the time, I had no idea what was like to be a 50 something runner, like my dad was then. I was still young and immortal in my mind.
Dad and I ran together often and raced together frequently before I moved away from New York. I lived out on Long Island, and my parents lived in the city. A normal weekend routine was that I would take an early train into Penn Station, where he would meet me. Then, we would drive to Central Park, and run whatever race the New York Road Runners Club was putting on that weekend. We had our favorite races, like The Perrier 10K, which was the kick-off of the spring racing season, and The Trivera Twosome, a couples race that wound for 10 miles through the park.
When I raced alone, I ran for speed, but when I raced with my father, I often paced him, and got more pleasure from that than I did setting my own PR's, which were easily obtained when there was not much racing history to fall back on. Some of my fondest memories are of races in which my father PR'ed. There was a 23:25 5K in Central Park in 1983, a 37:32 in Oceanside the same year. Years later, after I had moved to NC, we ran 47:20 in Chapel Hill on an extremely difficult course when he was nearing 60. There was also a 2:00:13 half marathon at Camp LeJune, also in NC, after he had retired and moved to coastal Carolina. He must have been at least 65 then.
His times didn't really mean that much to me then. I was still young, and still saw everything from a young person's point of view, without respect for the aging process.
I knew he was proud of his accomplishments, and so too, was I. He always said he couldn't have done those times without me.
Dad continued to run into his mid 70's, overcoming many obstacles along the way, including a dislocated shoulder, which happened when he tripped and fell at the start of one run, a sliced up hand, by virtue of a trip and fall on a bridge grating while training for a bridge run, and tennis-related major knee surgery which put him out of action for over a year. Every time, he came back. He came back slower, but he still always came back.
He pretty much quit racing when he was in his mid 70's, but we still had one annual event we always did, every December in Kiawah Island, a lovely island community of the Charleston coast. I'd usually run the half or full, and he's run the 5K. Unfortunately, they discontinued the 5K race a few years ago, and thus, sadly ended our tradition. His last races were in the 32 to 33 minute range.
Dad transitioned from a run to a walk about 5 years ago, not due to lack of spirit, but due to painful feet. Running just started to hurt too much, and so he settled into walking, 4 miles or so 4 or 5 times a week. When I visited, I'd run on my own, and then walk with him. I found walking with him to continue the bond that running had first tied a quarter century earlier. It was no different, except it gave us more time to visit.
So, flash forward to this past weekend, five days shy of Dad's 81st birthday. When we used to run together, his times were always much faster than when he ran alone. This had also been our experience the last few years, when runs turned to walks. Dad had been walking a 2.5 mile route on a semi-regular basis, and he told me it usually was taking him about 50 minutes to complete. When we started our walk on Saturday morning, I had no clue what to expect. I just looked forward to that special time athletes share.
We walked and talked, and talked and walked, and sooner than I would have expected, the walk was done. Dad looked at his watch and said one word. "Wow." We had completed the walk in a little over 42 minutes. Another PR. Not bad for someone less than a week from turning 81. And my own personal sense of satisfaction was no different than it used to be all those years ago when we were tearing up the roads.
Now, I am 52, and am not even close to running any of the times Dad used to run when he was in his mid 50's. I never realized back then how truly amazing his accomplishments were, because I was an immortal 20 something kid who believed I would never age. Now, I know better, and DO appreciate not only what he has done in the past, but how amazing his accomplishments are now. Every time I walk with him, it is a blessing, and I treasure every time we can do it.
Even at 81 years, it never gets old.
TRS
---
Thoughts of A Roads Scholar - Return to Paradise
On September 26th, 1982, I wrote the following entry in my green Bill Rodgers runner's log. "A runners paradise. I will be coming here from now on." The paradise I was referring to was Eisenhower Park. It was conveniently located between work, which I did during the day, and school, which I attended at night.
When I started running there, I had only been running for about six months, but running was already a defining part of who I was becoming as a human being. Eisenhower Park was the hub of running activity on Long Island. From parking area 2, there were five clearly marked tours of the park, each with its own distinctly colored arrows painted on the ground and pointing the way to routes of one to five miles. All you had to do was follow the arrows with the color of the route you wanted to run.
It was only a few weeks later that I lost the park to winter's darkness. Once daylight savings time ended, the park was too dark to run in, so I had to find alternative options for running in lighted areas of other places to get me through winter's cold clutches. From the end of October on, I counted the days until spring's arrival, and with it, the arrival of evening daylight, so I could return to the park.
My enthusiasm for running, and my fondness towards the park grew through most of the next year, but in September 1983, I moved to North Carolina, and Eisenhower Park became paradise lost. It was like losing a friend. Of course, I quickly invented places to run near my new home which became my new comrades, but, as Lloyd Benson would have said, they were no Eisenhower.
For most of the next two decades, running continued to be a main fiber of who was. Though my life turned in more directions than a Six Flags roller-coaster, running remained the one constant that never seemed to change, except that my times slowed over the years. Though life around me was changing at an alarming rate, running remained the same simple act of lacing up a pair of shoes, dressing appropriately for the conditions outside, and then going out the door and running.
About three years ago, I hit a major roadblock in my life, which spilled over to my running, and as a result, running ceased to exist. This happened for a variety of reasons, including physical, psychological, emotional, and some reasons which I am sure I still don't know. The simple fact was that the longer I went without running, the less desire I had to start it back up again. I stopped running in April of 2005, only six months after I had set a lifetime marathon PR at the age of 49, and with the exception of a few meager efforts to return to the fold, I became a non-runner. I rationalized why I stopped in every way possible, and blamed it on every external thing I could think of. The fact is that the only reason I stopped running was an internal one. I didn't have it within me to take the first steps back.
In June of this year, I started a long term assignment in New York. As luck would have it, the hotel I have been staying at is right across the street from the paradise I had first discovered over 25 years earlier, when I was exactly half my current age. But as a non-runner, Eisenhower Park, my paradise lost, only served to mock me. Through the summer, I drove past the park every day on the way to work, but never drove through it, and never even considered running it. Instead, I almost daily cursed my body for failing me, when my body was not to blame. In reality, I was failing my body, allowing it to start acting and feeling its age.
But in the later stages of the summer, life drastically changed again, in several ways. Some I have shared, and some I have not, but the cumulative effect was that on a mild late September New York day, I found myself once again at Eisenhower Park, searching for parking area 2, and the marked trails which were once my main paths to sanity.
When I finally found it, the memories were vague at best. Some things had changed. The five different colored allows of a quarter century ago had been reduced to two, a white one and a red one, marking the 1-mile and 3-mile loops. The others three arrows had been painted over in black, and invalidated, due to the fact that some of those other routes took runners outside the park, creating liability issues.
My return to the park after 25 years created a swarm of emotions. As I struggled through my first 3-mile return, I found a few things to be true. First, I didn't remember the route very well, and a few times, I "lost the scent" of the trail, and had to retrace steps to find the next red arrow and get back on track. Another feeling I had was that I felt old, and slow, and most every step of the run was unpleasant.
But at the same time, I was amazed that looking back 25 years felt like a blink of an eye. I was running the exact same trail I used to run before I was married the first time, before I was a father, before I became established in my career. I was running this very trail before anything that came after. Now I am well established and looking towards retirement sooner rather than later, I am single once again, and I am a grandfather of a beautiful 11-week old boy.
In the midst of all this change, the trail I was running was virtually unchanged with one major exception. About a mile into the run, as the route took me by the lake, there was a new memorial overlooking the water, a commemoration of 9/11. It was a poignant reminder that even remaining on a constant path, there is no total stability in this world we live in.
I got through that first run with very mixed feelings. I cursed my watch, which I really shouldn't have worn. It only served as a reminder that I am not the same runner I was in 1982. At the same time though, I felt relieved that I was able to navigate three miles, and wondered if this was a one shot deal, or if I would return again and again to work my way back to running, and the life I knew for so many years. I know the advances would have to be taken one baby step at a time. Learning to run again is akin to an infant learning to walk. It's a long and slow process.
This past month or so has answered many burning questions in the affirmative. I've been going back to Eisenhower Park almost every day during the week, and when I go to see my daughter and grandson back in Atlanta on weekends, I run down by the Chattahoochee River, another running paradise. The running has gotten better. This past weekend, I completed my first 8-mile run in years, and I am now committed to running two marathons next year, Rock and Roll San Diego in June, and Twin Cities, my marathon PR course, in October.
I have gotten stronger in both mind and body, the memories have become much clearer, and I once again go to bed at night knowing that the next morning is going to start with a run. I have returned to paradise. It is nice to be back.
Now, if you will excuse me, I have a date at Eisenhower Park I must keep.
---
Thoughts of A Roads Scholar - Duel in the Sun, and 25 years of running
On April 16th, 1982, I ran my first mile on my journey to becoming a long distance runner. Running like the wind had been a smoldering desire in the back of my mind for years, enough so that I was already somewhat knowledgeable about the current racing scene even before that first run. Before I ever ran my first step, I was a Runner's World subscriber, and I already knew about people like Alberto Salazar, "Boston" Billy Rodgers, Rob de Castella and Rod Dixon, but I had never taken the first running steps until that day.
I can't say my first mile around the block added any sparks to my dream of becoming a long distance runner. In fact my first mile was a rather unpleasant experience, akin to smoking my first cigarette. About the only difference was that running was supposed to be good for you and smoking was supposed to have an opposite effect.
Both activities made me dizzy. Both burned my lungs. Both made me feel like I wanted to puke. But that first run seemed to have much more far reaching effects throughout my body than smoking ever could, for running also hurt my legs, my arms and just about every other moving part. At least smoking only affected my lungs. After that first run, I doubted if running would ever stick, and my body hurt too much the next couple of days for me to even think about trying again.
But three days later, on April 19th, 1982, something amazing happened. I can't say I remember all the circumstances like it was yesterday. I can't for the life of me remember why I was even home on a Monday to begin with. I can't recall if I watched the Boston Marathon live or on tape delay that day. But I did know that at that time, Alberto Salazar had never finished behind anyone in the marathon, and I knew that he had a heart that hated losing, and he would go to physical extremes to win.
As many said the morning of Boston 1982, it was a beautiful day for a marathon. Of course, this was spoken only from the vantage point of a spectator. There have been worse weather days at Boston, but from a runner's perspective, this was a very poor day for a marathon. High sun, warm temperatures, and the Boston course by its very nature added yet more difficult twists to an already daunting feat of running 26.2 miles at an under 5 minute per mile pace.
Maybe I was looking for added inspiration with one mile in my running career already behind me, but for whatever reason, I was there, in front of my TV, with my full long distance running career of one difficult mile behind me, waiting to watch the 1982 Boston Marathon.
The early miles of the race were a non entity. First miles of a marathon are rarely either interesting or entertaining. In a marathon, any marathon, as anyone who has ever run one knows, the real race doesn't start until mile 20. While this is true primarily from each runner's individual perspective, it can also be said for the overall race from the eyes of a spectator.
But Alberto Salazar was in a class by himself, and by mile 20, it was very common for him to be running alone as the apparent and obvious winner. Today was different. A young runner I knew virtually nothing about, a Midwest farmer named Dick Beardsley, was matching him stride for stride through the wall and beyond, and under the circumstances and the hot Patriot's Day sun, they were running at a blistering pace.
I am sure just about everyone watching that day was waiting for Beardsley to drop back at any time, but with every increasing mile, he continued to be right there, matching Salazar's pace, and usually even pushing the pace. I also believe that with each advancing mile, more and more people were pulling for Beardsley to pull it off in the end.
After all, it is in our inherent nature to pull for the underdog, and we are constantly searching for the next Cinderella story. Boston really needed something like this, especially after the fiasco of two years earlier, when Rosie Ruiz played the role of wicked stepsister by attempting to steal the women's crown from Canadian Jacqueline Gareau and the real athletes. Boston needed a shot in the arm in much the same way as baseball did after a strike shortened 1994 season. In retrospect, there were unfortunate and obvious differences, but at the time, Beardsley and Salazar were playing a similar role for Boston as McGuire and Sosa did years later for baseball.
During the last few miles, I was feeling that it would be a shame that there would have to be a "loser" in this epic battle. In my mind, I pictured the two of them breaking the tape together, hands raised in unison, and then embracing as co-winners. But at the same time, I knew this could not possibly happen. For one thing, they both wanted to win too much. For another, if I recall correctly, The Athletic Congress, the governing body of road racing at the time, did not allow ties, and would ultimately declare a winner anyway.
What happened at the end is well documented. Alberto Salazar did end up winning at the finish, by a scant three seconds, and both runners dipped below 2:09, the first time in the history of the marathon that a loser finished in under 2:09.
But to call Dick Beardsley a loser that day would be highly inaccurate. This was possibly the most decorated race that Boston had ever seen, and it would not have been noteworthy if both runners hadn't run the race of their lives. If Alberto had won the race by five minutes, I may have not been inspired to go out and run my second ever mile later that day. But it was the combined efforts of Alberto Salazar and Dick Beardsley, showcased by the exhilarating battle over a full 26.2 miles of Boston between two great warriors that inspired me to work towards the continued goal of becoming a long distance runner.
Sometimes, running captures the imagination. And sometimes, the imagination captures running. "The Duel in the Sun" was a race that accomplished both for me. I have always closely aligned my own 25th anniversary of running with the 25th anniversary of this greatest of marathon battles. On April 19th, 1982, I ran my second ever mile, and somehow knew that running was going to stick. From that day on, I continued running, getting up to two or three miles at a time, and running my first race, a 10K at Shelter Island, in late June of that year. Running quickly became a way of life for me, at least partially motivated by these two great runners and their great race.
Tomorrow, April 16th, will be the 25th anniversary of one of the most famous Boston Marathons ever documented, and tomorrow will be my 25th anniversary of running. Running has molded my life over the last quarter century, and I cannot even come close to describing the impact running has had on who I am today.
In January of this year, I had the privilege of meeting Dick Beardsley when he came to talk to my running club in Atlanta. It was a privilege to be able to tell him face to face the impact he has had in my life. Somehow, I hope that I can also get the message to Alberto Salazar, though I don't know how to contact him. Thank you both for your part in making me who I am today. I wonder how many other lives you have changed as a result of your "Duel in the Sun" at Boston, 25 years ago?
---
Thoughts of A Roads Scholar - It was 11 years ago today I started writing
It was eleven years ago today, on January 7th,1996, that I wrote my first essay with an article inspired by a single run in the snow. It ended up being a tribute to the late George Sheehan, the foremost writer on running philosophy of his, or any other time, for that matter. His works are timeless, but I fear many of today's runners are not familiar of his works. Since this is the first essay I ever wrote, it holds a special meaning to me, and some years, I like to revisit it on its anniversary.
My writing over the past 11 years has been much like my running. It has taken me placed I never thought I would go. It has brought me some of my greatest pleasures, and it has seen me through some very difficult times. It has been a friend and true companion. It has become a big part of what defines me as a person. Unlike running, I have been told that it has sometimes touched and inspired others, and for me, that is the greatest gift of all.
A small number of you have been with me since the very beginning, but most of you have joined at some point since then, some very recently. I am thankful for the friendships and bonds I have made with many of you over the years, and as we continue with this running life, I hope that current friendships strengthen, and new ones are forged.
And now the essay:
George Sheehan Comes to Lawrenceville
Non runners look at us and shake their heads in amusement, puzzlement, bewilderment, wondering what this pull is that attracts us to pound the pavement week after week, month after month, year after year. When asked, the answer is not so easily phrased. Runners, by and large, are private people who use their running to be alone with their thoughts, to daydream in an appropriate manner, in an acceptable forum. We use this time for problem resolution, as well as stress release. Sometimes, we use running to race faster. As a competitive runner, although mainly with myself, I am often "guilty" of this. But the run I am writing about today was special, and I knew in the midst of it that I finally had to start sharing my thoughts with other runners.
I woke up early today to find a beautiful white blanket of unbroken snow covering the ground, and it was still falling rather heavily. It has been a few years since I had last run in the snow, which is one of my favorite things to do. I quickly pulled on my special black running tights which had printed snowflakes running up the sides. I had been saving these tights for just such an occasion. Today was the day. A few more pieces of foul weather gear and I was out the door.
I have a nice rolling loop in my neighborhood which covers about 1.25 miles. As I started today's 7 1/2 mile run, I observed that the snow lay pure on the road ahead of me. The only disturbance was left in my wake. My mind started to wander to thoughts of Dr. George Sheehan, who in my opinion, was the most insightful author of running psychology and running philosophy I have ever read. He had an uncanny ability to allow a single run to have a profound effect on his entire life from that point forward. Not only that, but he would then write about his experience and share it with the rest of the world, so that whoever wanted to could actually benefit from his experience.
What a wonderful, caring, and giving man he was, I thought. He lived his life to benefit other people, both through his profession and his writing, and he has ensured that his legacy will live on throughout my lifetime and beyond. We all have intimate thoughts while on the run. Why not share them with the rest of the world? I'll bet he could have written something wonderful about today's run. Here is a man in whose footsteps I would be honored to follow.
At about this time, I noticed that the snow that lay ahead was no longer unbroken. There was a single trail of footsteps ahead of me, already carved in the snow. I hit the split timer on my watch to mark the completion of my first loop. Whose footsteps were those that lay ahead of me? Was I just repeating my own footsteps, running around in circles, or were these actually someone else's footsteps, beckoning me to follow? As I continued my run, I felt a strange presence, as if I were not alone. It was as if George Sheehan had come to Lawrenceville, GA, and was with me, stride for stride. I quickly started recalling the few brief times I met him.
When I still lived in New York, I used to see him at races in Prospect Park in Brooklyn and Central Park in New York, where he was basically just another good age group runner. People didn't make a fuss about him there, as this was his home running ground. He wasn't a guest there; he was competition for other people in his age group.
Then there was the year he was a guest speaker at the Salisbury Winter Flight run in North Carolina. Everyone clamored to see him there, but he was just as friendly and approachable as you could imagine. The last time I saw him in person was at the Old Reliable Run in Raleigh the next year. I remember passing him at about the two mile mark of that race, which I had never done before, and noticed him wheezing heavily. I asked him if he was all right and he just smiled and kept on going. He announced to the world two days later that he had cancer.
As I ran my sixth and final loop, the road behind me left the impression that a marathon had just been run along the left hand shoulder. I had just run the last six miles of my wonderfully snowy run with Dr. George Sheehan. Not only is he still alive, but he taught me a most valuable lesson today. It's okay to walk, (or run) in someone else's footsteps, but never, ever forget that, each step of the way, you are also forging your own path, which others may then chose to follow. Have no regrets about the trail you leave.
Why do I run? Sometimes a run can make a day a little bit better than it otherwise would have been. But once in a blue moon, as George Sheehan so consistently pointed out, your whole reason for being, the way you look at life can be changed by a single run. For me, it was once upon a snowy morning in Lawrenceville, GA, where I experienced first hand what it's like to create my own footsteps, as well as follow in the footsteps of someone I have the greatest admiration for. I also got to the experience sharing a run with the immortal George Sheehan. I have wanted to write about my own running thoughts for years. January 7th, 1996, Dr. Sheehan told me, was a great day to start.
If you are not familiar with Dr. Sheehan, please do yourself a favor and get acquainted with him. You will be amazed by his insights and observations. And who knows, you may even want to follow in his footsteps.
TRS
---
Thoughts of A Roads Scholar - Trash Talk and Junk Miles It has been pure joy spending the past two weeks at home, enjoying the holidays with friends and family. After a whole year on the road, and another one coming up, I have treasured these days. One of the routines I have missed over the past year has been rolling out of bed every day, and getting out for my runs. And one thing I have particularly missed has been my Friday morning runs. This is for two reasons. First, it has always allowed me to loosen up for a Saturday morning race while still providing me with a full 24 hours to recover. Second, and maybe most important, Friday mornings are the only time all week I can catch up in the neighborhood trash.

Now, before you assume that I take time out of my run to latch on to gossip about the surrounding domain, let me clarify my prior statement. I am not a blabbermouth. I actually prefer to keep to myself and would prefer not to know about anyone else's dirty laundry.

I meant what I said literally. Friday is trash collection day in our subdivision, and I find it kind of interesting to see what people are throwing away. It tells a lot about what is going on inside. For example, if there's a huge box waiting to be picked up with a picture of a 62" Flat Panel HDTV, This tells me that there is someone inside that I need to become friends with before Super Bowl XLI. I make a note of the address, and start devising ways we can accidentally meet.

If, on the other hand, the packaging is for an Uzzie semi-automatic machine gun, than I know that my old course is getting stale, and it is imperative that I map out a new route before I finish running this one. Again, I make note of the address, and start devising ways to sell the house and not leave a forwarding address.

This past Friday's "junk miles" run was particularly revealing. After all, this was the once a year, magical "Christmas Trash Run", where boxes holding the dreams of New Year's Resolutions are tossed to the curb.

During the run, I started to see a pattern in the types of gift exchanges people had made within the last week. As I neared the first turn, there was an empty box which once contained a Body by Jake Cardio Cruiser. I have seen ads on TV for this and similar products for many years, now. It promises results in as little as 10 minutes a day, 3 times a week. As I cruised by, I couldn't help but wonder how long it would be before the piece of equipment itself would be sitting out there on an early Friday morning.

It wasn't long before my deliberation dissolved. As I charged up the next hill, I encountered a box with Tony Little's smiling mug, bright teeth, bulging biceps and wonderfully full pony tail. He was glistening, while riding his Tony Little Gazelle Edge. It promises firming and toning in as little as 10 minutes a day, 3 times a week. I wondered my hair could get longer and my teeth could be whiter if I used it too.

Around the corner and up the next street, there was a box that had a picture if Christly Brinkley and Chuck Norris for the Total Gym. It claims to provide benefits from resistance training without pressure on your joints! I'll bet the owner is resisting using it right now. This is yeat another miracle miracle product that can give you the body of Christy AND Chuck all at the same time, and the transformation will happenÖ.in as little as.....you guessed it........10 minutes a day, 3 times a week. I'm guessing that by March, you'll have a hundred of these "Only used once" bargains posted on eBay to chose from.

Fitness Infomercials have become the babysitter of the modern day insomniac. You can't channel surf any time of day any more without encountering these or equivalent products being pitched by pumped up long haired muscle men and slender, gorgeous models, and has been actors and actresses who want you to believe that if you buy their rubber band system, or their aerobic stepper, or their anti-gravity boots, you can look just like them and suddenly have the kind of charisma and sex appeal usually reserved for movie stars and rock musicians. And these stunning results are promised in 10 minutes a day, 3 times a week.

I have often watched parts of these product pitches, and wondered if people really purchased the commodities presented. Today's tour of the neighborhood answered my question with an unfortunate and resounding yes.

I'm sure that every piece of equipment I've alluded to works very well. After all, they have all been tested by doctors in controlled laboratories. If someone is committed, they will see results eventually, feel better about themselves, and pursue new fitness challenges. The problem as I see it is not what is being sold. The perplexity is with the marketing of the products. What is being sold here is not a new lifestyle of overall fitness combined with a well balanced low fat diet. What is being transacted is instant gratification. Ten minutes a day, three times a week. What is being marketed is more for less, with promised results.

If I started running with the attitude that 10 minutes a day, three times a week was all I needed for total health and emotional benefits, I would have been misled, and I would have stopped years ago. That amount of time would have never allowed me to reap the enormous mental health benefits that nothing else in the world can hold a candle to. The benefits of any exercise program, whether it is running, biking, swimming, or anything involving machines, weights or other apparatus is as much in the journey as in the results. To me, the health gain I realize from running is simply a dividend, but not my purpose.

And for anyone who thinks ten minutes a day, three times a week is a pittance to pay for a fountain of youth, your well is likely to run dry before you have drunk the waters. Why? Because you are determined to get to your desired destination without enjoying the journey. Slow down and smell the flowers. Exercise is better situated as part of your total self being, to be incorporated into it just like eating, sleeping, working and giving and receiving the love of those who are most important to you.

Ten minutes a day, three days a week. What a sad commentary. Nothing worth while can fit into that kind of equation. For anything you do of value, you are much better off leaving your watch and your calendar out of sight.

TRS
---
Thoughts of A Roads Scholar - Thinking is the Best Way to Travel (long)

And you can fly
High as a kite if you want to
Faster than light if you want to
Speeding through the universe
Thinking is the best way to travel" ~~~~Mike Pinder  The Moody Blues

2006 was a year of continuous travel. Since January 4th, my life has been a barrage of Delta sky miles, Hilton and Marriot points, per diem meals and American Express transactions. Some would call it an exciting lifestyle, and it often is. But it would be a far better one if airport security was less stringent, flights always ran on time, and hotel accommodations were consistently as advertised. It's an enjoyable existence in many regards, but it comes with many bumps in the road, and air pockets in the sky.
The hard cold reality is that the airports want you to arrive two hours early, merely so they can delight in advising you that your flight is going to be two hours late. Once you finally arrive at your final destination, you learn that suitcases don't always disembark at your destination on the same flight as you do. Mapquest doesn't always succeed in getting you from the airport to the hotel in an unfamiliar city, and once you do get there, the hotel doesn't always have the non-smoking room you reserved weeks in advance. Sometimes, they don't have any room at all.
Commercial travel is a necessity in my line of work, placing me squarely at the mercy of others, but there is another kind of travel, the journey of the mind's eye, which I have a little more control of. For me, destinations of the psyche have always been most easily accessible through running, the vehicle of perfect travel where there are no delays, skies are always blue, and I never get a middle seat sandwiched between two people who are on their way to the Guinness buffet eating world championships.
At the beginning if this year, my mental travel agent must have been on an extended vacation, as I found that my thoughts were not taking me to sunny destinations. I seemed to not have any desire to run any longer than three or so miles. They were all rocky miles, and were not fun. At the time, my running was kind of stale. I'm not really sure why, but every time I went for a run, voices emanated from the back seat of my mind, repeating the mantra of any child in a hurry to get to someplace exciting- "Are we there yet, are we there yet, are we there yet?" It took everything in me to even get out for a run, and once underway, all I wanted was for each run to be over. The running never escalated from my labored legs and breathing to my free stream-of-consciousness thought.
It got worse from there. From February through mid-April, I was on an overseas assignment where I didn't run a single step the whole time I was there. It was ironic that I was over 10,000 frequent flier miles from home, but my running had shut down like a failing airline suddenly engaged in Chapter 11 bankruptcy. Although it was an amazing travel experience, my running stayed home in the states. I didn't run, and as a result, my mind travel was grounded.
When I arrived back home in Mid-April, I started sporadic running again, mustering a slow mile or two here and there. It was like learning to walk again. Every step was labored and my body was too acutely aware of the unwelcome weight gain and the painful and physical act of running to allow my mind to wander. For most of the rest of the year, my physical weekly coast to coast travels preempted any real opportunity to experience the mental Bernoulli Effect and simple momentum transfer in the air flow of my mind to allow liftoff.
But if you can change your thoughts, you can change your world. And when your mind is right, it can take you wherever you wish to go, first class, turbulence free and on time every time. Running is the only means of transportation that can get me there. Some call this the elusive "runner's high" but I call it my escape to reality.
One of the things I have always enjoyed about running is the seeming union of mind and body, and when it all comes together, I feel like a well oiled instrument. When the human machine is clicking on all cylinders, running becomes a mystical, magical travel experience where there are no blackout dates and miles never expire. It's a feeling of such total absorption of thoughts that the whole rest of me is just along for the ride. There is no effort, no struggle, and no outside awareness of anything, including the act of running itself.
It just is what it is.
Or at least it was. But for some unknown reason, this feeling suddenly escaped me, and so my passion, and even my desire for running dried up. It continued this way for what I was afraid would be forever. How do you recover a lost passion? You have to change your mind.
In early December, the joy of running started to return. I can't tell you what the catalyst was, any better than I can explain why the passion left me to begin with. But it started to return during a trip to San Francisco, where running started to feel good again and the scenic beauty was like oil seeping through to the rusty gears in my mind. It was during that week that, for the first time all year, I found that each day, I was looking forward to my next run, and expecting it to happen.
The next two weeks, I was working in Houston, where I discovered that running in a usually crowded downtown area before sunrise allowed me to own an entire city with a different self guided tour each day. As was the case in San Francisco, I got out every day except a couple when I chose to rest, and found myself looking forward to each next run. My body was reuniting with my soul, and I was reconnecting with running. And the words started flowing again.
I finished up 2006 at home, where, even though I've had the joy of sleeping in my own bed every night, I've been traveling every day, taking a new journey of the mind during each run. I finished up the year yesterday with a simple three mile trip reflecting on the year ready to end and the new one only hours away. We closed out the year with friends and family.
In about three hours, I'll be lining up with about a thousand other runners for The Atlanta Track Club Resolution Run, my first run of a new year. This year, I have not made any New Years resolutions. For the past month or so, I've already been resolving to evolve a little bit each day, with a simple goal of being a better person today than I was yesterday. Any day you chose is a great day to start.

Words are flowing out like 
endless rain into a paper cup 
They slither while they pass 
They slip away across the universe

Michael
---
Thoughts of a Roads Scholar: Home, wherever you may find it Ever since I attended my very first baseball game in the late 50's, I've always been a big fan of baseball. Well, I shouldn't say always. In the mid 90's, I actually boycotted the game for a while. I had no sympathy for millionaire ballplayers walking out on the game and fans that made them filthy rich to begin with. It felt like they were ungrateful babies, biting the hand that fed them, the paying public. Not only did I boycott attending the games, but I also boycotted watching them on TV.
Ironically, it was two controversial ballplayers who brought focus back to the boys of summer. It was Sammy Sosa and Mark McGuire who enticed me, along with most of the rest of the sports-minded nation, back into the baseball fold with one of the most exciting displays of power and friendship ever documented in the history of sports. I say ironically, because both were most likely cheating at the time, either by using performance enhancing drugs or corked bats. In Sosa's case, maybe it was both. Although that year had fans riveted, both players will now likely be denied admittance into the Baseball Hall of Fame due to their respective character flaws. It's all very sad, because these were the two single-handedly responsible for putting baseball back on the map.
Why am I writing about baseball in a running column, anyway? Mainly it is because I've been staying in downtown Houston the past couple of weeks, rediscovering MY favorite past time, and I have been scoring runs every morning around Minute Maid Park, home of the Houston Astros, It has sparked thoughts within me that I wanted to share. So with that in mind, batter up!
Houston has had three different homes since it's inception to the National League at the start of the 1962 season. Most people don't remember that the Houston team didn't even start out as the Astros. For the first couple of years, they played as the Houston Colt 45's, while they were building their first permanent home, The Houston Astrodome. They were introduced to the league the same year as the wildly popular NY Mets.
The Astrodome, at the time, was referred to as the 8th Wonder of the World. It was the first ever domed sports arena of this magnitude. An observation that I think is even more amazing than the Amazin' Mets is that this futuristic edifice only 40 years ago has now become known as the "Lonely Landmark, relegated to hosting only an occasional concert and high school football games. If I weren't still so young, that sobering thought might make me feel old.
Home. It can change many times over one's lifetime. But when you find it, there is no place like it, and it is a concept I have given a lot of thought to lately. As I have endlessly lamented in recent columns, home is a place I have spent very little time this year. The world of travel can have its rewards, but it can also be tiring, stressful, lonely, and a world apart from home. My wife has been extremely understanding and supportive, which has meant the world to me, and when I do go home, it is where my heart is.
I have always found that when I am not at home, it helps to find a routine that reminds me of home. Over the years, nothing has accomplished this feeling more naturally than running. It is the one part of the daily routine I can maintain no matter where I am, as long as I have the motivation and the desire. But both have been absent for longer than I'd like to admit.
Happily, however, both have recently returned with a passion I have not felt in a long time. I once again go to bed at night fully expecting to run the next morning, and I have been successful in that goal much more frequently than not lately. I am once again looking more for reasons to run than excuses not to.
Home. When I am not there, I can at least pack parts of it and take them with me. It doesn't even take up much room in a suitcase. All that is required is a pair of Sauconys, socks, shorts and a singlet, slightly more in the winter. It is my portable home away from home.
Home. Aside from family, it is also where my friends are, and my friends are something else I have neglected this past year. . This includes my friends on the Internet, which is always at my fingertips when I travel. In my tunnel vision with blinders, I have spent too much time focusing on other things, making most aspects of home seem even further away than they need to be. It is something else I see changing in the near future. It's just another element of home that I can control when I am not there.
So again, somehow baseball, running and Houston have caused me to reflect on home, and how much I have missed it. The new Minute Maid ballpark might be a beautiful place to call home, and my runs around it have reminded me to always root for the home team, no matter where I may be. As they say in baseball, being on the road could mean facing a hostile environment, but as long as you go home in your mind, it doesn't have to be a disadvantage.
Michael
---
Thoughts of a Roads Scholar: I Left My Watch.................In Alpharetta
Last Sunday, I headed out to San Francisco. My watch, however, stayed behind at home in Alpharetta. Our trial separation was not planned. This was not a conscious decision made by either my watch or myself. It was just that in my haste to get to the left coast, the watch was left sitting in my top dresser drawer.
I was only half way to Hartsfield-Jackson International Airport in Atlanta when I realized the oversight. For most of my running life, my watch had been about the most important adornment I'd ever owned. In fact, there was a time that I would rather have left the house naked than without my watch. In years past, having realized the calamity, I would have gotten off at the next exit, wound my way back home, and called Delta to reschedule my trip for a later flight, just so I could get my watch.
But apparently I am now living in a different era, maybe even one that includes logic and sensibility. I just shrugged and continued on to Hartsfield, ready to embark on a long and timeless journey. Times have changed, even if I didn't have the time to validate what time it actually is. To take and modify a famous Satchel Paige quote, "What time would it really be if you didn't know what time it really was?"
I landed in Frisco at about noon last Sunday, and headed for the hotel. San Fran is one of those cities you can easily fall in love with. Between the temperate climate and breathtaking beauty of lifting fog over the bay and the world renowned hills, compliments of the San Andreas and Hayward faults, it is easy to understand how Tony Bennett left his heart there.
One of my work teammates is also a runner, and we were lucky enough to draw this assignment together. So on Sunday afternoon, we headed for the hills and did a slow 4 miler on a dirt trail the cut through cow pastures. I was keenly aware of the fact I didn't have my watch, but my running partner had his, so about every 15 seconds I badgered him about how long we had been running. When all was said and done, we had gone about 40 minutes. It was a good start to the week.
One thing I love about west coast trips is that I gain three hours along the way. As a result, I go to sleep early and wake up the next morning feeling rested and ready to run well before the first hint of daylight. I don't need a watch to appreciate that. True to form, I was out like a light by 7:30 Sunday night, and on Monday morning, I think I was up before 3. My normal routine is early to bed and early to rise, but Sunday into Monday was ridiculous.
At the first hint of daylight, I took off to run, not having a clue of how far I was going to go, and without a watch, not even really having a way of estimating how long my run was going to be. When you are carving your route as you run it, it's very hard to estimate how long into the run you actually are at any given time. The concrete duration often feels deceptively longer than it actually is.
I was a little surprised that it was cool enough to produce frost on the ground, but really, it was perfect weather for running. The full moon and cloudless sky provided a nice backdrop, but I was also conscious of what was missing on my wrist, at least at first.
But slowly, my concerns about time melted away as I started noticing nature all around me. Beautifully manicured lawns plush with vegetation were grabbing me and diverting my attention away from my thoughts of seconds and minutes. The hills on the horizon, which I had run the day before, were now unsuccessfully containing the rising sun, now just starting to peak above their foggy crest. This was timeless running at its best. Time was no longer an issue, so it was also not a distraction. It was just nature and me.
I am not saying that I didn't notice the time when I left for my run, and you can be sure that when I got back to my room, the first thing I did was look at the clock, but time was merely a reference point, not an obsession as it has been for much of my running past. It was refreshing to know I was out enjoying the simplicity of running about four miles in about 40 minutes or so, instead of strict high tech documentation that I had just run 3.9735 miles in 39:47:12. It was running, plain and simple, the way nature had intended.
As the week progressed, so did my running. I got out every morning, and as I attained more familiarity with the roads, I found that I missed my watch less and less. I didn't need to know how one run compared to another from a pace per mile or total duration vantage point. I was just happy to be able to enjoy running in its purest form, surrounded only by my inner thoughts and outer awareness of a run as natural as its surroundings. When it comes to running, high technology is an option, not a mandate, and this past week drove that point home.
A little later today, I'll be heading to Houston for the week. I'll bring my watch, if I remember, but I won't feel obliged to wear it. At least not on every run.
Tony Bennett left his heart in San Francisco I left my watch in Alpharetta What is left in Houston remains to be seen.
Good running to all.
Michael
---
Thoughts of a Roads Scholar: Running From My Past
As each year winds down, we tend to do two things.
1) Look back
2) Look ahead
In some respects, we spend most of our existence doing this, but December in particular tends to be a time of critical self- assessment, both as human beings and, for those of us who take to the streets, trails and tracks, as runners.
From a personal standpoint, I have much to reflect on this past year. Harriet and I celebrated our 6th anniversary. My older stepdaughter, Jenny, is expecting our first grandchild in early January. My younger stepdaughter, Lissa, has become a massage therapist and competitive kick-boxer, and now has an amateur record of 2-0. My daughter, Monica, started riding a bike and returned to school for Architectural Engineering. She was recently inducted in Phi Theta Kappa, an international honor society for students attending 2-year colleges. My mother turned 75 and my father turned 80, and both are completely ambulatory and in good health. Of course, this year, as any year, has had its share of bumps in the road, but by and large, this has been a very good year.
Professionally, this past year has been a year of constant travel. Early in the year, I was away for extended periods of time, including a nearly 3-month stint in the Philippines. As soon as I returned from that perspective-changing and eye-opening trip, I started a new assignment which has included travel virtually every week, but it has all been domestic and it has allowed me to come home every weekend. This project will continue until at least July of next year, so there will be no letup in the foreseeable future. My work will continue to keep me busy, but the experience has its rewards, and the rewards encompass more than airline miles and hotel points.
But running, I am slightly embarrassed and more than a little distressed to admit, continues to smolder in the background, just waiting for the right combination of sparks and desire to ignite my running back to the level of years past. When it comes to running, this past year has seen a range of feelings, from indifference, to a real sense of loss, but has mostly been a series of wishes and hopes, with not too much reality on the roads.
It isn't that running is not there at all. I still get out for two to four miles at least once each weekend, and on good weeks, I am able to run once or twice on weekdays. But more often than not, though I still pack to run, I either don't find the time or the energy during the week. Until I get back to running as a lifestyle, which I still know will happen some day, I hang on to running from my past.
For years, I kept meticulous journals of my running, detailing every run from the early `80's until about 2002. But for some reason, I stopped journalizing my runs, instead leaving blank pages during a period when I was running well and there were still volumes to be written. I used to like to look over my old logs almost daily. It's amazing how you can read about a specific run you did 20 years ago, and are instantly transformed to a place where you can remember the feel of the wind, and the smells of nature on that very run,
My running legs and running logs used to inspire me, and motivate me to continue on at the same pace for as long as possible, but somewhere along the line, as my consistency and number of miles ebbed, looking back on those same running entries started to have more of a discouraging effect. It just doesn't seem to document where I am right now. I haven't looked at a log in a while now. All it captures is running from my past.
I am always run-ready. I still have all the running accessories a runner should have in his arsenal. I have GoreTex for winter, CoolMax for summer. I have a HRM and a GSP, and I have multiple pairs of shoes still waiting to be unboxed. Most nights, I still go to sleep with hopes and dreams of running the next day, but distractions have become second nature, and I miss the nature of running.
At the end of December, I'll be off for two weeks straight, and will have control of my life again for that window of time. There are many things I look forward to doing, and many things I am looking forward to not doing. But on the top of the list will be an effort to recommit to running, writing, and engaging once again in the running community. Call it a New Year's Resolution if you wish, but I'd like to think of it more as getting back to running from my past.
I will be running a race somewhere on New Year's Day, 2007. That much I know I can commit to. After that, it will be a simple yet complex matter of overcoming the myriad of diversions that have taken me away in recent years. For the whole of 2006, I only raced twice, and one of those races was The New Years Day run at Stone Mountain.
I can't promise I'll have a column ready to go every month as used to be the case, but I do hope that when the inspirations come and I have something to say, that this will continue to be a venue for sharing. I've missed you all, and look forward to returning to normalcy some time down the marathon route of life.
Happy holiday season to all.
Michael
---
Thoughts of a Roads Scholar: Old Inspiration
If you have followed my essays over the past 10 years, you already know that it was my father who first inspired me to start running nearly 25 years ago now. He had been running for quite a few years before I caught the bug, but his motivation was strictly medicinal. His doctor had prescribed running as the magic bullet which would combat high blood pressure and high cholesterol. He didn't run for sport back then. He ran for the health of it.
On November 8th, Dad turns 80. To put things in perspective, in November, 1926 the same month he was born, the NBC radio network first started airing, and the now historic route 66 was first established. Suffice to say he was born quite a while ago. In retrospect, I think it is also safe to say that running worked for him, because approaching 80, he is in better shape than most men half his age. Not only has running added years to his life. I have no doubt that it has also added life to his years.
When I first started long distance running in the early spring of 1982, my own health concerns were not a thought in my mind. I was young, I was healthy, and all I wanted to do was run farther and faster, and acquire as many running T-shirts as possible. I was driven by improvement, competition and that wonderful poly/cotton blend, but improved health was not a thought I entertained. At that age, I still thought I could repel bullets and bend steel with my bare hands.
I started racing shortly after I started running, and suddenly, the "old man" of 56, who had first inspired me to run, was himself smitten with race fever by my pursuit of faster times. On July 3rd 1982, we ran our first race together. It was a 5K, and he ran a 24 something and I ran a 25 something. At the time, I was 26 and just starting out. He was 56 and already a veteran runner of many years, having started running in the late 60's. Racing became my passion, and for him it was a new dimension of running.
My race times dropped rapidly and drastically from that point, and by the end of 1982, I was already flirting with sub 20 minute 5K times. Dad started training to race rather than just running for health benefits, and despite being in his late 50's, his times improved as well. He increased his weekly mileage, pushed his 5K times down under 23 minutes, and by late spring of the following year, we both ran our first marathon. He was 57 when he ran his first.
We were both living in New York back then, and I used to take the Long Island Railroad into the city on weekends a couple of times a month so we could meet to race together in Central Park. More often than not, he would have a race goal, and I would pace him to help meet the goal. Most of the time, we would succeed. As we ran together more, we bonded, and my father became my friend. Those early runs together hold some very fond memories for me.
I moved to North Carolina in late 1983, but I would still fly back to New York several times a year to visit the family, and to run a race with my father. And on weeks when I didn't come up to race, I would call, and when we talked, the conversation was never complete until we talked about our running achievements for the week.
Dad continued to race, albeit more slowly, throughout his 60's and into his 70's. I always got a kick out of it when we would be at a race and he would look at the oldest runners trying to find out their age. The "what age group are you in" question is timeless. It can turn septuagenarians into giddy little kids instantly.
The last couple of years have been tough running years for both of us. In Dad's case, his desire to run is still there, but running has become painfully hard on his feet. So instead of running, he lifts weights, works on an elliptical trainer, and walks 4 miles several times a week. He'll still finish up his long walks with a few hundred yards of slow jogging. He still does it all for improved health, and it still seems to be working. After all, he is almost 80.
In my case, the reasons for slacking are different. I took a career change a couple of years ago from corporate work to contracting, and I now travel 100% of the time working some very difficult hours. On the surface, I can easily use the excuse that this has all made running quite difficult on a regular basis. But I am not sure that is the whole story.
I am no longer 26 as I was when I started. In fact, on my next birthday, I'll be twice that age, and I will have been a runner for half of my life. I am no longer driven to compete the way I once was, as my best times are now securely behind me, something I was reluctant to admit for quite a few years. And it appears that, without the drive to compete, the drive to run is greatly diminished. I have gained some weight and sometimes wonder if I will ever be a real runner again. I haven't run a race since January 1st, and that one was more out of obligation than motivation. But I will be running a 5K next weekend just to have a measurable accounting of how far I have slipped.
I called Mom and Dad today as I do every Sunday. As always, Dad asked how my running week was. I told him I got out twice during the week while in Panama City, and I got in a "brisk" 4-miler at a 9:30 pace with Harriet yesterday. For me, this was a good week. Running has been hard. Motivation has been even harder. Lately, I have been feeling old.
Then Dad reflected on his week to me. He told me he went to the gym almost every day, and also got out and walked several times during the week. He rounded out his week with projects around the house they just finished having built. He said he probably got in 20 miles of walking, along with everything else. He had a very good week.
It got me to thinking. When I first started running, inspired by my father, he was already five years older than I am now. He had his best running years by far in his late 50's and throughout his 60's. He was running for the reasons that were right for him, and to this day, they continue to be the right reasons. So he continues to do whatever his body will allow. His is still an inspiration.
Sometimes, in my mind, I go back in time, recalling the years of consistent running I once did, and wondering where it went, and if it will ever return. There is a part of me that truly believes it will be back some day. But in celebrating my father's 80th birthday, I think the message is to not look back, but rather to look forward. Perhaps the inspiration of an 80 year old man is what I need. My goal has always been to be like him when I grow up. It continues to be.
Happy Birthday Dad.
---
Thoughts of a Roads Scholar: "Reclaiming the Gift"
This essay is long overdue, but I feel that finally, the time is right to write it, and then look only ahead.
The last 16 months have been a real struggle for me. Early in 2004, I embarked on a journey that would eventually take me to new running heights. Thanks to a well-written and equally well executed training plan, I managed to get my mileage up to 65 miles a week while preparing for the Twin Cities Marathon. I eagerly looked forward to Sunday long runs which found me out the door at 4:30 in the morning, in order to beat the stifling mid-summer Atlanta heat and humidity. In fact, I looked forward to every run, and felt a keen sense of satisfaction in every one. I was giving my best, and enjoying the gift.
But the week before the marathon, after all the hard work and focus, parts of my world temporarily fell apart. The details are not important now, as things eventually worked themselves back to where they should be. I still ended up running the marathon, and thanks to the great training base, still managed to run a marathon PR, but my heart was not in it, and I'm sure I could have performed much better if I was as mentally ready as I was physically.
Immediately after the race, I started an endless obstacle course of travel and long hours, which spun me off track, and took me completely away from running. When I returned home less than three months after being in the best shape of my life, I had gained almost 20 pounds, and my spirit for running seemed to have abandoned me. The running was still there, but the joy was not. Without the passion, the running felt like work, and so it became less frequent. The reasons for running were gone. I lost the feeling that running was a gift.
Most of 2005 was a struggle. The time I had always reserved for running was now being monopolized by other things, mostly sleeping a little later. In addition, the travel continued, and running became a hit or miss proposition. It was very easy to talk myself out of a run, and sometimes, a missed day turned into missed weeks. Without the joy, the incentive was drying up.
In October of last year, I turned 50, an event I had been eagerly anticipating in the years leading up to it. But by the time it happened, I felt more like a former runner than a grandmaster. Even the move to a major new age group didn't give me the kick in the shorts I was hoping for, and so I started to wonder if I would become like many other 50 and over runners, who just fell by the side of the road while the select few kept on going.
But I have been a runner for close to 25 years now, and running has long ago reshaped who I am, in a figurative sense even more so than in the physical one. Even when the blood is not flowing through a runners body as the result of a hard sweaty workout, running still remains in a runner's blood. You can't just run away from running. It becomes entrenched your soul. It becomes a part of who you are, and is not so quick to leave.
So for the past several months, I have still been going through the motions, and waiting for the passion to return, and anticipating the run with the pretty bow attached. The attempts have been less frequent than in the past, and the duration of the runs has been shorter. But I have kept at it, and at least done my part to keep the dream alive. Even halfhearted attempts are better than no effort at all.
I don't think I am a great writer, but I can certainly emulate one at the very least. Before this morning's run I decided that I was going to come back and write no matter what. I haven't made a commitment like that to myself in a very long time. So, I left for my run with open eyes, and an open mind, something else sorely lacking lately.
During my 30 minutes, I allowed my mind to wander, and flashed back over my past 25 years of running. I took myself back to the days when every run was an improvement over the last, and I was still steadily marching towards my full potential. Every run was a new learning experience, and before I was even finished with one run, I was looking forward to the next. It took me by surprise when I realized that I was going back a half a lifetime in my mind. It still seems like just yesterday that I took my first long distance running steps.
I fondly remember how, for many years, I ran with my father, who was the one who first inspired me to run. We were both much younger then, and lived much closer together than we do now. He is now 79, and still in superb shape, however his running has been downgraded to walking and workouts at the gym. I fear we have done our last run together, and I can't really put my finger on when or where exactly it took place. At the time, I didn't know it would be our last. But when we get together, we still try to walk, and visit like old times. Our most recent walk was less than a year ago, and I long for the next one.
My mind's eye took me to the dark parts of my running past, too, when I was injured, and would have given anything for 10 minutes of pain free running. There is not much that makes one's desires for something burn more than knowing you can't have it. It made me feel a little guilty that now, I can run pain free, and more often than not lately, still chose to not accept the gift that running truly is.
I also thought about how effortless running a 25 minute 5K used to be. That was an easy training run for many years, but the years catch up, and it takes a while for a runner's mind to accept the fact that the same level of effort yields much slower results. These days, a sub 25 minute 5K is an all out effort, and it can leave me quite frustrated.
But the thing that hit me the most during this morning's run was that, in figurative terms, I brought my canvas and paintbrush with me, and soaked it all in. For 30 minutes (well, 32:04, to be exact- I guess I really AM still a runner) there was once again joy in my running, and I knew I could come back and write about it as in days of old. For 30 minutes, I reclaimed the gift. I don't want to relinquish the gift any time soon. I will do my best to be sure that doesn't happen.
Michael
"To give anything less than your best is to sacrifice the gift" - Steve Prefontaine
---
Thoughts of a Roads Scholar: "January 1, 2006"
There seems to be something about the first day of every new year that grants us permission to wipe the slate clean, readjust our life goals and look at things differently then we did even the day before. What is so magical about January 1st of every year that renews our spirit and allows us a fresh start? I have no idea what it is, but I am a believer, and I am as entitled as anyone else to jump on the bandwagon. So here it is, January 1st, 2006, and I am ready to proclaim some desired changes that have been a long time coming.
As with most people, every late December, I reflect back on the year winding down. There are many things which can make a year great, or one to forget. Family, friends, health, and professional accomplishments are all part of the big picture. And for the past 23 of those years, running has been a major element of what determines the success of the year.
As year year viewed through a runner's eyes, 2005 was not a good one for me. Races were far less frequent than they have been in previous years, and I found my running often being overshadowed and pushed away by other events going on in my life. For the first time in recent memory, there were periods of time in 2005 when I didn't really even think about running, and even more shocking to me, there were times during the past year that I didn't even fancy myself a runner. Overall, I have lost more steps this past year than I have in any year before, and I hope that this is not the beginning of a trend.
I know that part of this lack of motivation had to do with the fact that other things in my life have surfaced as higher priorities than running. Professionally, I have been quite busy. It has been very rewarding, but it has also been fairly draining, as travel has dominated large chunks of my year just completed. I attribute at least some of the reduced drive to run to the demands of work and the lack of flexibility I sometimes encountered as I toured the country on business.
But I think the bigger culprit is the fact at I am getting older, and slower, and I no longer hold the dreams I once did of running times like I did as a 30 or 40 year old. It is hitting me like a ton of bricks that I have not tricked father time was well as I had always imagined that I would. The immunity to aging I often mused about is not playing out like I had imagined. I seem to be slowing down even more quickly than many of my counterparts, and as I get older, my body is less willing forgive the sins of eating too much of the wrong foods and taking too many days off from running.
My day today was broken up nicely with a drive down to Stone Mountain to participate in the Atlanta Track Club Resolution Run early this afternoon. A run has always been a part of my New Years Day. Ever since I've been a runner, I have never missed a January 1st run. It is probably the only day of the year I can say that about.
Today, plus the next 364 days will eventually add up to the year I look back on in late December in order to evaluate what kind of year 2006 was. As with every year, there will be formidable challenges. Right out of the box, I will be away from home for three months straight starting on January 5th, so quality of life with family and friends will be impacted greatly.
It can be very hard being away from home, family, and daily routine for extended periods of time. But one thing I have always found to be true while I travel is that if I can find roads to run while I am on the road, then away starts to feel a little more like home. I am keeping my fingers crossed that I will be staying somewhere that is conducive to running.
More importantly, if I am running well, and often, then when I look back at any given year in late December, the whole year looks a little better than it would have without running. I know that my last 23 years have been so much better because of running than they would have been without it. I hope the same can be said of the next 23 years. You'll find out on January 1, 2029.
I will also plan to write a new column to be published on Monday of each week. Running and writing have always been like a hand and glove to me. They have both been very important to me over the years, and one compliments the other. It seems that whenever one ceases to burn brightly, the other is also quickly doused. Neither has been very prominent this past year. But it is now 2006. The magic shall return. In fact, it has already started.
I hope you make 2006 one of your best years ever, always taking things one day at a time. That's my plan.
Michael
Subscribe to Thoughts of a Roads Scholar at: Yahoo.
---
Thoughts of a Roads Scholar: "When a Runner Hits the Wall, Does It Stick?"
When I first started running back in 1982, I was immediately hooked, but it was certainly NOT a case of love at first run. In fact, I didnít really like it very much, and I remember that it took me over three months before I could run three slow miles without taking a walk break. It was actually the lure of fast times and T-shirts that drove me to want to run every day, and to think about it around the clock when I wasnít doing it.
In those early days, I had no common sense when it came to running. If my ankle hurt, I still ran. If my knee was screaming at me, I ignored it, and kept on running. I was happy to ignore the warning signs, ďthe injuries of excellenceĒ as George Sheehan used to call them. Within me, there was a potentially dangerous combination of unbridled enthusiasm and gross inexperience. But for some reason, I was hooked.
That first year or so, I probably spent as much time on the sidelines as I did at the starting line, but running was in my blood. For whatever reason, running stuck. This was news in itself for someone like me, as I normally have a Teflon exterior and lose interest in new things quickly.
I was always known for starting things I didnít complete. My father, my inspiration for running, knew this, and in his mind probably gave me about a month before I gave up on it, so when I continued on with my running into early 1983, it was a surprise to him. This was true especially because it meant persevering through a cold New York winter, complete with a nor Ďeasterner that left the streets icy for close to a month.
But running stuck, and by the end of the year, I had improved in leaps and bounds. My first 10K in late June of 1982 was barely under 60 minutes, and my first 5K, on July 3rd of that year was over 25 minutes. By the end of the year, I had run a 10K in under 44 minutes, and had run a 5K in just a little over 20 minutes.
The following spring, Dad and I did something which questioned our normal level-headedness. We had registered for the Long Island Marathon, which had a very nice feature. It produced a full and half marathon. You could sign up for either one, but could decide at the half-marathon mark to change your mind. We both figured weíd run the half, and maybe a little bit more. Neither one of us had trained for a marathon, and I think the longest I had ever run in my life up to that point was about 9 miles.
We each ran our own race, so I never saw him once the race started. But we were like-minded runners, and running sticks, so when each one of us hit the half-marathon point, we did what any overenthusiastic runner would do. We kept going.
It was somewhere between 18 and 19 miles that I first experienced the catch-all term of the first marathon boom, ďHitting the Wall.Ē In my mind, I said that I still had about 8 miles to go and I know there was nothing left in my legs, and I was ready for the bus to come along and pick me up, as was advertised on the application. But advertising is sometimes false, and I never saw a bus, so I kept on going, mostly walking the rest of the way. I was not loving running too much at that precise moment, but I also remember in the back of my mind wondering, even in my glycogen-depleted state, when Iíd be able to next go for a run, once the aches and pains from this ludicrous activity subsided. I hit the wall, and just like a properly cooked strand of spaghetti, it stuck. I
íd like to think that as the years rolled on, I got smarter and my passion for running grew only stronger. I started to like running just for the sake of running, and started treasuring each run aas a special gift. I decided about 15 years into my running life to start writing about and sharing my running thoughts, which I considered to be pretty much the simple and honest thoughts of a common runner. Running was so much of a focus in my life that I just had to share what I observed with whoever would listen. Thus was born ďThoughts of a Roads Scholar.Ē This column started as just random thoughts shared with friends, and over the years, it grew into a column that some people actually looked forward to reading. I could write in a way that inspired, and I was fortunate enough to have some of my essays published in Runnerís World and Marathon & Beyond Magazines.
But the last couple of years, things have gotten very busy for me in other ways. I took on the challenge of being the president of my running club, and also took over the helm of the clubís newsletter, which is another labor of love, albeit a very time-consuming one. At about the same time, I left my corporate job, and after a brief time of figuring out what I was going to do with my life, entered the world of contracting, which involves a tremendous amount of travel.
This is not to say that my life has spiraled out of control. It has not. It is just that, over the last couple of years, my priorities have shifted, and I have found great satisfaction in providing for the family in a different way while giving back to the sport I love. But it has all taken time, and to some extent, desire, away from my running. I think the issues are compounded by the fact that my performances have sharply diminished from a time standpoint, now that Iím on the other side of 50. I know longer feel like one who can inspire and motivate. In fact, I could use some of these things myself.
What I have missed more than anything in recent years is the satisfaction of the simple joy of running, competing, and writing about it. In a way, it feels like, over the last couple of years, running has not been sticking with me. I still do it, but is seems like not much more than going through the motions. What I miss is running through the emotions.
My intension with this essay is to attempt to jump-start it all again. I appreciate the off-list emails I have received from a few of you wondering where Iíve been and how Iím doing. That has always meant a lot to me. My answer is my pronouncement that I am alive and well, and ready to get back into it all. Iím ready once again to run in the rain, and hit the track, and set some running goals, which I havenít done in over a year now. And also, my desire is to once again smell the flowers, and catch the special glimpses of the sun peaking out and starting to spread its rays over the neighborhood while Iím out on an early morning run.
And I plan to share it all here, and look forward to it very much. Itís just a matter of once again throwing myself against the wall, and if properly prepared, I will expect it to stick.
---
Thoughts of a Roads Scholar: In Search of The Me of Old
In less than two months, I will hit yet another milestone in my running life. In one fell swoop, I will go from Patriarch of one age group to youthful tenderfoot of the next, as I become the most junior of the oldies but goodies. On October 2nd, I turn 50, and move in to the grand masters age group .
I have a vivid recollection of when I was in this situation 10 years ago, just a couple of months shy of turning 40 and becoming a master runner. My feelings then were a lot different than they are now, but a common thread between then and now is the realization that I will never again be as young as I was.
Throughout my 30's, my racing performances remained quite consistent. My best times for the 5K year after year were always between 20 and 21 minutes, and I felt like I could go on that way forever. Aging and declining performance were for other people, not me.
The last couple of months before I turned 40, I pumped up my training, and gained new focus, so that by the time I hit my 40th birthday, I was in the best running shape I had been in years. I was prepared to take on the new age group by storm, and had a great deal of success for the next year and a half, until I sustained an injury that more or less took me out of running for close to 2 years. Upon my return, I never attained pre-injury level performances again.
Now, I am two months from turning 50, and looking back, things are a lot different than they were a decade ago. After coming back from the injury, I spend the rest of the decade experiencing steadily declining race times at a much more accelerated rate than when I was younger, and as a result, I've lost a little bit of the desire to train hard to race fast. Once I got back to running after the seemingly endless bout with Shin Splints, a possible stress fracture, and sciatica, I was no longer able to break 21 minutes for a 5K, and by the time I hit 45, sub 22 became the difficult goal. Now, in my final months of this old age group, I fail to break 24 minutes for a 5K more often than I succeed. I never imagined that I'd lose three full minutes in my 5K time in only 10 short years. It makes me wonder where I'll be when I turn 60. Still running, I hope.
Ten years ago, qualifying for Peachtree was not a challenge. Fifty minutes was a training run. Now, it takes a lot of hard training and race day focus just to dip under 50 minutes in a 10K, and I realize that there will be a day, perhaps sooner than I'd like, where I'll have to settle for time group 1-B, and then, not being able to break 55 minutes, the potential is there to start even further back in the pack.
The past ten years have not been all downhill, but successes on the roads have been fewer and much farther between. My crowning jewel of my 40's actually came last year, one day after my 49th birthday, when I set a lifetime PR in the marathon, and it didn't happen by accident. I hired a coach who taught me about effort-based training, and I was fortunate enough to have the time to put in the training required to run well on race day. It was the only marathon I've ever run where I was confident at the starting line. I set a marathon PR by close to 5 minutes. Thank goodness for soft PRs.
But over the past year since then, running has been more of a hobby than a sport. With the loss of speed, and an increase of business travel, I seem to have also lost much of the desire that kept me motivated for over 20 years. I struggle more mornings than not to get myself out the door to run the roads that, over the years, have begged me to run them, and have become my friends.
I believe that I am not alone. When I do go to races now, which is only about once a month, rather than the once a weekend I used to do in my early 40's, I notice that many of my age-group competitors from 10 years ago are no longer racing. When I look at the results from the 50-54 age group, the fastest runners are still untouchably fast, but as I go down the list, the fast times don't go so deep, and times quickly slow once you get past the top 3 or 4.
It's hard to stay motivated when I feel like I'm running just as hard as I did years ago when the only question was how far under 21 minutes I'd go, and now I'm happy with a first mile in under 8 minutes. It's hard being 49. I feel old.
But turning 50, with a return to age-group youth is right around the corner. I'm hoping that this newfound youth will help snap me out of my running lethargy, and push me on my way to an extended search for the me of old. That would be the me that used to pop out of bed way before the alarm, eager to see what the limits of my body were. That was the me that used to think, sleep, eat and talk running all the time. That was the me that used to love inspiring the aspiring runner who was just starting out.
This is the me of old, which is somehow fighting a battle with an increasingly old me. My guess is that people who are in their 30's and 40's won't relate to these thoughts right now, and those in their 60's and beyond will kind of smile and think "just wait another 10 years and you'll look back and appreciate where you are right now."
But for those about my age, I'm guessing there is a lot of struggling company, internally dealing with much of what I am feeling right now. It's the trough realization that even in your dreams, PR's don't seem too possible any more, and the ultimate challenge is no longer improving times, but just working as hard as we need to just to not lose ground.
What are my future personal running goals? Number one on the list is recapturing the unbridled enthusiasm that guided my running for the first 20 plus years I've been involved in the sport. Second is to seriously get back to writing with the frequency and honesty that I used to, and perhaps this will be a good start. Third, I just want to connect with the wonderful community that I feel like I abandoned a couple of years ago.
The me of old. Come and discover it with me.
Michael
---
Obsessing Over 50
I guess this essay should really be called "Obsessing UNDER 50" because that's what I'm doing. Please allow me elaborate.
By the time you read this, I am hoping to have accomplished something I have been fixated on for quite some time now. As I write this, in all of my 49 years, 196 days, and 16 hours, there is one running goal I have yet to accomplish, that I know that some day I will. That goal is running a 10K in a time under my age. This is a goal that has remained so frustratingly elusive, like a carrot dangling in front of me, that I can practically smell it. But so far, I have not been able to grab it.
When I was 40, I was possibly in the best shape of my life, and I could still run an occasional 10K in sub 43, and thought that surely, by the time I was 43, I would have my goal. But something not so funny happened during those years, and by the time I was 43, I could barely run a 10K in sub 47. Frustrating, to say the least.
So I patiently waiting until I was 47, figuring that I'd have my goal by then. But my running times continued to slip just enough to keep the carrot whole and untouched. 48 minutes and change was the best I could do for a 10K, even though my 5K and 8K times indicated that I should have been able to do a 10K below my goal.
The last time I came close to running a 10K below my age was at the Williams Run in November 2003, shortly after I turned 48. I did the first 5K in 23:40, and thought I still had a shot, but fell off the pace the second half, and ended up running a 49:22. I was starting to think that maybe I don't like carrots too much, anyway.
That race was still good enough to continue my string of Peachtree time group 1A qualifiers through this year's Peachtree, but it puts me in somewhat of a dilemma. 2005 is the last year I can use my 2003 time for 1A seeding, which means, in order to be in that corral next year, I need to re-qualify by running another sub 50, suggesting that I have to run my age or below in order to get there next year. Added incentive is always a good thing.
There aren't too many running goals that become easier to obtain as one gets older. Certainly, every runner reaches a point where all PR's become a thing of the past. With most running-related goals, age hurts us. But, at least in theory, running a 10K in under your age should become a more realistic goal as you grow older.
Recent 5K times indicate that now might be the time. I've done a couple of them in under 24 minutes, and feel like I'm still getting stronger. Thankfully, I've lost about 10 of those pesky pounds I wrote about last month, and my mileage was up near 180 in March, and should be about the same in April.
On May 1st, I'm going to give it my best shot at The Atlantic Station Sprint for Cancer 10K. My main goal is to take advantage of my current fitness level to qualify for Peachtree time group 1A for 2006, but in the front of my mind is also running my first 10K in a time lower than my age, but that creates another question.
At 49 years old, do I have to run a sub 49 to achieve that goal, or do I take the days into consideration, and say that I have to run a 49:35 or so, since I'm already more than half way through my 49th year? I guess that, just as the 17th street overpass that crosses over I-85 and I-75 during the race itself, I'll cross that bridge when I come to it.
Subscribe to Thoughts of a Roads Scholar at: Yahoo.
---
The Asphalt Assault
It's Saturday morning, a reason we run
The kiss of the wind, the glare of the sun,
With the wave of a hand or the shot of a gun
In an instant, the asphalt assault has begun

Five hundred runners start forming a line
Five hundred reasons so neatly aligned
The mob inches forward two feet at a time
The effort's intense, and the mood is sublime

We know why we do it, we're keenly aware
The asphalt assault, it's a thrill we all share
Breathing smoke out our mouths, there's a chill in the air
We do it like clockwork, a weekly affair

The line stretches longer, our legs start to ache
Our breath becomes labored, our will starts to break
From the front to the back, stretching out like a snake
Exerting, we're hurting.  It's no piece of cake

We battle ourselves, and we battle our foes
And we bask in the gift that our running bestows
The asphalt assault, the adrenaline flows
If the goal's just to finish, or to win by a nose

The finish-line banner creeps slowly in sight
As each person ducks under, emotions ignite
Five hundred victors have weathered the fight
Five hundred winners, and each one outright

It's Saturday evening, the day is rerun
In Five hundred minds, each person has won
From the first to the last one to finish, bar none
Until next time, the asphalt assault is now done

Subscribe to Thoughts of a Roads Scholar at: Yahoo.
---
The Dark Side of Daylight Savings Time
(From March 1999)
Ah, the essence of spring. Its arms are long-reaching. Even in the northern stretches where the trees are still lifeless and bare, and the air is consumed with chill, the days are getting longer. Soon, most of us will be given an extra hour to do what we most love doing. The hour we lose in the morning as we spring forward, is gained on the other side of the day in added daylight. For many, it translates to more time to run, or to participate in other outdoor activities.
But this does not hold true for every runner. Some of us are slithering creatures of the pre-dawn darkness. The few. The proud. While the rest of the world sleeps, the pre-dawn runner is out there like clockwork, running on traffic free streets, with moonlight, lamplight and nocturnal wildlife for company. The thrill of seeing a deer or fox crossing a metropolitan road is a sight reserved for the pre-dawn runner.
Those of us who run prior to daybreak tend to be able to rationalize just about anything. Most people, I dare say even other runners, may think we are crazy for rising at times when infomercials and test patterns reign supreme. But we have our reasons. If 5 AM brings rain, it is only another element to overcome, and that's really what running is all about. Later in the day, when the clouds dissipate and yield to the sun, I smile in the knowledge that I didn't let the weather stop me this day. On the other hand, when clear mornings give way to stormy afternoons, I get similar satisfaction in knowing that this day, I stayed ahead of the weather. My run is already behind me, and I can reflect on a job well done, while others are pondering the wisdom of dodging lightning bolts.
For the last couple of weeks, the weather has been getting a little milder here in Atlanta. Although it is still tights weather in the early hours of the day, there is, in the air, a slight hint of things to come. Mornings in the 30's give way to afternoons in the 70's. In close parallel, something else has been happening which has taken away some of my darkness. By the end of my run, the first hints of daylight are starting to appear behind the eastern border of the universe. Those who share my feelings feel a shade of sadness upon realizing that our obscurity is becoming a little less protected each passing day by a sun that is rising earlier and earlier. But all is not lost, as on the first Sunday of April, we will be losing this recently gained glimmer of light just as it is starting to remove the shroud of secrecy and the veil of mystery of those known as pre-dawn runners.
There is so much to be gained from running. That's a truism of all runners, regardless of speed, endurance, frequency, or time of day we run. But as with anything that has a bright side, there is also a dark side lurking. On the first Sunday of April, we will again gain our hour of darkness, and our comfort level, as well as our anonymity, will return. While we will lose an hour of sleep, we gain back our hour of darkness where we most enjoy it.
Running once again under a blanket of stars, we are sitting on the dark side of Daylight Savings Time.
Subscribe to Thoughts of a Roads Scholar at: Yahoo.
---
March Forth:
March. They say it comes in like a lion and goes out like a lamb. On the weather front, that's a pretty accurate assessment, as validated this year, when March introduced itself to Atlanta in the form of cold temps, stiff winds, and snow squalls.
But for many runners, March represents the time of year when we start to increase our mileage, inspired by warmer weather, colorful blooms, attractive races, and increasingly lengthening daylight hours. We come in to March like a lamb with the hopes of going out like a lion, hungry for faster times and increased mileage.
As March arrives this year, I am not too happy with myself as a runner, but I'm more content than I was at the beginning of February. Winter is usually my favorite season to run, but this winter was a virtual off-season for me. First, there was no time to run, and then when the time peaked from behind the clouds, there was no desire.
The toughest lesson I have learned during this drought is that time off when one is approaching 50 has more of a negative impact than it does when one is 30. For the first time ever, I had to loosen my belt buckle to its outermost notch, with a wave of trepidation that a newer, larger belt might soon be forthcoming, along with a newer, larger wardrobe to match.
But in Atlanta, March, more than any other month, represents renewal, revival, and a return to life. The pink hues of cherry blossoms are already declaring the end of winter, despite Punxsutawney Phil's declaration a mere month ago that "Six more weeks of winter there will be!"
And so, for me and my running, March will be the month of shaking the cobwebs from my head and my Sauconys, and experiencing that reunion of mind and body that only running can really provide. The first three days I've been quick out of the gate. The 19 miles I ran the first three days of the month probably exceeded my mileage for the entire month of December, when I was bouncing around between North Dakota and the frozen tundra of Canada, where work hours were very long, daylight hours were very short, and the snow was very deep. It doesn't leave a lot of options for a runner who suffers from dreadmill phobia and sleep deprevation.
January was just a plain lazy month. I had the time, but didn't take good advantage of it. I guess we're all entitled that downtime once in a while. February was much better, starting slowly, but gaining momentum as the month rolled along. I ended up with a solid 120 miles, my best mileage month since last September.
These last few months have been a real eye opener for me. For the first time, I have really felt the impact of getting older on a grander level than just getting slower. It's going to take more effort than it used to just to keep my weight from getting the better of me. My eating habits are going to need to change, with better choices and smaller portions. That part is going to be tough, because up to this point, running has allowed me to eat whatever, whenever. I thought this only happened to everyone else, but I guess I'm not immune either.
Today is March 4th, and the date says it all. This is the month I march forth to becoming a real runner again, with my sights set on a Boston qualifier on my 50th birthday. In the process, I hope to put thought of buying a wardrobe of larger sized attire out to pasture.
I imagine that some of you have already gone through what I'm experiencing right now, and if you have, I hope you were able to beat it back to find the renewed athlete within. There were times the last few months when I wondered if my run of running was over after almost 23 years. My lack of interest in running was somewhat startling to me. My speed of deterioration from a lifetime marathon PR only four short months ago was disturbing. When you start to feel old, it's easy to think even older.
But the return of spring is the return of life, and the return of life is the return of running. Or maybe it's the other way around? Either way, beware of the lion. His appetite is ravenous.
March 4th. Time to march forth.
Subscribe to Thoughts of a Roads Scholar at: Yahoo.
---
The Rest is History:
Once you hit the rarified air of masters running, it's amazing how quickly a fit body can go down the tubes. Recently, I've had the dubious distinction of experiencing this first hand.
Last year, which I personally dubbed "The Year of the Athlete" ended up being nine months of the athlete, and then a final three months of virtually no running at all. I spent most of the year preparing for The Twin Cities Marathon, which was held in early October. I worked myself into peak shape by running 60 mile weeks, using a heart rate monitor, and adjusting my diet for the entirety of the training.
The hard work paid off, as at Twin Cities, I ran a lifetime marathon PR, and had a relatively easy time accomplishing that goal. By race day, I already had more annual miles than I had ever had in my life, and immediately after the race, I was already making plans for the next marathon, but then, suddenly things changed.
The week after Twin Cities, I entered the wonderful world of contract training, and suddenly, there was no time for running. My schedule had me bouncing all over, and by the time the 4th quarter ended, I had been everywhere from Florida, to California, to North Dakota, and even to Canada. It was great for frequent flyer miles, but not so good for frequent running miles.
To call this period a time of rest would be a bit of a misnomer, but from a running standpoint, I was standing still. The lack of exercise, combined with eating out three meals a day while traveling, resulted in my first ever "Battle of the Bulge" as I gained 20 pounds over the last three months of the year. It's actually not too noticeable to others, but I feel like the Pillsbury Dough Boy, and my belt buckle and pants are cognizant of the difference.
As I write this, it is January 3rd, 2005. I've been out running two of the first three days, for a total of about 10 miles so far, and I am already looking forward to tomorrow morning's run. I look to lose the extra weight as I work to gain back to the athlete I was for the first nine months last year. This year, however, my goal is to maintain the athlete status all the way through the year.
This year, I'll be looking for another marathon PR, this time on my 50th birthday on October 2nd. I'll be heading back to Twin Cities in my effort to make it happen. I plan to use January to fall back on some good habits, and then follow last year's blueprint to repeat the training I did last year.
There is no more rest for this athlete. After three months of virtually no running, I'm happy to say the rest is history.
Subscribe to Thoughts of a Roads Scholar at: Yahoo.
---
But it's an honest sweat!:
I've never made a secret of the fact that I'm not an avid reader, and when I do read, it's usually for self-discovery, and not for entertainment. Most often, when I pick up a book, it is with a desire to learn how to improve some element of me, or to acquire tools which allow me to see things more clearly, or with the intent of learning to understand other people or myself in a different, more positive light.
Mostly, I read for inspiration, and last night was no exception. With my own writing in a dormant stage lately, I picked up an older book I hadn't looked at in a long time, with the hope of becoming once again inspired to write. When I opened it, the first thing I noticed was how discolored the pages had become since I had last picked it up. But though the pages had yellowed, the words were still as timeless and appropriate as when they were first written, and they danced off the aged pages as I read. The book was Running and Being and the author was George Sheehan.
I wasn't even half way through the forward before I realized that today was going to be a writing day for me. When I read about how, in is own opinion, Sheehan the writer and Sheehan the runner were inseparable and one would likely not exist without the other, I acquiesced, remembering how I used to feel the same way about myself.
Sheehan was not my first inspiration as a runner, but he was my first inspiration as a writer. Through him, I learned how to unite my two passions, creating a compound word runnerwriter which I define as the path to the purest form of revelation and honesty. Sheehan chose to write immediately after his run, opting to towel off instead of showering because Honest sweat has no odor. But if you look deeper, there's much more to it than that.
Running sweat is as honest as sweat can get. The activity of running breaks through the falsehoods and the colored filters, and reveals the truths about ones self, others, and life in a way that no other activity parallels, at least to the runner. It is the unique and seemingly antagonistic combination of acute awareness and complete serenity in the same instant that makes running sacred. Many refer to that feeling as Runner's High. I think of it as Runner's Truth revealed overtly as honest sweat. Why should we be in such a hurry to rinse it away?
As I mentioned earlier, I have been experiencing another in a continuing series of bouts with writer's block. It's not that the ideas haven't been there. Running has been as enlightening as ever, and I've been learning more about the sport I love, the things I love, the people I love, and the person I am becoming than ever before. But somewhere between the run and the write, it has all been washed away time and time again. After being reminded again last night of how George did it, I'm confident that I'm back in the groove.
Sheehan knew better than to shower off the residue of the run before he captured his thoughts on paper. He simply ran, toweled off, and then wrote what the run revealed, while the thoughts were still fresh and honesty was still oozing out of his every pore. It resulted in primitive truths, written in modern words that will hold true for as long as the human species continues running and being.
So this morning I ran, accumulating new truths with every step. I delighted in feeling the salty truth serum dripping over my eyes, down my neck, squishing in my shoes, and saturating my singlet and shorts. Then, I toweled off, and sat down to write, still feeling the fresh film of sweat of the previous eight miles in hot and humid Atlanta.
Ah. But it's an honest sweat.
Subscribe to Thoughts of a Roads Scholar at: Yahoo.
---
Keep the Change:
A few days ago, I was heading across the parking lot to my car after a routine visit to the chiropractor, and I noticed a couple of well worn pennies on the ground next to my car. In the past, I would have let them lay, especially if they were face down. What can two cents buy these days, anyway? This time, however, I picked them up as a symbolic reminder that there is a big change going on in my life right now, and I my goal is to "keep the change." I've been picking up stray change I find on the ground ever since.
And now, please allow me to share my two cents with you.
As you've read in recent columns, earlier this year, I commenced on a new way of training which, so far, has suited me quite well. It has allowed me to safely increase my mileage while building strength and endurance as I prepare for The Twin Cities Marathon on October 3rd. I am banking on this new way of training as a way of one day hitting the kind of pay dirt that will lead me to the starting line in Hopkinton by April, 2006.
This new training technique is called effort-based training, and I promised to document my progress along the way, including the good, the bad, and, if applicable, the ugly. So far, I'm happy to report, there has been no ugly. Here's a little background, and my June progress report.
Around the beginning of March this year, I approached a local coach with one request. Train me to qualify for Boston and have me be ready on my 50th birthday. I've always been one with a flair for the dramatic, so I just thought it would be cool to make my 50th birthday one to remember in a special way. Of course, I'm lucky that my 50th birthday happens to fall on a Sunday; October 2, 2005 to be exact, and a good qualifying marathon happens to be taking place that day; Twin Cities.
Before embarking in setting up a plan for me, the coach asked to review my training year in training up to that point, and upon looking it over, he came back with two major observations. I raced too much, and my mileage was very inconsistent from one week to the next. So he started me out with a "Base Stabilization" period, designed to simply break me of my old habits and to run more consistently while slowly increasing mileage for a couple of months. This phase went from mid-March to early May.
During this period, he had me doing almost all my running at 65-70% of my maximum heart rate, which to me was almost painfully slow. There were weeks that I never ran a mile in under 10 minutes, and once in a while I'd cheat by running harder than I was suppose to, just to be sure I could still run a sub 10-minute mile. After a gentle reprimand, I settled in, but it was frustrating to be running so slow, and in the early days, I wasn't sold 100% on this method of training. By the end of this phase, I was averaging a pretty consistent 40 miles a week, which was a change for the better.
Starting in the second week of May, I entered the next phase of my training, a phase including endurance and strengthening, and my weekly mileage starting creeping up through the low and mid 40's. I made other changes in my life as well. I stopped drinking beer, figuring it probably wasn't doing me any good from a training standpoint, and I started making better choices in what I was eating. I figured that since I was heading down a more challenging road, I might as well switch from regular fuel to high-octane, and have my engine serviced. It seems to be working, so I plan to keep the change.
But my pace per mile was still not breaking 10 minutes most days. In fact, through the end of May, I only had four workouts averaging less than 10 minutes per mile, and those runs usually included some strides. When I did my 65% recovery runs, the average was often over 11 minutes per mile. Some of that could be attributed to the Atlanta heat and humidity making its presence felt, but I still was hoping to see more progress than that. My coach kept reassuring me that at this point in my training, pace per mile does not matter, a difficult thing for a runner to accept. But I committed to keep the change.
In early June, I started to see a nice change for the better in my running. The 65% runs were starting to average under 11 minutes a mile, and the 70% runs were starting to consistently go under 10 minutes per mile. I also started to have a day or two a week where my schedule had me doing mile and two mile repeats at higher intensity. I looked forward to those days, so I could feel like a real athlete.
I also ran a couple of paced races, breaking them down into three segments, starting off at 75%, increasing to 85%, and finishing up trying to hit 95% of my maximum heart rate. These races, though not really fast, felt good, and in the last mile of both races, I passed many people like they were standing still. Now THAT was fun!
At this point, I am exactly half-way through my endurance and strength building phase, and I'm up to about 50 miles a week, and I feel like I can still handle a lot more. My 65% effort runs are down to about 10:30 per mile, and my 70% runs are now averaging about 9:30 per mile. Without any additional perceived effort, I'm already averaging over a minute quicker per mile than I was even two months ago, and improvement is continuing. My mile repeats at 85% are usually under 8 minutes per mile, and I ran the last uphill mile of my recent 4-mile race in 7:20. None of this is blinding speed, I know, but I haven't even come close to my next stage of the training, which is the sharpening phase, when the real speed will finally come.
The change has come slowly, but hopefully I've piqued and compounded your interest. I am not exactly turning on a dime, but you can bet your bottom dollar that change is taking place. Literally, I'm up to 29 cents since I've decided to keep the change, and I have the coins put aside in a special place. It's a constant reminder that change is good, and I plan to keep the change. After all, it only makes cents!
Now that I've shared my two cents, a penny for your thoughts!
Michael
Subscribe to Thoughts of a Roads Scholar at: Yahoo.
---
Bound to Be Beantown Bound: If the English language wasn't so wonderfully diverse and unpredictable, I probably wouldn't find writing half as much fun as I do. But with a language in which it is acceptable to park in a driveway and drive on a parkway, and only men fart, but both men and women fartlek, there is ample opportunity to have fun with words.
As I've already mentioned in recent columns that a couple of months ago, I started Effort-Based Training in my own personal effort to qualify for Boston. So far, I have found the name itself to be a paradox, as it has seemingly required less effort than any other training I've ever done.
In effort-based training, you have to literally allow your heart to lead your head, or you'll do your training at too fast a pace. When you're doing almost all your running at 70% effort or less, your head sends a message to your body that you're running too slow, and your heart aches to cheat. It's a tough pill to swallow when an overweight man chasing after his loose dog in the neighborhood breezes past you in his pursuit. There is a smug satisfaction, however, when you notice he's red-faced, and still breathing like an asthmatic five minutes later while walking his dog back home.
When I first started following this effort-based training program, my head didn't like the feedback my heart was giving, and, as my coach admonished, I occasionally was naughty by doing my runs at too high an effort. My head and my ego were at war with my heart, and two against one was hardly a fair battle. I'd look at the next day's scheduled workout and groan to myself when I saw it was only four miles staying at under 65% effort. For me, that was too short and too slow, so I'd either add a little distance, or apply the 65% effort only to the downhill portions of the run. I couldn't seem to follow the program.
I started to think about the word follow, and what a really strange word that is, especially in the context of a runner. Why would a runner want to follow anything? After all, one of the primary definitions of follow as defined by Webster's, is To come after in order, time or position. If that was my goal as a runner, it would be time to seek out a new sport. The way I see it, if you follow something all the way through to the finish, the best you can possibly do is second place, because if you follow something, does it not imply that you are lagging behind?
Interestingly, one of the synonyms of follow is to succeed. How much sense does THAT make? Can you really succeed on something by coming next in time or succession? I've heard it said that second place is the first loser. That doesn't sound like success to me.
Yet another synonym of follow is pursue. I like that one a little bit better, because in this definition, at least you follow in an effort to overtake, which is a goal of strategic racing. But what happens of you overtake your training plan? Then you have to look backwards instead of ahead to see what run you should have done tomorrow. It's all pretty confusing.
After about a month of this nonsense, I decided I wasn't going to follow the program any more. I just didn't see how I could succeed by lagging behind, and why I would even want to succeed when by definition, succeed means lagging behind. I took one final hard look at my schedule and decided that my following days were over.
Does this mean I'm no longer in pursuit of a Boston Qualifier? Absolutely not. Am I saying I scrapped the plan that was laid out for me? Nothing could be further from the truth. In fact, just the opposite is true. I stopped following my plan by putting my arms around it.
Does that sound contradictory? It might, until you look at the English language with its twists and turns once again. One word that describes this type of figurative bear hug is embrace, so by embracing the plan instead of following it, not only do I put my arms around it, but another definition of embrace is Eager acceptance. I decided to bite the bullet, eat crow, and swallow my pride, and without exception, accept that I was going to embrace the schedule.
So I've been sticking to the training, and the training has started to stick with me. I've begun to improve in leaps and bounds, even though I haven't started leaping or bounding. If I can continue to wrap my arms around the training, and follow my heart, my head and body are sure to continue to follow, and I'm bound to be bean-town-bound.
I think if I spoke any language other than English, I could have qualified a long time ago!
Michael
Subscribe to Thoughts of a Roads Scholar at: Yahoo.
---
May 11, 2004
The Swan:
For the first few years of their existence, I've pretty much been able to avoid the latest craze on television; Reality TV. I've somehow managed to survive without ever watching Survivor, I simply didn't watch The Simple Life, and I fear it's a fact that I don't care to watch Fear Factor. I even said humph to Trump.
But there has been one show recently that's reeled me in, hook, line and scalpel. The show is called The Swan, and for those who are unaware of what it's about, it's a show that takes self-proclaimed Ugly Ducklings and with the help of a team of surgeons, dentists, psychologists, dermatologists, personal trainers, and voodoo doctors, with probably a veterinarian and a magician thrown in for good measure, they are transformed into 21st century foxes over a three month period.
Every step of their transformation is documented, and then it's tummy-tucked neatly into one-hour packages of television entertainment. At the end of each hour, the show culminates with The Reveal, where, after their three month period of going under the knife, drill, and fat-sucking syringes, spending hours a day at the gym, and subsisting on a 1200 calorie a day diet, they get to look at themselves in a mirror for the first time since the whole ordeal started. So far, they have all liked what they have seen.
But after the ugly ducklings join the program, and before they spread their wings and blossom into swans, there is a period of time that they look much worse than when they first go in. The bruises, burns, and bandages from the brow lifts, chin implants, radiation treatments, dental work, nose jobs and liposuction make them, for a while, look like the losing party in a Mike Tyson bar fight. At some point, almost all of them become emotional wrecks, and start having doubts about whether what they are doing is the right thing, but by the time they are ready to see themselves, they all truly look and feel wonderful.
In a running sense, for my whole running life, I have run as an ugly duckling. Ever since I committed to this running life in early 1982, I've mostly just gone out and run miles and miles without any particular agenda, or real goals. Sure, I've always wanted to run each race as fast as, or faster than the one before, and I've always considered myself a serious runner. If I'm preparing for a marathon, I might add 10 or 20 additional miles to my running week for a couple of months before the event. I can say with confidence that I'm a much healthier, and probably happier person today because of running than I would have been without it. But as for a plan to get me from an ugly duckling to a swan, I've never really had a game planUntil now.
A couple of months ago, I got a coach and embarked in my first-ever real training program. I basically approached a coach who has had a great deal of success with other clients, and who is a top national age-group runner in his own right, and made a simple request. Get me to the starting line at Boston when I turn 50. I came to him as an ugly duckling, and asked him to turn me in to a swan.
My coach uses a tried and true training technique called Effort-Based Training. Without going into a lot of graphic detail in this month's column, I'll simply say that the whole program evolves around percentage of effort, an equation based on your resting and maximum heart rate. In other words, you run based on beats per minute, not minutes and seconds per mile. In order to successfully do this, you much wear a heart-rate monitor because perceived effort is not the same thing as real effort, and you have to adjust to all the variables each run, based on the feedback your monitor gives you. All 8-minute miles are not the same. Not by a long shot.
Once I gave my coach my heart rate thresholds, he developed the beginnings of a training program specific to my physiology and my long-term goal. I started wearing my heart-rate monitor on every run, and I started running as dictated on my training plan. I also immediately hated the new routine with a passion. On this plan, I was forced to do almost all my running at a snail's pace compared to what I was doing on my own. Following the schedule had me running times a minute or two slower than I had been running on my own. And I'm not talking about two minutes slower per 5-mile run. I'm saying two minutes PER MILE slower than my typical run.
After about two weeks of this nonsense, I actually called my coach one day and said I quit! I just wasn't enjoying running this way, and it wasn't even worth a trip to Boston to stick with it. I guess I was a lot like the ugly ducklings on the reality TV show who were ready to throw in their towels and go home because they felt they were getting worse, not better, and didn't have the desire to do what was required to evolve into the swans they were promised to become. I felt much worse off after two weeks on my training plan than when I first came to him, and figured if I got out now, I could undo the damage he had created.
But he wouldn't let me drop out of the program that easily, and with a little encouragement, and a little tweaking to the schedule, I agreed to stick with it a little bit longer. He reinforced what I already knew, which I guess is part of what a coach does, about the different phases of a training plan, and he reminded me that I am still in the first phase, which is building a good base. The thing that really stuck with me is that I didn't need to be concerned with the average pace per mile at all, but just doing the miles within the training zone outlined for each run.
Since then, I've taken those words to heart, and have become a less rebellious student. I've bitten the bullet, and now accept that most of my miles are going to be 10 minute plus for a while. As the heat of summer sets in, forcing the heart to work harder, I may even slow some from here, but I'm okay with it. When I reviewed last month's totals and realized that April yielded 160 miles, and it felt like an easy month, it helped appease me quite a bit. This month looks like it's going to be close to 200 miles, and it still feels effortless, just the opposite of what I would have expected from something called effort-based training.
At this point in my training, I'm still very much the ugly duckling. In fact, much like the bruises, bandages, and burns of The Swan contestants as they are wheeled out of surgery, I'm looking much worse now than when I entered the program. At the very least, I'm much slower, anyway. And just like the ladies on the show, I have a lot of work to do, and not much time to do it, if I want to become The Swan.
It took me a couple of solid months before I really grasped the concept of running with my heart, literally, rather than with my head. But I'm adjusting, and I'm okay with slower miles now, when I see how quickly they are accumulating, and how easy it is to accomplish. At this point, I have complete faith in the program, even though I still can't really make sense of how or why it works. I just have to put my trust in my surgeon in running shoes, and accept that this is a vital and important step which is required before I can proudly spread my wings and hold my head up high.
My own personal Reveal will take place on October 3rd, at The Twin Cities Marathon. Between now and then, I'll probably learn more about my running and myself than I've learned during all the time I've been running up to this point. I realize I'm taking a chance about committing to document a journey before knowing that success is assured, but just like the Swans of reality TV fame, every step of my transformation will be documented here in this column. I plan to make this a success story, but there are no guarantees. As my coach has said, and recently reinforced after running a sub-par Boston this year in stifling heat, failure is something we must all experience at some point in order to learn, grow, and improve. But it would still be my preference to not experience it right away.
My goal for this year is a 3:45, which would be about a 15 minute PR at the distance. If things go according to plan, once I accomplish this, I'll be doing it all again next year on October 2nd, 2005, which is my 50th birthday. Next time, my goal will be 3:35, good enough to get me to the starting line at Boston the following Patriot's Day.
High Noon on the third Monday of April at the Hopkinton starting line. It's not a bad time or place to be a swan.
Michael
Note:
Michael Selman is the president and newsletter editor of The Chattahoochee Road Runners. This year, he has been awarded the National Jerry Little Memorial Award as the RRCA outstanding club writer for the year 2003. He will be presented with his award at the award's banquet of the RRCA National Convention, to be held this year in State Line, Nevada on May 15th.
---
April 12, 2004
The Seasoned Runner:
There is something in the air these days, and I'm not talking about the pollen that makes running very difficult for allergy-sufferers this time of year. You see, it was in April, 1982, that I first committed to running, and logged my first mile. Not miles. Well, not even a full mile, really. It was closer to 9/10ths of a mile, but at least it was a start. Who would have known at that time that 23 years later, I would have logged close to 20,000 miles beyond that first 9/10ths, and I'd still be counting?
When I first decided to give running a try as an adult, I still remember how I sheepishly poked my head out the door to make sure that none of my neighbors were out before I was willing to give it a try. I didn't want to be seen trying something as risky as running, since I didn't know how successful I would be. And sure enough, I wasn't more than a quarter mile in to the run when my right foot caught the edge of the sidewalk and I twisted my ankle a little, but not badly enough to cut the run short. Thank goodness I didn't take that twist of fate as a sign to give up on running before I even started. If I had, my life would not be so full today.
Physically, that run did not make me feel good. When I was done, I felt nauseous, overheated, and I clearly remember staggering back in the house, and laying down in the middle of the living room floor, almost unable to breathe or move. I was only 26 years old, but at that moment, I felt much, much older.
Memories of that, and other early runs of April 1982, come back strongly to me this time of year, and those memories really help me understand why something as simple as left-right-repeat can hold one's attention for a lifetime. The run is about so much more than just the run. The run is about the brushing of the wind in your face, and the smells of Wisteria in bloom, and the damp earthy smell of the air just after an April shower. The run is really about everything surrounding it and everything you internalize while you are doing it.
Thanks to a mixture of ingredients, the subtle (and sometimes not so subtle) seasonings of Mother Nature, each run becomes unique. And from one year to the next, seasonal runs evolve us into "seasoned runners" and bring back memories of the same time last year, and the year before that, and so on. It happens every season, but for me, Spring is the most special, because it is in the Spring that running first started for me.
And I'm reliving that era once again lately. I started running in April, 23 years ago. And now that it's April once again, my mind's eye has been taking me back to that very first run, around my neighborhood in Massapequa Park, New York. As I lay there on the living room floor shortly after I returned from that run, after managing less than a mile, staring at the ceiling, I could feel each heartbeat pulsating throughout my entire body. Although I can still remember everything about that run and its aftermath as if it happened only yesterday, I had no idea at that time how different my life was to become as a result of building blocks I continued to add to that very first cornerstone run.
Perhaps this is one of the reasons why Spring running, and more specifically, April running, holds such a special place in my heart. The right mix of warmer air, longer hours of daylight, the singing birds, the bright colors and sweet aromas of the flowers and the blooms all take me right back to the beginning of time as a runner, when everything was new and exciting.
I'm sure other runners must get the same feelings of recognition as they approach the same time of year when they first started running many years earlier. Whatever season it is, it stands as a reminder of the newness of running athleticism, and self-discovery as you constantly met, then exceeded your own expectations. Your season is a reminder of why you are a runner.
I'm a seasoned runner, and my season is Spring. What's yours?
---
February 5, 2004
A Long Distance Eye on Boston:
On October 2nd, 2005, I will be turning 50 years old, and I've already decided how I want to spend my 50th birthday. At 8:00 that morning, I plan to be inside the HHH Metrodome in downtown Minneapolis, and before 11:36 that some morning, I will hopefully have arrived on foot at the State Capitol in St. Paul. I am choosing to spend the first day of my second 50 years making a serious attempt to qualify for Boston, and I've chosen The Twin Cities Marathon as the place the attempt will be made.
And the journey begins now.
I've never been much of a detailed planner, which probably explains why the marathon distance has never been very kind to me over the years. I've relied only on my enthusiasm and "Natural" talents at the shorter distances, and have been able to get away with it, but the marathon is not as forgiving. It will always catch you and punish you if you haven't done your homework, and homework has never been one of my selling points.
Just the thought of identifying a goal race more than a month or two down the road is a stretch for me. Now, I am looking at a race almost 20 months away, and in the back of my mind, I already know I will have become a much different runner by October 2, 2005, than I have ever been up to this point.
And I'll need to be, if I want to run a marathon in under 3:35:59. My recent half-marathons have been disappointing, and my fastest of the four, a 1:47:30 at Atlanta, would not nearly get me to the starting line at Boston. I was already pretty tired by the end, and certainly wouldn't have another 1:47:30 in me for the second half.
But that is who I am today, and I have over a year and a half to mold myself into the kind of runner I have yet to become. The kind of runner that can put fear in his age-group competition. The kind of runner who chooses to go beyond his own natural abilities, and taps into his unnatural abilities. The kind of runner who can earn his way to the starting line at Boston.
Training for a marathon in early October presents a challenge for someone living in the summer heat of Atlanta, but what does not kill me will make me stronger. I've decided to train for, and run Twin Cities this year, so I can experience long runs in hazy hot and humid conditions, and so I can get to know the course before I make my run at Boston in 2005. My goal for 2004 is to set a marathon PR there, and run under 3:50. Then, I have a full year to put everything I've learned on the table, and find 15 more minutes of "marathon fat" to carve away.
It must be a wonderful feeling to look someone in the eye when they ask "Have you ever run Boston" and to be able to smile and say "yes." It's probably been one of the most uncomfortable questions I ever get as a runner. It just seems like something I should have done by now.
I've never given a Boston qualifying marathon a serious run, but there will never be a better time than now to set my goals. And there would never be a better time to reach the pinnacle of what some say is the grand slam of running than on the first day of my second 50 years.
And the journey begins now.
Michael
---
January 20, 2004
An Uphill Battle:
Well, I lost my virginity at Hogpen, after fears of "not being able to get it up....to the top of the hill, that is. Thank goodness my performance anxieties didn't turn to any real performance issues, with the exception of a few very tough miles near the end of the course.
Heading up to Hogpen from Atlanta on the party bus, I found myself in somewhat unfamiliar territory, actually worrying about what it was going to be like, and wondering just how bad it was going to be. Hogpen is one of the two Georgia races that have nasty reputations as knuckle-scrapers. The other race, The Brasstown Bald-Buster, is "only" a 5K, but the winning time is often over 30 minutes. Hogpen, on the other hand, stretches out over 17K, and much of the net elevation gain of 2500 feet comes in the final miles of the race.
I had seen an elevation map on the trip up, so I had some idea of what miles 8 and 9 were going to be like, and as a result, started out very conservatively. I also carried a single-use camera to get pictures on the way, which I'll post after I get them developed. Everyone on the bus wrote down their predicted times before the race, and I had been told to expect finish times similar to a normal half- marathon time, so I wrote down a goal of 1:55, figuring the shooting a roll of film on the way would slow me down a little. My last two recent history halves were 1:47 and 1:50.
From what I've heard of previous Hogpen's, the weather this year was very good. The course is often detoured and changed to an out-and back due to icy roads on the upper half of the course, but this year, the report of 40 degrees at the top sounded almost dreamy. At the bottom, I would guess it was about 50 at the start.
The race started by winding through the quaint village of Helen, a quaint Alpine community most famous for its annual Oktoberfest. If the race had been a 5K, I would rate it as difficult and hilly, but the first three miles here was just a foreshadowing of what was to come.
I snapped a couple of pictures as we passed through town, and the splits were hard to figure out. Someone had said that markers were probably ill-placed, due to the fact that the race used to start in a different location, and perhaps some of the markers had not been adjusted.
Mile 1-8:59
Mile 2-9:22
Mile 3-9:58
28:20 for 3 miles-it felt like it should have been way quicker than that.
The main things I remember about miles 4-6 is that the uphill grades increased, but every mile at least had sections of flatlands or valleys, and I had no desire to walk...yet.
Mile 4-9:01
Mile 5-9:47
Mile 6-9:00
6 miles in 56:09 with the worst yet to come. I was actually starting to feel pretty good at this point.
By mile 7, the elevation was starting to bring the temperature down, and a light drizzle started falling. The forecast had called for afternoon rain, and I was hoping what was currently happening would stay a drizzle, which, thankfully, it did.
It was during mile 7 that I did my first walking, during one of those long steep uphill stretches, where you could see a long way, and it was all uphill. By walking with enthusiasm, the walkers at that point were pretty much keeping up with the runners, which was a pretty amusing sight. I wasn't really tired, but was definitely in conservation mode, still aware that the worst was just ahead.
Mile 8, simply put, was a cruel joke, and it was at that point that I figured that whoever mapped out the course was not a runner, but a very sick person. I started this stretch of walking at about 7.1, and didn't start up again until at least 7 3/4, where the climb became a little more gradual.
Mile 9 was only a little better, as the road finally leveled off and dropped down near the end of the mile. I probably walked more than half of it, and when I started running again, my legs did feel a little like jelly for the first few minutes. Now it was getting closer to cold than cool.
Mile 7-11:25
Mile 8-13:42
Mile 9-12:05
Hmmmm, that 5K would have been about 38 minutes, but I knew at this point the very worst of the worst was over. Only 1.7 to go.
The 10th mile still had some steep uphills, and I walked some more, keeping up with the runners still, and putting enough effort into it that between the exertion and elevation, I could feel a pulsating and elevated heartbeat throughout my body. There were now areas of thick ice along the cascades than lined the road, which I got some pictures of.
Just before 10 miles, I got a sudden burst of energy, and felt great. Also, I know that the distance between mile 10 and the finish was WELL less than .58 miles. I would guess it was closer to maybe 4/10ths, but I wasn't complaining.
Mile 10-11:55
Finish-4:09.
Total clock time 1:49:30. I was very pleased with the time, and actually, my legs felt pretty darn good for what they had just been through.
I learned a lot this time about how to race it in the future. I would definitely take the first 6 miles much more aggressively, but would probably walk in all the same places I did this year.
Overall, it was a fun, and very long day. The bus first left for Helen a little after 8:30 in the morning, and by the time we all had dinner and made our return trip to Atlanta, it was 8:30 in the evening.
I also took a few pictures along the way. They can be viewed at
Michael
---
January 4, 2004
2004-The Year of the Athlete:
For the last five years, it has recently dawned on me, I have become a "safe" runner. This is one of the potential side-effects of post-injury recovery. Once the physical ailments have healed, the impact on the psyche can still be felt in every step for years down the road.
The year and a half of recovery was, at the time, unbearable. The inability to run made the desire even stronger, and it almost got to the point where I resented those who could enjoy a run as if they were taking it for granted. After running injury-free for 15 years, I was not able to run due to injury for the first time, and this was a very difficult pill for me to swallow.
Before my injury, which happened in July, 1997, I used to push myself often. I raced almost every weekend the year before I got hurt, racking up 51 races in 52 weeks in 1996, and I raced well, too. When I first got hurt, thanks to my own ignorance, it took a few more days before I realized the severity of the injury, and on each successive attempt to run through it, I did more and more damage until I had no choice but to stop totally. It hurt too much.
When I returned to regular running and occasional racing as a part of my lifestyle, nearing the end of 1998, things were much different, but I was very content with just being able to once again participate. There were still hints of the injury every run, but I modified my purposes for running, removing the competitive aspects of it except with myself. My overall mileage eventually returned to pre-injury numbers, but my training intensity and race times headed way south. I didn't mind. At least I was still running.
The physical reminders of the injury finally lifted totally, and I was running pain-free for the first time in over two years, but I continued to proceed with caution. I never wanted to relive the experience of having one tiny weak spot on my body dissuade me from running altogether. My feelings while injured often turned to pondering if I would ever run again. It was sickening to even entertain the thought, but at the time, it felt like it was a very real possibility.
Overall, I have been very satisfied with my running since my return, and now I've enjoyed five full years on the other side of the injury without a recurrence. I have also been fortunate enough to have experienced some of the fondest memories that my running has provided since my return.
It suddenly hit me yesterday, during my New Year's Day run, that if I was going to label 2003 from a running perspective, it would appropriately been called the "Year of the Bore." I really did nothing new with my running, and finished the year with no real running accomplishment to show for it.
And I realized that this is not acceptable for 2004.
It's interesting how easily we put off our commitments to make positive change until the calendar pushes forward from one year to the next, when the ability to make significant changes is available to us every day of the year. Regardless, there is something about a new running log, with its entire history still to be written, that jump-starts each new running year.
For Christmas, Harriet presented me with a new heart-rate monitor. I have no idea yet how to either operate it, or how to use it to improve myself as a runner, but I am committed to learning in very short order. I was very excited to receive it. I'm sure it will be an important step in re-discovering the athlete within.
A new health club just opened up within the past month, right up the road from us, and it sports a 25 meter lap pool. I don't know the first thing about swimming, except that it's preferable to keep your head above the water, but I am committed to learn, thus making me a more well-rounded athlete.
I am also ready to make more of an effort to be sure that the things I put in to my body will support and enhance the maximum efforts I try to get out of my body. This will mean adding, eliminating, or at least modifying my choices of what I eat and drink. I believe that this is something that separates the athlete from the runner. Does this sound like a New Year's resolution, or what?
My 2004 is going to be all about performance goals, and going about the most effective way to achieve and exceed them. What I'm most excited about is that I am finally ready to leave the comfort of "safe running" behind, and take some chances again. I'm willing once again to risk injury to reach new heights. I am saying good-bye and good-riddance to the "Year of the Bore" and I am declaring 2004 as the "Year of the Athlete."
Anyone care to join me?
Michael
---
December 28, 2003
Only a Few Heartbeats Away:
For me, as with most people, the week between Christmas and New Years always ends up being a time mostly reserved for reflection, evaluation, and creation of new goals. I do this in all aspects of my life, but running is always one of the things I closely scrutinize without fail this time of year. There is a special excitement in closing out one year's running log, and making those first few entries on the front pages of the new one.
The human body has a way of distancing itself from its own full athletic potential as we age, and it's a frustratingly helpless feeling. As I inch ever closer to completing the first half-century of my life, I realize that lifetime PR's at any distance are getting less and less likely, but I'm still too stubborn to say it could never, ever happen. But I do know that if there ARE any PR's in my future, they won't "just happen" as they used to in the good young days. They will happen by knowing my body, and learning how to train in order to push it beyond its current abilities.
As I reflect back on this past year in running, it's been a rather lackluster year. It started out with great promise, and high hopes. I closed out 2002 with my first ever 200 mile month in over 20 years of running, and I was seeing positive results of marathon training in shorter race distances. In January and February of this year, I ran a couple of "training" marathons in preparation for Myrtle Beach and learned some hard lessons about over-training. The training marathons both went very well, but race day was a bust, and I ended up with a DNF. It was a very anti-climatic end to months of very good training.
After that, and for most of the rest of the year, running was either largely unfocused, or non-existent. I still got out and ran from time to time, and raced occasionally, but I was there more for the social aspects, or for photo opportunities in support of the newsletter I produce for my club. I often carried a one-use camera to a race and assumed my position as "embedded photographer," which made for some great photos, but some of the worst 5K times I've ever run.
I started to train a little more seriously in late September, and times did improve from where they had been, but they still aren't nearly approaching last year's times. Only a fraction of that can be blamed on the aging process. Most of it can be attributed to a lack of goals and real focus.
On Christmas Day, along with the running log I get every year, my wife also presented me with a new heart rate monitor, and with it, the potential to be only a few heartbeats away from a change for the better. I've never used a HRM before, but I've never really looked closely at the real science of running, either. For the most part, I've just run, and when I train for a marathon, I run more. There's nothing too fancy about that.
For some irrational reason, the new year provides an opportunity for each of us to draw a line in the sand where one can cross over from what was negative to what is positive. Some people call this phenomenon a New Year's Resolution, but these resolutions often have a shorter life than a fruit-fly. The truth is that any moment of any day can be the moment you change something about your life forever for the better.
The main positive aspect of a bad running year is that it leaves much hope and room for improvement the next year. 2003 was one of those unpleasant years, and so I look forward to 2004 with positive feelings that my times can be better than they were this year.
Next year will be the first year I take a hard look at the discipline of running, as opposed to merely the act of running. Discipline is the main element that's been lacking in my running for most of 2003, and it's an ingredient I hunger for again. Once I plow through the 90-page user's manual and get an understanding of how to use it, my new heart rate monitor will be an essential part of my training plan to better times in 2004. It will always be very close to my heart.
2004 is going to be a great year. Improvement is only a few heartbeats away.
Michael
---
December 19, 2003
Same Time Next Year
While most races are lightly penciled in on my annual race calendar, Kiawah Island is boldly carved in stone. Every year, as has become tradition, Harriet and I make the 5-hour trip down to the Island southeast of historic Charleston and meet my parents there for our Kiawah Island weekend. They drive down from their home in Wilmington, NC. Weíve been doing this every year ever since Harriet first moved to Atlanta in 1998. It has become a central focal point of our running year.
What used to be a well kept secret has now become more popular with the masses, and as a result, procrastination almost cost us this wonderful family tradition this year. Applications first became available on-line on September 20th, and by September 22nd, the race had already reached its 3000 maximum capacity, and unceremoniously closed. We had not even received our applications in the mail yet when the padlock was placed on this race.
I called the race director, Dylan Jones, and somewhat tongue in cheek, pleaded my case. A couple of years ago, I had written a positive review of the race for Marathon & Beyond Magazine, and I reminded Dylan that perhaps the race had gotten so popular because of my article. I strongly doubt that this was the actual case, but in any event, he allowed us to ďslip in the back door.Ē Itís always good to have a rapport built with people in high places. Thanks Dylan!
Past tradition usually dictated that my father would run the 5K, and battle it out in his age-group with another gentleman from Wilmington that weíve known for many years. Each year, theyíd find each other before the race, discuss any new body parts that had been surgically removed during the past year, an increasingly popular subject with the 75 and over age-group, and then take first and second place in their age group. We have not seen him there the past couple of years.
Harriet and I usually choose to run the half-marathon, although Iíve run the full marathon there a couple of times. Harriet most often trounces me in the race, and I think it was three years ago, she ran a wonderful 1:42 half, while I struggled to break 2 hours. This year, we both did the half.
For many years, my mother was the cheerleader, and the baggage handler for the rest of us. Before our races, weíd peel off whatever layers we were using to keep us warm until race time, and hand them over to her for safekeeping. She gladly held it all in a bag, and then patiently waited for us to finish our races.
But that is a part of the tradition thatís now changed for the better. My mother is no longer available as our own personal baggage checker, because she has become an athlete in her own right. She has become a part of the tradition in a new way. Participant!
Mom has done beautifully this year. Early in the year, she found a diet that worked, and it became a part of her lifestyle. She started losing weight, and she started walking more regularly, and that too became a part of her regular routine. Dieting and walking are both activities she has attempted many times before, but this time, they both stuck.
This year, for the first time, all four of us crossed the finish line. In fact, mom came in first in her age group, and received a beautiful carved wooden plaque for her effort. This was her third race of the year. In early August, she came to Atlanta, and finished in second place in her age-group at the Run for Life 5K. Then, she did the Maggie Valley 5K walk at the end of August.
There is much more about the weekend that is all a part of the tradition. We always go to the pasta dinner the evening before the race, and of course, there is always nap time after the race itself. Saturday night, we always go to the same place for dinner, and the following morning, we always say good-bye after enjoying a relaxing buffet breakfast.
Harriet and I drove home from Kiawah Island this year with the same warm feeling we always have after a Kiawah Island weekend, and it had nothing to do with how fast we ran the race. This has become a weekend in which the race is secondary, and family is first by plenty. This is Kiawah Island, and, God willing, we will do it all again, same time next year.
Michael
Subscribe to Thoughts of a Roads Scholar at: Yahoo.
---
November 17, 2003
Road Kill
" W-O-W-W-W, Y-E-A-H, HEY BABY WAKE UP, COME AND DANCE WITH M-E-E-E....."Monica's Rock and Roll chicken alarm clock bellows these words loud enough to wake up the whole neighborhood on a typical Saturday morning. The clock is completely obnoxious, but I bought it for her when she was still living with her mother. Poetic justice, I thought at the time. How was I to know she was going to come and live with me?
Nevertheless, this is what Harriet and I are greeted with on race day, and it's somewhat of a call to arms. We all slowly crawl out of bed, feel our way downstairs to brew a fresh pot of coffee, and put on the weather channel so we can try to determine how to dress for today's race. We grab a couple of bananas, and we're out the door. I drive and Monica and Harriet fall back to sleep for an hour or two. It doesn't bother me. I like the peace and solitude of watching the sun peaking over the eastern horizon. Of course, I DO have to wake Harriet up as we approach the race site. After all, someone has to ask for directions after I get lost ;-)
Occasionally, Georgia offers a Sunday afternoon race, and the events leading up are completely different in every respect. First, there are no Rock and Roll screaming chickens to deal with. That's the dominant plus. Eating also becomes a part of the approach. You want to eat long enough before the race so the food won't still be in your stomach trying to digest at race time, but you have to eat something or you'll be seeing spots by the time the flag drops.
The best part about a Sunday afternoon race is the drive up. In stark contrast to Saturday mornings, when everyone snoozes while I drive, Harriet and Monica are awake and talkative. And our conversations give me ideas for new articles, like this one.
We were driving up to do rural cross-country race in northern Georgia one Sunday afternoon. We were talking about some of Monicaís school projects, and she shared the requirements of a research project in which she had to compile data on over the next month. It was called "Operation Road Kill." The assignment was to look for, and identify various dead mammals, reptiles, and amphibians along the Georgia highways, byways, and back roads. Additionally, the project required a note of the surrounding terrain where the dead animals were found as part of their study information base. The following ground rules applied;
1) Domestic animals could not be included in the study.
2) If the fleshy mound was decomposed to the point it couldnít be identified, it couldnít be used in the study.
3) You were not allowed to have your parents intentionally run over the animal.
4) You could not find a dead animal in the woods and drag it out to the street.
If you do a lot of your training on the roads of Georgia, I'm sure you've had your share of encounters with road kill. If you run the same routes often, you've undoubtedly monitored the deterioration process of these victims, and how the effects of rain, sunshine, heat and humidity aid in that process. If you are in a larger city, you can usually call the department of highways and transportation, and they will send someone out to scoop up the remains before any damage is done. In smaller rural towns, it becomes more difficult. The powers that be will often refuse to clean up the refuse, as a dead opossum can suddenly become a significant landmark. "Well, you go down past three dirt roads, make a left after the second dead raccoon, and it's the third trailer on the right once you pass the dead possum."
If your expired animal has to stay, the first day or two is not so bad. Rigor Mortis may set in during this time frame, but I can deal with that. Days three through 10, however, can make running quite unpleasant. It becomes a question of how long you can hold your breath as you pass the carcass. Don't look down as you pass, either, because decomposition has already started. Hot, sweltering summer days accompanied by strong afternoon showers only enhance the experience. Finally, after about two weeks, the remains are pretty well flattened, and now it's mostly only a visual delight.
Harriet and I were pretty excited about Monica's project, and, since we were already heading to road kill country, we decided not to procrastinate any longer. Her requirements for the project were to identify ten different road kills. They didn't all have to be different species, but ten different isolated incidents. Within two minutes, we had our first "statistic." It was definitely a possum. The terrain was flat and wooded. Another three minutes and there was another sighting. This one was a squirrel. This was near farmland surrounded by pines. Monica took mental notes, and squealed with delight. "For a school project, this is pretty fun" she said laughing. And then she added, "Hey Dad, you should write an article about this.Ē By George, I think she might be on to something.
We arrived at the race, ran through the most difficult cross country course any of us had ever experienced, and we all lived to tell about it. I suggested after the race that Monica might want to comb the course and find something else for her ever growing list. She gave me one of those stupid daddy kind of looks. "Dad," she said. "Humans don't count. They are considered domestic animals."
By Friday afternoon, Monica had identified nine different road kills. She had a nice variety, including a rabbit, a hawk, a frog, and several possums. She still had one more to go. The following morning, we were greeted with " W-O-W-W-W, Y-E-A-H, HEY BABY WAKE UP, COME AND DANCE WITH M-E-E-E.....". Two minutes later, she had her tenth victim. It was a chicken alarm clock, and the terrain was our driveway.
Subscribe to Thoughts of a Roads Scholar at: Yahoo.
---
November 10, 2003
"After 20 Years, New Shoes"
For nearly eight years now, I've written the column "Thoughts of a Roads Scholar," and for those who have followed my ramblings, you have also, in a way, followed my life. This figurative odyssey all started because I was continually observing, and marveling at how running imitates life. Or maybe it's the other way around.
"Thoughts of a Roads Scholar" started as a humor column, more or less poking fun at the different aspects of runners' obsessive/compulsive behaviors. In my early essays, and some of my more recent ones, I have mused at things like logging every run to the zillionth of a mile, a total inability to throw away any of our thousands of running T-shirts, or buying close-out shoes a dozen pairs at a time. These are among my own personal behaviors, usually, but not always over-exaggerated in my essays, and they have provided opportunities to make fun of myself. From responses I've received over the years, I'm a bit unusual, but not nearly unique.
But there are only so many funny things one can write about running without repetition, and it's really not easy to write humorous thoughts when it feels as if life is falling apart like your stride at the 23-mile mark of a marathon you've under-trained for. Shortly after I started my column, I quit my job "to pursue other interests" and shortly thereafter, went through a difficult divorce. Concurrent with these difficult events, some of my essays started getting more philosophical as I observed more clearly that there were obvious parallels between running and life. Running had always been my thinking time, and running thoughts were thoughts reduced to simplest terms, with no filters. Running was truth, and I wrote honestly about my running thoughts.
While all that was going on, I suffered the only long term running injury I've ever experienced, one that kept me frustrated and out of the game for over a year. That despair rang out in some of my essays, which wallowed in self-pity. Any passionate runner whose body has forced them to take a major detour in their training for an extended period knows how difficult it is to be off the roads while the rest of life goes on. We're not much fun to be around, and that's stating it mildly.
Eventually, everything worked itself out for the better. I met my current wife, I started a new and improved job with the same company I had left, and my body gradually healed and returned to a slower version if what it had been before. But even two or three 10-minute miles were glorious, because they were pain-free. From the ashes of despair rose a Penguin. My essays started taking on a more positive tone, and focused more on the recreational side of running, like smelling the roses, and being thankful for the little things in life. And they were written with a renewed appreciation for the gift of running.
But while my personal pendulum was taking an upward swing, the world was changing in a not so positive way. The economy turned sour, terrorist attacks changed the face of society, and the particular industry I was working in fell out of favor on Wall Street. My job started to become an all-consuming emotion-robbing entity, and almost everything else in life started slowing to a crawl, or stopping all together. My total being became my place of employment, and my employment became very unpleasant. People around me were quitting or being laid off, and instead of backfilling their positions, I was expected to do their jobs as well as my own. I stopped seeing daylight, even through the pinhole that once was the end of the tunnel.
Brand loyalty is an interesting concept. Do we stick with a certain product because we really love it, or is there actually a fear factor that keeps us from considering other options? I have been wearing the same brand of shoes since the early 80's, and don't see any reason to experiment with other brands. "If it ain't broke, don't fix it" the adage goes. But even when I was injured, I never considered that my shoes may have contributed to the breakdown, and I stayed loyal to the brand. I think that in part, this was due to the fact that I was afraid to try anything new. Must of us are very reluctant to change.
And so it has been with work. The last couple of years have been a downward spiral. There have been several rounds of downsizing, and the workload for everyone has increased. Now don't get me wrong. The pay and benefits have both been excellent, and I'd be hard-pressed to find the same level of compensation anywhere else. 20 years of brand loyalty has treated me well monetarily. But the landscape has become ugly, and gloomier times are on the immediate horizon.
The latest turn came recently when company management became embattled with hourly employees as existing union contracts expired, and negotiations continued on for a full month after the contract expiration date. The eventual outcome was that the contract issues were resolved without a strike, hourly workers received a very good long-term contract which pretty much provided them with everything they had tried to negotiate.
Shortly thereafter, an enhanced separation package was offered to virtually every one of the close to 175,000 management employees of the company. This came with strong verbiage that there would very likely be continued management cutbacks after the enhanced offer program was completed, without the same benefits that those who took it now would receive.
Brand Loyalty. 20 years in the same brand of "shoes." That's how long I've been with the company, almost to the day. Monetarily speaking, I'm running faster than I ever have in my life. But if my career is like my shoes, the shoes don't fit like they used to. In fact, not only do they provide very little comfort and support any more, but lately, they have been hurting my feet with every step. If my career is like my shoes, my feet are blistered beyond recognition, and all my toenails have either turned black, or fallen off. My arches hurt all the time, I have heel spurs, a torn Achilles tendon, and planter fasciitis all rolled into one fine mess. If that's the price to pay for running faster, I'm ready to fall back in the pack.
I've decided to accept the early separation package, even though I'm far from retirement, either in age or in financial status. November 21st will be my last day on the payroll, and after that, after 20 years of commitment to a single brand, I will be shopping around for a new makes and models. I'm going to try on many different types of "shoes", and take my time figuring out which one fits best. My focus this time is not going to be on speed. After 20 years, I've slowed considerably, and no longer have the desire to keep up with the young corporate climbers. This time, I'm shopping for comfort, stability, and control. Whatever it is I end up doing for a living, it's going to have to be something I enjoy, and something that compliments the things I love to do. It's time again to smell the roses.
Michael
Subscribe to Thoughts of a Roads Scholar at: Yahoo.
---
November 3, 2003
"Andres, Ed, and Fauja"
On October 2nd, I celebrated my 48th birthday, and found myself entrenched smack dab in the middle of no-man's land. At 48, I am considerably slower than I was when I first entered the 45-49 age group, probably more due to lack of training that advancing age, and I'm still two years away from the relief known as 50-54. I'm thinking at this point that they must call it "Hard"ware because for the next couple of years, age group placement is going to be very hard for me to come by. As someone who tends to think of age in five-year increments, I'm wishing at this point that I was already two years older, so I can once again be the new kid on the block. Runners are funny in that way.
But there is hope for me, and people like me, who tend to get older with each advancing year. This hope comes in the names of Andres Espinosa, Ed Whitlock, and Fauja Singh. Perhaps none of these are household names in most homes, but for aging runners, they probably should be. Allow me to explain.
You've probably already guessed that these three gentlemen must be old, and in varying degrees, you would be correct. In reality, they are old, older, and oldest, and all three have recently accomplished amazing feats in the realm of marathon running. Keep in mind that I use the word old in relative terms, for what they have accomplished on the roads is truly remarkable and the envy of many a marathon runner of any age.
Let's start with Andres Espinosa, who is the baby of the three. At age 40, he is barely teething, but that didn't stop him from taking on the world's best at The Berlin Marathon, held on September 29th, 2003. The winner of the race, Paul Tergat, became the first human ever to break the 2:05 mark in a marathon, and one second later, Sammy Korir became the second. But keep in mind that they only beat the old standard by a little over 40 seconds.
All that Andres Espinosa did was completely obliterate John Campbell's long-standing master's record of 2:11:04 by over 2 full minutes. His 2:08:46 marathon was good for 4th place overall in a race that saw the two fastest times ever run for the distance. That works out to an average per mile pace of 4:55! How many of us can run a quarter mile on the track at that pace? To put it all in perspective, nobody of any age had ever run a marathon that quickly until Derek Clayton did it in May of 1969.
Now, let's move to the other side of the pond, and talk about someone who was born in 1931. His name is Ed Whitlock, and he is 72 years old. He is 5'7", and weighs in at about 125 pounds. He is certainly not the most imposing figure you have ever seen. But looks can be deceiving.
Five days before intending to run The Toronto Waterfront Marathon, he tripped and fell on his way to the store, using only his face to break his fall. His race was in jeopardy, but he showed up anyway, his face still bloodied and scabbed from the fall. And less than three hours after the start, he became the first septuagenarian to ever run a marathon in under three hours, clocking an unbelievable 2:59:10.
But Ed Whitlock did not grab all the headlines at The Toronto Waterfront Marathon. It seems there was another runner there who was old enough to be his father. His name is Fauja Singh, a retired farmer who was born in Jalandhar, India a long, long time ago. Before World War I in fact. He is 92 years old, and has a hard time standing still. But forward momentum is another thing, and he can certainly maintain that for long distances.
Amazingly enough, he has several marathons under his belt already since turning 90, and has progressively improved on his own work records just about each time out. In 2001, he became the first nonagenarian to break 7 hours for the marathon, running London in 6:54:55, breaking the old world record by close to an hour. But he was not finished yet. The following year, he ran London again, this time shaving another 40 minutes off his own world record, completing it in 6:11:09. In the process, he beat over 10,000 other runners.
This brings us to The Toronto Waterfront Marathon, held on September 28th, 2003. He prepared by putting in about 15 Kilometers a day, eating a healthy diet, taking warm baths, and practicing daily meditation. It must have worked. He became the first 90 year old to ever break 6 hours for a marathon, and he did it by plenty. His finishing time was 5:40:01, another giant leap of over 30 minutes in breaking his own world record.
On October 2nd, I turned 48 years old. You know, that doesn't seem all that old any more.
Subscribe to Thoughts of a Roads Scholar at: Yahoo.
---
March 28, 2003
"The Dark Side of Daylight Savings Time"
Ah, the essence of spring. Its arms are long-reaching. Even in the northern stretches where the trees are still lifeless and bare, and the air is consumed with chill, the days are getting longer. Soon, most of us will be given an extra hour to do what we most love doing. The hour we lose in the morning as we spring forward, is gained on the other side of the day in added daylight. For many, it translates to more time to run, or to participate in other outdoor activities.
But this does not hold true for every runner. Some of us are slithering creatures of the pre-dawn darkness. The few. The proud. While the rest of the world sleeps, the pre-dawn runner is out there like clockwork, running on traffic free streets, with moonlight, lamplight and nocturnal wildlife for company. The thrill of seeing a deer or fox crossing a metropolitan road is a sight reserved for the pre-dawn runner.
Those of us who run prior to daybreak tend to be able to rationalize just about anything. Most people, I dare say even other runners, may think we are crazy for rising at times when infomercials and test patterns reign supreme. But we have our reasons. If 5 AM brings rain, it is only another element to overcome, and that's really what running is all about. Later in the day, when the clouds dissipate and yield to the sun, I smile in the knowledge that I didn't let the weather stop me this day. On the other hand, when clear mornings give way to stormy afternoons, I get similar satisfaction in knowing that this day, I stayed ahead of the weather. My run is already behind me, and I can reflect on a job well done, while others are pondering the wisdom of dodging lightning bolts.
For the last couple of weeks, the weather has been getting a little milder here in Atlanta. Although it is still tights weather in the early hours of the day, there is, in the air, a slight hint of things to come. Mornings in the 30's give way to afternoons in the 70's. In close parallel, something else has been happening which has taken away some of my darkness. By the end of my run, the first hints of daylight are starting to appear behind the eastern border of the universe. Those who share my feelings feel a shade of sadness upon realizing that our obscurity is becoming a little less protected each passing day by a sun that is rising earlier and earlier. But all is not lost, as on the first Sunday of April, we will be losing this recently gained glimmer of light just as it is starting to remove the shroud of secrecy and the veil of mystery of those known as pre-dawn runners.
There is so much to be gained from running. That's a truism of all runners, regardless of speed, endurance, frequency, or time of day we run. But as with anything that has a bright side, there is also a dark side lurking. On the first Sunday of April, we will again gain our hour of darkness, and our comfort level, as well as our anonymity, will return. While we will lose an hour of sleep, we gain back our hour of darkness where we most enjoy it.
Running once again under a blanket of stars, we are sitting on the dark side of Daylight Savings Time.
Michael
Michael Selman lives, runs, and writes in Atlanta, GA. He has been nationally published in both Runner's World and Marathon & Beyond magazines. He would love to keep in touch with other runners, and may be contacted at TheRoadsScholar@aol.com
---
Last month, I inadvertently posted an incorrect Internet address for those who want to continue receiving my monthly essays. As a result, I think that many people were not able to register and sign up to the new mailing list. Due to my error, I am sending this column manually one more time. This will be the last column you receive unless you join the Yahoo Group "Thoughts of a Roads Scholar."

I am making the change to help facilitate the distribution of the newsletter. The way I do it now, I have to cut and paste hundreds of e-mail addresses to e-mails, send them out, and then modify the list when discontinued e-mail address bounce. It has become a very time consuming process.

The e-mail group allows you the flexibility to join or leave any time you want, and all I have to do is send out one e-mail which will go to everyone who has signed up. In addition, all the essays I send out are archived on the site, so any time you might need a little additional inspiration, you can go right to the site and read any essay you want.

The correct URL is:

http://groups.yahoo.com/group/Thoughts_of_a_Roads_Scholar
---
November 20, 2002
"The Bonds That Tie"
Runners are a peculiar lot. Although the act of running isnít particularly funny, the way runners think and act most certainly is. Those who donít share our passion often misunderstand us. We are frequently perceived as being self-involved and aloof as we run by with squinting eyes and a focused expressionless forward stare.
But the truth is that runners are a bonding breed, especially when it has to do with anything running related. We may appear to be introverts to those who remain on the dark side, but with other runners, the conversation usually seems to flow easily, except maybe when fighting oxygen debt during your anaerobic sprint to the finish of a 5K race. But there is nothing quite like a dual to the finish line to establish mutual respect, friendship, and friendly rivalry. From the heat of battle, lifetime relationships rise from the ashes.
But as I mentioned at the start, runners are a funny bunch, and our bonding instinct is unique. Our need to create links is not confined only to other runners. In fact, itís not even confined to the world of the living. The fact is that runners are notorious for bonding with just about anything, as long as it has anything to do with running.
If someone were to ask me if I still own any clothing I wore 20 years ago, my first reaction would be to answer in the negative. How could 20 year old clothes still be in style today, and why on earth would I hold on to a piece of fabric for that long, anyway? But upon further reflection, I fondly remember wearing my very first race T-shirt for a full month after I finished my very first 10K on June 26th, 1982. I never took it off. Not at bedtime, not at shower time. Never. That was my first bonding experience with an inanimate object. But it was only the first of many. I still have that shirt today, as well as all 783 other race T-shirts Iíve earned over the years, one from every race I have ever run.
Over the years, Iíve found myself bonding with many other non-living things related to running. I even bond with the roads I train on. I name all my routes, and I have to run them following the same exact line every time. If I run one of my courses with someone else, and they want to deviate, even just a little, I just canít do it. It would ruin my run, and possibly, my whole month.
My most recent bonding experience has been with my new GPS watch, which utilizes a series of satellites to measure speed and distance very accurately as you run, under the right conditions. It was not love at first site. This watch was a little more sophisticated than most running accessories Iíve ever been exposed to, and it took a few runs with it to really fully understand and appreciate its capabilities. Now that I understand it a little better, we have definitely bonded, and weíre practically inseparable. I wear it all the time now. For the first time in my life, I know exactly how far it is from my desk at work to the bathroom, accurate to within 1/1000th of a mile. How did I ever live without it?
You name it. It makes no difference if its socks with holes in them, watches with batteries that have been dead for years, shorts and singlets with rips and frayed edges, or anything that can possibly touch a runner. Runners bond with them all, and, although we might not use them any more, we just canít throw them out even after their usefulness is gone.
But all these aforementioned bonds pall in comparison to the most intense relationship that a runner can have with an inorganic object. Of course, Iím referring to the bond between runners and their shoes. These are the Bonds that Tie. Iíve been through exactly 127 pairs of shoes since I first started running. How do I know this? Easy. I counted them all last night in preparation for this article.
What is it that makes it so hard for a runner to actually throw out an old pair of running shoes? I canít really say. They only have about as many lives as a cat. They can go from running shoes, to wet and muddy trail running shoes, to walking shoes, to weight workout shoes, to wear to the mall shoes, to lounging around the house shoes, to mowing the lawn shoes, to pool shoes, to gross smelly deep-sea fishing shoes.
You would think that after all that, they could easily be thrown away. But instead, they just get tossed in the ď9-livesĒ shoe pile, which smells like something that a cat might actually consider eating. And there, forever they shall sit. The bonds that tie.
Bonding means never having to say, ďIím going to throw you out.Ē
Michael
Michael Selman lives, runs, and writes in Atlanta, GA. He has been nationally published in both Runner's World and Marathon & Beyond magazines. He would love to keep in touch with other runners, and may be contacted at TheRoadsScholar@aol.com
---
September 6, 2002
"Where Did the Time Go?"
It seems that at least once every year, I go through a period of time when I reflect on my running history. I mean really reflect. It starts as I fondly remember those first few months of running, and how hard it was to get to the point where I could run three full miles before I couldnít go any longer. Then, Iím moved to pull out the ever-increasing volumes of running logs I have kept over the years, and look back fondly as I relive the smells and the sounds and the feelings of those first runs. It seems like just yesterday that I ran my first race, but it has actually been over 20 years. Where did the time go?
I didnít always have the library of logs that I treasure today. In fact, I had already been running for several months before I got my first journal. Keeping records of anything was never my forte, but for some reason, at some point early on, I decided that keeping track of my runs would be a good idea. I donít even think I purchased that first log, but I think it might have come in a goodie bag from one of my early races. In any event, in August of 1982, I made my first entry in the log, and itís pretty much been a way of life, and a story of life, since then. It was the place that I logged my times, but it also encompassed the accompanying thoughts and observations as well. As I started going through the 20 years of running history, I started to wonder. Where did the time go? To say it went in my log is much too simplistic.
When I first started to register my runs, I was still single, still living at home, and home was New York. After three months of running, I could still barely run three miles before I had to walk, and in my early races, I couldnít break 25 minutes for a 5K. That was many moves, and many moons ago now. The first time I raced with my father, who had already been running for years, he beat me by a minute. He is now 75, and though he still runs, the days of marathons and regular races, when I used to meet him in Central Park, are long behind us. Since my first entries in my log, my daughter was born, grew up, and moved out. She went from not being there at all, to becoming an adult, and all this has occurred since I first started running. It all seems to have happened so fast that I am left shaking my head. Where did the time go?
As I continued to read through my logs in chronological order, from the oldest one, now a bit frayed and tattered, to the current one, with still four chapters to complete, I was struck by a lot of different things. From a strictly performance viewpoint, early on, my race times dropped fast, and then, as the years went by, they held pretty steady. There were some years where the annual log had many blank pages, and that emptiness alluded to things outside of running. The pages are blank to the reader, but in my mind, they are detailed to the 100th of a second. Only the owner of the log would know the missing text of the empty pages, and I remember all the blank pages very clearly. A second hand reader would just see pages with no times, and wonder. Where did the times go?
At some point in the early 90ís, the logs seemed to become more alive, and at the same time, they became much too small to hold everything I wanted to say. The entries were no longer just records of a person who ran, but they became the memories, goals, dreams and accomplishments of a runner, squeezed into four small lines per day leaving me hungry to write more. By the mid 90ís, the small daily entries were no longer enough to hold my thoughts and to satisfy me, and thatís when I started to write ďThoughts of a Roads ScholarĒ which is really nothing more than an expansion of my journal entries. Itís always been about the run, and will always continue to be.
As I finished skimming through my logs, I had walked through over 20 years of running, and I was feeling pretty content. In all those years, Iíve only lost about 2 minutes on my 5K time when Iím in top shape. That falls right in line with the established standard of 5% loss of speed for every decade that I have read about. Thatís not too bad, I thought. In 20 years, there were only two minutes that remained unaccounted for. And I wondered, where did that time go?
But as I lay in bed that night, the numbers still dancing in my head, the whole picture suddenly struck me in a different way. I realized that this loss of time is not just fractions of a second. This is a full two minutes! 120 seconds that I used to spend on the other side of the finish line, cheering others on, and now, Iím still on the wrong side of the finish line with more than a quarter mile to go when the clock hits 20 minutes. And not a single step of it is any less taxing than it ever was before. From one day to the next, I havenít changed a bit, but somehow, over 20 years, I have gotten a full two minutes slower than I used to be. I understand that this was going to happen to everyone else, but it was never supposed to happen to me! Where the hell did that time go????
For some reason, I started to see more clearly than ever before that my slowing down might be something that is here to stay, and itís a hard pill to swallow. In 20 years, Iíve lost two minutes, which I may never be able to recover. The time has shifted to the wrong side of the finish line, and I may never be able to put it back where it belongs. But it wonít stop me from trying.
This morning, I ran a 5K, and it took me over 23 minutes. My training has been very good, but my race performances continue their gravitational pull to slower times. I could not have squeezed a single second of additional speed out of todayís effort, and a difficult effort it was. For over three miles, I kept on looking for those minutes I have lost over the span of my running career, and they were nowhere to be found. I finished the race totally frustrated. And I questioned. Where did the time go?
Wherever the time went, I will continue my quest to find it again, a few seconds at a time. The direction I take in my quest to improve my time will play a major role in the direction that my future times ultimately go. It has recently become more important to me than it has in a long time to push towards a faster finish line, and more time spent on the winning side of it.
They say that time, once lost, can never be recovered. With good training and positive focus, perhaps that theory can be disproved. As my times drop, let the people who used to kick my butt come up to me and ask.
ďWhere did the time go?Ē
Michael Selman lives, runs, and writes in Atlanta, GA. He has been nationally published in both Runner's World and Marathon & Beyond magazines. He would love to keep in touch with other runners, and may be contacted at TheRoadsScholar@aol.com
---
August 9, 2002
"The Roads Whisper My Name"
I do a lot of driving through the North Georgia Mountains and the Carolinas, and I've noticed that this part of the country has its share of quiet roads. Quiet, however, does not exactly mean silent. These roads actually talk to me through their tranquility, and they whisper my name, barely audibly, but undeniably. They soothingly grab my attention, and once they have gotten it, under their breath, they always utter the same two-word refrain. Like a gentle breeze, they plead. "Run me."
Whenever I hear the call, I find myself for one brief moment rearranging the rest of the day in my mind, and, once that is done, pulling over to oblige the call. But there is always a reason I don't. Either I have an ultimately unyielding agenda for the day, or there are people waiting at the other end of my travels, or I'm just not ready to take that kind of risk, so the thought is fleeting. I have therefore always denied the invitation, tricking myself in to believing that maybe, some day, I'll return to answer that call. But thus far, though the roads are always inviting, I have not accepted the invitation.
The roads that whisper my name are always roads less traveled, and that's what makes them so compelling. These whispering roads of which I speak all have a similar character. They are for the eye's eternity tree-lined, with an abundance of shade, and the roads themselves are always ascending until they ultimately stretch beyond view, only adding to the mystery and intrigue. Perhaps, if just one time, I chose to pull over, and accept the road's request to run, it would make all the difference. But so far, I have remained indifferent.
There are risks in the unknown and unrevealed, and these roads gently dare me and seemingly taunt me to find out what lies just beyond my view. That's why they continue to call out to me, and goad me by saying "Run me." The roads that whisper my name remain an unaccepted offer, and an unsolved mystery, because I continue to stay true to the paths I know, where I feel safe and protected. They remain an invitation I have yet to accept. But the temptation grows to some day give in to the plea. "Run me."
Whispering roads are not like the roads I run every day, which have less and less to say as the years go on. The familiar roads no longer talk, as they did when they were new. They are reliable and predictable, and I run in peaceful communion with them, but there is little new on roads that I have come to know so well that I could traverse them with my eyes closed. They are, at the same time, safe, and somewhat monotonous.
Perchance , the day will come when I wake up discovering that the same old road is no longer the comfort I had always thought it to be. Upon that realization, I may just hop in my car, and point it north, without any particular final destination, and without any specific activity to complete. I may drive with no other purpose but to hear, and be ready to respond to that whisper I've heard so many times before. "Run me." That road I choose may turn out to be a dead end, or it might possibly be a new beginning. But taking that whispering road might make all the difference.
Michael Selman lives, runs, and writes in Atlanta, GA. He has been nationally published in both Runner's World and Marathon & Beyond magazines. He would love to keep in touch with other runners, and may be contacted at TheRoadsScholar@aol.com
---
July 26, 2002
Not Well Grounded
I'll have to admit, for much of the current year, I have not been very well grounded, and things aren't likely to change any time soon. I have found myself up in the air about almost everything much more than usual, and I place the blame squarely on three primary culprits. They are Delta, American, and US Airways. Through it all, I am finding it quite difficult to remain anchored with my feet planted firmly on the ground when I constantly find myself either cruising at 30000 feet, or landing at final destinations, which are strange and unfamiliar. I have become, in the most literal sense of the word, flighty. No wonder my head's so often in the clouds.
In almost all ways, I am a man of routine. I have a hunch that most runners are, as running requires a lot of it. On a daily basis, I am most at peace with the simplicities of life. My desire is to wake up in my own bed before the sun comes up, run on my own roads before work, watch Jeopardy while snuggling with my wife in the evening after dinner, and then tucking myself in bed by 9:30, eager to follow the same predictable schedule the next day. On weekends, I like to start my Saturdays with a race, and then run down by the Chattahoochee River on Sundays. Routine is not such a bad thing, and the routine of home is the finest routine I know. I have devout fondness for home, and my running seems to like it too.
When I'm at home, I know I can wake up at 5 in the morning, and the roads I run are a footstrike away, just past the end of my driveway. As I gently step over the dew-drenched newspaper, I can go as far as my legs and my imagination are willing to take me, and I have the comfort of knowing that the finish line will always take me back home. I don't require such trivial things as house falling on a wicked witch or a yellow brick road, or a pair of ruby red slippers to know my biggest happiness is found right in my own back yard.
The last couple of weeks, my travels have returned me to places of my past, as I have returned to Wilmington, Delaware and Pittsburgh, PA. I used to live in both cities, and in fact, I was born in Wilmington. At one time or another, I called both places home, but neither trip was a return to any place even remotely similar. The physical structures where I once lived might still be standing, but the comfort of my routine was left behind in Atlanta.
A house is merely a structure, cold and stoic. But the warmth and the familiarity of home IS structure, in its most pure and simple form. So two weeks ago, when I was in Wilmington, I went searching, not for a house, but for home. I found it, but not in the residence where I was born. Instead, I found it in a 2 Ĺ mile loop down by the Delaware River, where I found home for about an hour each morning on my run, before going to work. As I traversed the roads that ran along the river and through Brandywine Park, the structure of home appeared. Within the run, I was home, and it made the rest of the day more than just a little bit better.
This week in Pittsburgh, I once again found routine, this time along the Golden Triangle. I never did make it back to the physical structure in which I once lived, but there was really no need to. Every morning, I made a date to find my way back home by the waters of my three friends: the Monongahela, the Allegheny and the Ohio. As I negotiated the Eliza Furnace Trail each morning, I simply enjoyed the warmth, and the structure. Despite what the rest of the day would bring, for that magical time, I found home away from home. As I write this, I am once again at 30,000 feet, heading back home to Atlanta. That's home in every sense of the word. My wife awaits me there, as well as my friends and my routine. Tomorrow morning, I'll step across the morning paper, still covered with morning dew, and lose myself somewhere just beyond my driveway. An hour later, I'll finish right where I started. Home. How can it get any better than that?
But even at this high altitude, I feel a little more grounded than I did even two weeks ago. I'm content in the knowledge that I can pack a little bit of home in my suitcase before I leave again on Sunday afternoon to return to Pittsburgh for another week. Home will be packed in the form of a pair of running shoes, shorts, Thor-Lo's and singlets. There is no place like home, wherever you can find it.
Michael Selman lives, runs, and writes in Atlanta, GA. He has been nationally published in both Runner's World and Marathon & Beyond magazines. He would love to keep in touch with other runners, and may be contacted at TheRoadsScholar@aol.com
---
July 2, 2002
"At Long Last, Confluence"
It's been a while since I've written anything worth reading, and of recent times, that fact has been gnawing at my inner soul. Over the years, every time I complete an article, I wonder where the next profound running thought is going to come from. There is only so much that can be written about running before it's all been said. How many times can you put one foot in front of the other for an hour a day, week in and week out, before you run out of profound insights and inspirations to write about?
But somehow, month after month, year after year, the answer is always found somewhere deep in the inner dimensions of the run. While the rest of my day is occupied with everything else, the run is the recreation of the body, the regeneration of the soul, and the creation of the next thought, which ultimately ends up as the next essay. The last few months, I've had this sickening feeling that maybe there is nothing left to say. My inkwell started running dry in early March, when I became so consumed with, and controlled by work issues that I stopped running all together. I couldn't even entertain the thought of a run. When perspiration is not a part of the beginning of my day, there is no inspiration to follow. No run meant no writing. March and April were drought months for me. I rarely ran, and I didn't write at all. After a couple of months, things slowly started to sort themselves out at work, and I started to gradually get back in to running. For a while, I was forcing myself to get out only because for the last 20 years, I have been a runner. But something within the runs felt a little bit phony, and the writing did not tag along close behind. The former excitement and anticipation of the next run was gone, but at least I was starting to get out again. Taking the "cup is half full" approach, I told myself that even just going through the motions still keeps one moving forward.
It took a couple more months before runs were again delightful, and during that time, there was still nothing to write about. So I remained silent, just waiting for that next unique thought to connect during the run, and wondering if I would ever write again. But finally, the thrill started to come back, and the reunion of body and soul started to return.
The name I write under is really the confluence of two different personas. The Roads Scholar is an equal mixture of one part runner, and one part writer. If there is no perspiration, there is no inspiration, and the creative well runs dry. If either element is missing, there is no Roads Scholar. That's why you haven't seen him lately.
But this morning's run took care of that, and it happened because, before the run, I did something I hadn't done in a long time. I reminded myself to be open once more to running's parables. Running used to teach me something new almost daily, because I was receptive, and willing to be a roads scholar. The student was once again ready for the teacher to appear. Somewhere in the mayhem of earlier this year, I forgot how to run that way. This morning, I reminded myself to remember.
As I ran down the Eliza Furnace Trail, which runs along The Golden Triangle of Pittsburgh's Three Rivers, where the Monongahela and Allegheny meet to form the Ohio, I realized that The Roads Scholar needs to run and write, just as the Ohio needs the Monongahela and the Allegheny. In both instances, the confluence of two from to create the one. That was the message embedded within this morning's 70 minutes of ecstasy.
I know in my heart that I am back to writing, and the return of the reemergence of the and of the body and soul, and subsequently, runner and writer, is complete. I'm already looking forward to tomorrow's early run, because I know there is another inspiration to be plucked from thin air, another moral to seek, and another essay to write. The Roads Scholar has returned. Confluence at its best.
Michael Selman lives, runs, and writes in Atlanta, GA. He has been nationally published in both Runner's World and Marathon & Beyond magazines. He would love to keep in touch with other runners, and may be contacted at TheRoadsScholar@aol.com
---
February 22, 2002
"Meet My New Best Friend" Here we go again. This month, I bring you yet another article about the trials and tribulations of a runner who is helplessly growing older. I'm sorry, but as long as I continue to fall into that category, I'm probably going to continue writing and complaining about it. Hopefully, you won't mind my fixation on the subject, as my hunch is that the majority of you are also not as young as you used to be, either. There's even an outside chance that some of you might even relate, especially if you're over 30.
This latest rant was inspired by my participation in the Myrtle Beach Marathon earlier this month. I've run about a dozen marathons in my life, and none of them have been particularly fast. My very first one was one of only two which I ever ran in under 4 hours, and I refer to it as my accidental marathon. It was the Long Island Marathon, and I was a youthful runner of 27 years at the time.
I was only planning to run the half that day, as this race allowed you to stop at the halfway mark and call it an official half-marathon. But I was too young and too stupid to stop when I got there in 1:45, and because I was still feeling good at that precise moment, I continued on. About three miles later, I was unceremoniously introduced to the wall, and I walked, staggered and crawled the final 10 miles to finish in 3:58. That was the day I learned that a 6-mile long run was not sufficient for marathon preparation. Over the next 19 years, I have run a dozen other marathons, mostly in the 4-hour range. In 1997, at the ancient age of 41, I ran another 3:58, but other than that, the 4-hour barrier has been an elusive one for me.
In mid-2001, I decided that I wanted to really give a marathon PR another shot. 46-year old men have had wilder dreams than that, I'm sure. I had been running injury-free for the last couple of years, and I felt my body was ready for the higher mileage and longer runs of marathon training, so I made a commitment to train well, and see what I could do. Perhaps, I thought, good training could be the great equalizer.
I ran a really good race at Myrtle Beach. I hit the half at 1:57:45, which was right about where I wanted to be. But around 18 miles, I started falling just a little bit off the pace, and ended up missing the sub 4-hour barrier once again. I finished in a little over 4:03, but I ran the whole way, and really felt I did well. The effort was by far better than any other marathon effort I had ever done. I came home scratching my head about what might have gone wrong.
There are two things that are about as sure as death and taxes for a runner. One is that we are all going to eventually slow down as we age. And the other is that we are all going to search high and low to rationalize why exactly that is happening to us.
The day after the race, my wife and I drove back home from the beach, and I promptly went on the Internet and did a search on age-graded running tables. I was interested to see how my 4:03 at age 46 equated to the open time of 3:58, as I did when I was 27, and the 3:58 I ran at 41. The open division, by the way, is the division assumed to be the fittest and strongest and fastest. The theory is that, after the age of 30, the human body starts to measurably slow down, so the open division goes to age 30.
I found a great age-graded table, and the results made me feel a lot better, at least initially. It's a great converter, as it grades by both age and sex. I didn't know it at the time, but both these facts would come back to haunt me later.
According to the table I found, my 4:03:15 at age 46 was converted to an open time of 3:43:33. Wow, I set a virtual PR by almost 15 minutes! Even my 3:58:02 at age 41 only translated to an open time of 3:46:08. Could this have actually been my best marathon ever?
I started playing around with my performance at other race distances as well, and I started feeling even better. My best 5K time at age 45 was a 21:57. I found out that this translates to an open time of 20:02. My lifetime 5K PR is 19:54. If I can run 21:57 again this year, the conversion chart says it would be the equivalent of a youthful 19:54. That means if I can go under 21:57, I can have a virtual 5K PR. So now, my 5K goal for this year is 21:56 or lower.
Here's what I need in the other common distances to beat my age-graded lifetime bests.
My lifetime PR at 10K is 41:30. At 46 years old, a 45:47 would be my virtual PR goal. If I could do that, it would actually net me two accomplishments, as it would be the first time I've run a 10K in under my age, too. My lifetime PR at 10 miles is 1:08:20. That just might be my best race I've ever run at any distance. Today, I would have to run a 1:15:23 to match it on the age-graded tables. That would be a stretch, but there aren't too many 10-miles races in this neck of the woods, anyway. My lifetime half-marathon PR stands at 1:33:54. That would translate to a 1:43:36 equivalent by the age-graded standards. I just might be able to do that by the end of the year, with good training. And by then, I'll be 47, and I get another 25 second bonus just for having another birthday.
I was feeling really good about this whole age-grading thing, and should have left well-enough alone, but could I possibly do that? N-o-o-o-o-o. I decided to compare my own times with those of my best friend off the roads, who is also my bitter rival on the roads. He is 10 years older than I am. In real life, we're really close year in and year out. I beat him by a few seconds one race, and he comes right back in the next race and beats me. But when I plugged in our race times and ages, I found out he kicks my virtual butt every race by close to 2 minutes.
Then, I did the unthinkable. I compared my times to those of my wife. I won't reveal her age, but when I plugged our times, sexes and ages in to the converter, I discovered that, virtually, anyway, she kicks my virtual butt even worse than my friend does. Oh well, at least nobody will ever again accuse me of being a wife-beater.
Overall, I've found a lot of comfort in the new found best friend, whose name is "Age Equivalent Running Results Calculator." It has helped me feel much better about my marathon performance last week, and it has given me some new PR opportunities, even if they are only virtual. It's the great equalizer, as well as the great rationalizer, all rolled into one. Just do me two favors, please. Don't tell my friend, and don't tell my wife. They wouldn't be interested.
But if YOU are, e-mail me, and I'll give you the link. It just might make you feel a little better too.
Michael Selman lives, runs, and writes in Atlanta, GA. He has been nationally published in both Runner's World and Marathon & Beyond magazines. He would love to keep in touch with other runners, and may be contacted at TheRoadsScholar@aol.com
---
November 29, 2001
"Not in my first 20 years"
On April 16th, 2002, I will mark my 20th anniversary of running by doing what I do most mornings. I will get up at 5AM, go for a short run, and in a small way, it will be a disappointment that I am able to do so. There is a trivial piece of me that would prefer that the act of getting out of bed that morning would be too painful, too hard, too challenging. I will fantasize that while I am lying in bed, stiff and sore, almost unable to move, I will still be reveling in the accomplishments of the day before.
But that will be the dream, not the reality.
On April 19th, 1982, three days after I ran my very first mile, I watched as perhaps the most thrilling Boston Marathon ever took place. While I watched, my legs still aching from that single first mile I had run three days earlier, I was riveted as Alberto Salazar and Dick Beardsley waged a classic battle through the hills of Newton down through Brookline into the Back Bay area of Boston. Though Beardsley pushed the pace for almost the entirety of those last nine classic miles, Salazar prevailed at the finish by 2 seconds, and won the race, as he almost always did back then.
A lot has changed over my first 20 years of running. Today, I can run a mile without having sore legs for the next week. Today, I can even run a marathon in over four hours, and not be one step ahead of the sweep vehicle. In fact, today's four hour marathon might still place me in the top half of most races. Though I have slowed more than I'd like to admit, the overall field has decelerated at a much quicker pace.
In 1982, nine of the top ten men's finishers at Boston were Americans, as well as seven of the top ten women. The following year, Americans made a clean sweep of the top 10 in both the men's and women's fields. Large purses in other marathons were enticing the International field away from Boston. But the standard quickly shifted, as the lack of sponsorship and prize money that had initially pushed the international contingent away from Boston gave way to corporate sponsorship and large purses, which lured them back. Before the end of the decade, in 1988, to be exact, there was not a single American top ten finisher in either division.
Boston has changed in other ways to, since I ran my first mile almost 20 years ago. In 1986, qualifying standards were eased, and in 1988, they were relaxed even more, putting the potential to qualify within the reach of runners like me. The question now became less one of raw talent, and more one of heart and desire. In 1996, for the historic 100th running of the race, a lottery was conducted to expand the official field and allow non-qualifiers to officially run the race. I chose to remain pure to the tradition, and did not submit an entry. Today, much to the chagrin of some, one can receive an official Boston Marathon race number by raising funds for designated charities.
But there is one thing about Boston that has not changed over the years. On April 15th, 2002, the final day of my first 20 years of running, Boston will be run without me for the 20th time since I stepped out the door to jog my first mile, and then needed a week off to recover from it. Qualifying for, and running Boston would be a storybook ending to my first 20 years as a runner, and if I wrote fiction, I would be there. Perhaps if I put on life-filtering blinders and totally dedicated myself to marathon training, remained uninjured, and ran the perfect race on the perfect course on the perfect day, than MAYBE I would qualify, and be there. It would all have to be perfect.
I honestly don't know if it's just sour grapes on my part, or if Boston is truly not synonymous with running in my book. I consider myself a runner, so Boston is not the defining element. But I cringe just a little bit inside every time I am asked if I've ever run Boston. And I turn just the slightest hue of green every time I meet someone who has done the training I have been unwilling to do, and succeeded in qualifying for Boston. It's even a little bit harder to swallow when someone just assumes I've run it, because that's what every "real" runner does.
And now, as I approach my 20th anniversary of running, I look back and realize how much I have accomplished in my first 20 years. I have 20 years worth of running logs, and almost every run I've ever done since that first mile is secured within their pages. I have acquired a respectable number of medals and trophies from races where nobody else in my age group showed up. I proudly display framed copies of the articles I have had published in magazines like Runner's World and Marathon & Beyond. I am about to take over as the president of what I consider one of the best running clubs in the world. I am content with my running. But I have not qualified for Boston.
More importantly, however, as I prepare for my second 20 years of running, I am content with my life. I have a lovely wife who also just happens to be a runner. She has even qualified for, and run Boston on more than one occasion. She wins awards even when everybody shows up. She is a brilliant runner, and works hard at it.
Between us, we have three wonderful children. They aren't runners, but they each have their own special talents, and give us immeasurable joy. Our home is our castle, and it is always a warm place for anyone to enter. And I have close friends that I know will always be there for me. 20 years ago, I had none of this. About the only thing I had was running. And even in running, all I had was one wretched mile.
If I had chosen the path to Boston, who knows how different the rest of my life might have been. If I had chosen the singular focus of qualifying for Boston, perhaps I would have been successful. But perhaps, I would not have been, and either way, the cost may have been more than I would be willing to pay. Succeeding does not always translate to success. And success at one thing could result in multiple failures in other areas.
Sour grapes? Maybe. But I'm very content to start my second 20 years of running just being able to do what I've done for most of the first 20. That would include waking up at 5AM, and going out for a short run, and enjoying a well-rounded life of family, friends, and varied and diverse accomplishments that must include running, but doesn't have to include Boston. And as I get older, and qualifying times relax a bit more, Boston's 5 minute gift for entering another age group, maybe, just maybe I can outpace the Boston qualifying standard itself, and nip it at the finish line. Just like Alberto Salazar did with Dick Beardsley, three short days after I ran my very first mile.
It would be a storybook ending.
Michael Selman lives, runs, and writes in Atlanta, GA. He has been nationally published in both Runner's World and Marathon & Beyond magazines. He would love to keep in touch with other runners, and may be contacted at TheRoadsScholar@aol.com
---
September 24, 2001
"When Words Fail"
No words can even come close to capturing the magnitude of the sorrow, the disbelief, the collective revulsion of the odious events that took place on September 11th, 2001. How can mere words explain the inexplicable? How can simple words console the inconsolable? When words fail, what can one say?
But even when words fail to capture the emotions and the grief, there is a need to express feelings, even as we still wrestle with them. And when words fail to answer questions, and words fail to make sense out of unimaginable pain and suffering, somehow, those failing words still serve to comfort.
This column has always been nothing more than a monthly compilation of words, always on the subject of running. In my mind, I have always fantasized that somehow, in some way, my words would carry so much weight or inspiration that they could in some way change the world. But this month, the world has been changed, not by words, but by horrific actions, and words fail me. There is so much to say, but I don't even know where to start.
To all of you, who I mostly don't know except by e-mail address, I pray that you and your families are safe. To those most directly affected by last week's events, who have suffered personal injury, or lost family and friends due to the heartless attacks on our country, and on our freedom, please accept my deepest sympathies. To those who know people who know people who lost their lives, and I fear that would include every single one of us, my deepest heartfelt sorrow goes out to you too. Though these words may fail to soothe, silence at a time like this is not an option. So I am sending out a column this month, because it is important, even when words fail.
I was at work when I learned of the attacks. As it slowly began to sink in that these were calculated strikes, it also became clear that nothing was going to be quite the same any more. We all started fearing the absolute worst as we learned that the Pentagon had also been hit. We were still trying to comprehend what was happening in New York. In that instant, we all realized our own vulnerability in unison. Suddenly, there was no safe haven in this world. All the rules were changing as we watched in disbelief. We realized that history, if there was even to be one, was going to look back at this day with the type of significance that people my age have never experienced before. We have only heard of Pearl Harbor, but we were living this. Many who witnessed both said this was worse. Much worse.
In routine, there is comfort, and we have been slowly easing back into what we once called everyday life. The attacks hit us on many fronts, and instantly took away much of the routine we used to take for granted, because until now, it had always been there. For the first time ever, airlines stopped flying, and sports came to a halt. For a short time, in our shock, we stood paralyzed, both collectively and as individuals. Every American felt the impact.
By early afternoon I knew a few things for sure. I knew that I was going to start giving bigger and longer hugs from this point forward. I knew that I would be getting back in touch with people I haven't spoken to in quite a while. I knew that I was going to start being more generous in saying the words "I love you." I knew that I was going to be more tolerant of minor inconveniences. And I knew I was going to go home that afternoon, and run.
I didn't feel like running, but I had to. My heart wasn't in it, but the pain and the defiance in my heart drove me to do it. Tuesday's run was unlike any run I had ever done before. It was not just a run. It was representative of many things.
It gave me uninterrupted time to mourn a loss of innocence and the loss of life. It gave me time to reflect on my own mortality, and to reflect on how fragile life is. And it gave me the opportunity to take my first steps back towards routine, which is what the terrorists tried to deny us all. Running did all that.
We are runners, and running is part of who we are. Don't let them redefine who we are. Don't give them the victory, by allowing them to dictate how we should live our lives. If you have been unable to get back into your routine up to this point, get back to running, and every other thing that you feel you can safely and respectfully do. Declare victory over those who tell you to be scared, to hide, to stop living.
I don't really know what else to say. When words fail, the spirit doesn't have to.
Michael Selman lives, runs, and writes in Atlanta, GA. He has been nationally published in both Runner's World and Marathon & Beyond magazines. He would love to keep in touch with other runners, and may be contacted at TheRoadsScholar@aol.com
---
September 12, 2001
"We Must Run"
I'm a morning runner, but yesterday morning, I did not run. I was tired, and just couldn't get up. Then I came to work and watched as the world as we know it changed forever. I'm sure that 9/11/01 will develop it's own recognizable label at some future date. The initial impact of yesterday's events has not set in yet, and the long term impact will no doubt be more far reaching than anyone can even fathom at this point.
Yesterday, very little work was done. I spent the day glued to the TV, talking to loved ones repeatedly, trying to get statuses of people I knew who were in the vicinity of ground zero. My boss was less than a mile away from the World Trade Center when the attack started, and she saw everything. It took until after 4 in the afternoon before contact was made with her. She is as okay as any eyewitness can be.
I called my wife Harriet at work at about 4 yesterday, and told her I was going home to run. She didn't sound surprised. Until the world changed, I had not planned to run yesterday at all. But sometimes, you have to run for people other than yourself, and I told her I needed to run, partly for me, but also for the memory of all of yesterday's victims, and because I was not going to allow terrorism to dictate the sacred things I still have control of. My running time yesterday was my symbolic gesture of continuity during a time of turmoil. When I need to pray, my running time is my prayer time, and I just plain needed to pray. If I am grieving, my running time is my grieving time, and yesterday, I needed to grieve. It's my time of self-intimacy, where I am most in touch with myself. My running time is my freedom, and yesterday, I needed to be free. My running time is mine, and yesterday, I needed to wrestle back ownership of myself.
Last night, we had our children over. We don't see them every day, but last night, it was important that we were in the same place at the same time. Harriet's daughter Jenny was already there when I got home from work. When I got back from my run, my daughter Monica was there, and soon afterwards, Jenny's boyfriend Joe came by too. Lissa, Harriet's youngest daughter, is in California, but she remained in contact with us all day. Suddenly, the family unit became exponentially important to us all.
By the time Harriet got home, Monica had already left, due to some personal things she needed to take care of. Even in the midst of world changing events, life goes on. Life goes on. Things have changed, but life goes on. Many things will be different from now forward. Some things will actually be different for the better. Other things will be different in an infamous way. But everything has changed.
Soon, airports will re-open, and many fewer people will be traveling. Soon, the stock markets will re-open, and the overall financial impact of what happened yesterday will become clear. Soon, the unity and generosity of the country and the world will uncover countless thousands of heroes, and will in some way help the collective healing process. Soon, the perpetrators of yesterday's horrendous crimes will be exposed, and definitive, swift, and complete retaliation will ensue. In the coming days and weeks, the world's and nation's mourning will filter down to individual mourning, as the dead are identified, and just about every single person in the country will either know somebody, or know somebody who knows somebody who lost their life yesterday.
Routine is of paramount importance at this point in time. Being thrown off of it gives the terrorists victory. We have to play baseball again, as soon as it is deemed to be safe. We have to open Disneyland, and Disney World again, as soon as it is deemed safe. We have to celebrate life again, as soon as we can respectfully do so. We have to first redefine normal, and then get to it, as soon as we can. And once again, reminiscent of our deepest despair, we must never, never forget. And we must run.
In this time of overwhelming grief, it's important to look for the small victories wherever we can. Simple things like extra long hugs, and never passing up an opportunity to tell someone you love that you love them are vital at this time. And yes, we must run. Running is part of our routine, and a strong foundation of who we are. And we have to find ways to return to who we are quickly. Returning to whatever routine we can as soon as we can is in a very small way a declaration of victory.
God bless you all.
Michael
Michael Selman lives, runs, and writes in Atlanta, GA. He has been nationally published in both Runner's World and Marathon & Beyond magazines. He would love to keep in touch with other runners, and may be contacted at TheRoadsScholar@aol.com
---
August 10, 2001
"Coming Out of My Shell"
Whoever it was that said that slow and steady wins the race was obviously not a runner. The story of the tortoise and the hare might be some kind of good parable for some analogies in life, but running a 5K race is not one of them. If you run three slow and steady 15-minute miles, you're doing something great for yourself, but you aren't likely to win too many races. It would be about as likely as the slow and steady turtle coming out of its shell.
And speaking of shells, one of the great things I have always enjoyed about being a writer is that it places me in a position where I can have a profound impact on others while remaining totally anonymous. I can reach out while remaining safely in my shell. This is an advantage writers have over movie stars and professional athletes. While the rich and famous are having their daily battles with the Paparazzi, people like me, the poor and unidentifiable in a police lineup, can always walk down the street without being bombarded with flashbulbs and autograph seekers. Actually, someone did ask for my autograph once, but threw it away when they discovered that I wasn't Jim Varney after all.
I always smile when I learn that someone has heard of me through my column, but I haven't minded my virtual anonymity, either. I have always been a private person, and my comfort level has always been with my introversion. The Webster's definition of an introvert is To concentrate (one's interests) upon oneself. I suspect that many runners lean towards introversion. Being an introvert does not necessarily mean that one is quiet, but it might mean that he or she prefers to remain uninvolved. I know many people who fit the profile of an introvert who actually talk excessively. They just hate every minute of it.
Running is the kind of activity that many participate in for the purpose of energizing themselves from within. It is an individual sport, but for quite a few of us, the loneliness of the long distance runner is strictly myth. When we run, we concentrate upon ourselves, and it's often pure entertainment. It's ironic how a nice easy three-hour run constitutes downtime for some of us.
Every year, elections are held within the ranks of most running clubs, and people are asked to represent the club in different capacities. It creates somewhat of a paradox. In most cases, the few active and involved members are probably pitching outward involvement to a group largely made up of introverts, and so it's like pulling teeth to get volunteers.
But with urging, and begging, and pleading, and perhaps threats of bodily harm, someone has always stepped forward (or maybe they just didn't step far enough back). And as long as there are people willing to step up to the plate and take on the challenge when it is apparent that nobody else will, why should I be concerned? And besides, I hate politics, I hate traffic, I hate being involved in decisions that may be unpopular to some, and I live so far away from where all my club's activities take place.
For the last two years, I have been approached and asked to run for president of my running club, and both times, I figured it was because nobody else wanted it, and the gesture truly defined scraping the bottom of the barrel. You see, I come from the Groucho Marx School of self-depreciation, which states that I would not want to join a club that would have me as a member. But a club that would consider me for president must truly be on a self-destructive course. I have refused both times I have been approached. It would take me too much out of my routine, and my introversion.
But I love running, and I value the club I belong to. If everyone continued to concentrate their interests upon themselves, who would be left to concentrate their interests on the club? So it's time to crawl out of that comfortable shell of introversion and run. After all, running is what brought me here, and running is what I love to do. If asked, I will. Who knows? Without that heavy shell, maybe I'll even win the race, if only by a 'hare,' and my wife, just like almost every time she races, might once again be the "first lady."
Michael Selman lives, runs, and writes in Atlanta, GA. He has been nationally published in both Runner's World and Marathon & Beyond magazines. He would love to keep in touch with other runners, and may be contacted at TheRoadsScholar@aol.com
---
August 1, 2001
"I Am At None with Nature"
Once, I read a Woody Allen quote that said, "I am at two with nature." I'm not sure where I read that, but my hunch is it was in one of my many John Jerome runner's logs, because I don't do a whole lot of other reading. But that quote, much like almost everything else about Woody Allen, I never really understood.
For the last month or so, my own take on it has been that "I am at none with nature," But I think I can explain what I mean when I say it. I came to that realization early this morning, when I stepped out the door for my run.
For nine months of the Atlanta year, I look forward to virtually every run with eager anticipation, and I'm ready to meet nature's challenges. In reality, spring and autumn practically beg you to run in them, and pose virtually no opposition at all. They are mostly perfect for running, at just about any time of day or night. And the scenery is gorgeous. Whether it is the lightly scented and heavily colorful new blooms of spring, or the outstanding fiery foliage of autumn, I find myself at one with nature.
Winter can pose a slightly more objectionable obstacle for some, but I personally enjoy charging into the teeth of a biting wind, and I always make a point of jumping into the midst of a rare falling snow. I'd rather be out running when it's 20 degrees than 50 degrees, so even on weekends, I'm most often out running before the first hints o daylight. It's me against the elements, and I'm always ready for the battle, and the victory. In the back of my winter mind, I am always reminding myself that there are many parts of the country where they would scoff at our thin skin anyway.
But then there are those three saddest of all possible words for runners like me. Those words are June, July and August. The temperature rises in tandem with inflated race times, and just the thought of running much more than four miles at a stretch exhausts me. Even at 5 in the morning, there is often nary a hint of coolness in the soggy morning air, and the humidity is often close to 100%. There is nothing desirable under the sun, or the moon during the dog days of summer. The same stars that shone so brightly in the crisp winter skies are hardly noticeable now and spring's bright colors have given way to a monochrome and mundane green. And sadly, I have not been at one with nature. I have been at none with it.
But this morning was different. When I opened the door to go out in the darkness, I was greeted with a surprisingly dry cool breeze, which hinted more of September than July, and when I looked up, I saw a bright sliver of moon flanked by two fading stars and one bright planet. It felt like I was in another time and place. The time would be autumn, and the place would be back at one with nature. And suddenly, I was thrilled by my surroundings, and I really felt like running. It was the first time I have felt that way in a long while.
And maybe tomorrow, if it's another clear cool and dry morning, I will finally understand what Woody Allen was talking about when he said, "I am at two with nature."
Michael Selman lives, runs, and writes in Atlanta, GA. He has been nationally published in both Runner's World and Marathon & Beyond magazines. He would love to keep in touch with other runners, and may be contacted at TheRoadsScholar@aol.com
---
July 12, 2001
"The Changing Faces of My Heroes"
One of the ways Webster's defines "hero" is as a person noted for special achievement in a particular field. In my case, that first field would have been the old Busch Stadium in St. Louis, which is where I saw my very first baseball game. Since my very first sports passion was baseball, it was logical that my first heroes were all baseball players. I don't remember too many details of that very first game, way back in 1960, but Carl Sawatski must have done something good at some point during the game, because he became my very first hero. Other than his mother, perhaps I was only other person in America who saw him that way. He was born on November 4th, 1927, and he was almost exactly one year younger than my father was. And as a 5 year old, I wanted to grow up to be just like Carl.
A couple of years later, I was in New York visiting my grandparents, and watched a New York Mets game on TV with my grandfather. During the game, two miracles occurred within a span of about 15 minutes. First, Marv Throneberry hit a triple, driving in two runs, and soon after the Mets actually won the game.and I had a new hero. Marvelous Marv.
Over the years, my heroes changed, but they all remained baseball players. I started buying baseball cards, studying the statistics, and in the process, I learned that there were some players who played well on a fairly regular basis, and not just on the day I happened to be watching. As I learned more about baseball, my heroes changed, and were now the best players in the game. Players like Sandy Koufax and Mickey Mantle were closing out some impressive Hall of Fame careers. Koufax was forced to retire at the ripe old age of 31, due to tendonitis in his pitching arm, and some would debate that Mickey Mantle waited a little too long before he retired, allowing his lifetime batting average to dip below .300 before calling it quits at age 37. To me, they were old, and that was part of what made them bigger than life. Some day, I thought, maybe I could be like them.
Through the 60's and early 70's, my heroes continued to change, as older ballplayers retired or lost their effectiveness, and were replaced by younger ones. One thing they all had in common, however, was that they were all significantly older then me, and so there was still hope that someday, I could grow up to be like them. As I studied the backs of the baseball cards year after year, I started paying as much attention to the player's dates of birth as their performance statistics, and I started to wonder when there would be a major leaguer who was younger than I was. It finally happened in early 1975, when a 19 year old named Jack Clark stepped onto the playing field, and became my newest hero. In my young mind, younger was better, and he was the first major leaguer in my lifetime who was younger than me. He was followed soon after by Butch Wynegar and Garry Templeton, and before I knew it, I found that I wasn't so young any more. There were many players younger than me.
Jack Clark had a solid, if not spectacular career, and all the while, younger, stronger, better players came along. Suddenly, there were more Major League players younger than me than older, and my loyalties started to shift to the seniors of the game. In the meantime, with my advancing age, I started to run, and heroes from a new sport emerged. People like Bill Rogers, Alberto Salazar, and Rod Dixon were suddenly sharing the podium with people like Don Mattingly, Ron Guidry, Wade Boggs, Tony Gwynn and George Brett as my heroes. And my biggest hero suddenly became my father, as he was really the one who planted the running seed to begin with. He had already been running for years before it finally took hold with me. And he hadn't even started running until several years after Carl Sawatski had already retired from baseball.
By 1992, Jack Clark had retired from the game, and I was kind of saddened to see someone younger than me who had actually had a productive career, but had outlived his usefulness in his sport. And at about the same time, I realized that the new kids didn't do anything for me any more. It was actually the elder statesmen of the game who were becoming my new heroes. Perhaps it was because it was the older players I could most closely relate to. With Jack Clark gone, my heroes became people like Carlton Fisk, and Nolan Ryan, who played into their mid 40's, and seemed to be ageless. At least they were still playing, and they were both older than me.
But by the end of 1993, Fisk and Ryan were gone, too, and the list of players who were still older than me grew shorter and shorter. By 1997, there were only three players left in the "older than me category." They were Rick Honeycutt, Dennis Eckersley, and Dennis Martinez, and they were the only buffers between myself and total extinction. They were my last heroes in the game. By 1998, they too were gone, and I had outlived an entire generation of ball players. Not a single hero remained in the game.
But I still needed heroes, people I could aspire to be like, and there were none left in baseball. So the faces of my heroes had to change. And they did. Now, those faces all had crows feet around their eyes, and their hair was thinning, graying, or gone. Heroes who wore a glove, or threw a ball, or swung a bat no longer existed. They had all vanished by the summer of 98.
Today's heroes all wear running shoes and singlets, and they are all older than me. People like Ed Whitlock, who just ran a 3 hour marathon as a way to celebrate turning 70 years old. People like Hal Higdon, who also recently turned 70, and will be running 7 marathons at a 7 minute per kilometer pace over the next 7 months to celebrate his entry into the newest age group of youth. Maybe in another 25 years, I can be just like them.
I guess the people I choose to be my heroes are people I dream of being like someday. When I was a kid, it was the youth that carried the hero banner, because I still had a chance to grow up to be like them. But as I have aged, my heroic allegiance has changed. Now, they are older, so I can still have that glimmer of hope that someday, I can grow up to be just like them. And one hero shines most bright, because of who I have become. My father. He is a year older than my very first hero, but he is still doing the sport he loves. Because of him, I am a runner, and maybe someday, because of him, I just might possibly be a hero to someone else.
Where have you gone, Carl Sawatski?
Michael Selman lives, runs, and writes in Atlanta, GA. He has been nationally published in both Runner's World and Marathon & Beyond magazines. He would love to keep in touch with other runners, and may be contacted at TheRoadsScholar@aol.com
---
June 5, 2001
"On the Mature Side of Youth"
Every article I write is inspired by something a little bit more than just a deadline. Most often, the inspiration comes from within myself, and it almost exclusively roots and manifests during the course of the run. I rarely go into a run with a topic in mind that I want to write about. Instead, I run with an empty, but wide opened mind, and thoughts filter through until I latch on to that diamond in the rough. Then, I massage it in my mind, and it is pretty much conceptually written by the time I sit down at the keyboard.
Occasionally, however, I am inspired by life events going on within me and around me. My recent columns have revealed that I've been spending a lot of time recently on the subject of growing older, and not necessarily wanting to be a part of it. I can't help it. There are just too many things going on around me that force me to reflect on it more often than ever before. My daughter has just graduated from high school and my wife's youngest daughter will cross that same threshold two weeks from now. It seems like such a short time ago that they were in diapers. Now, they're on the brink of adulthood, and we're on the brink of becoming empty nesters.
From time to time, in my mind, I revisit the places of my youth. When I do, I always picture things exactly as they were all those years ago. When I imagine myself back at my old college campus, I still imagine everything exactly like it was back then. All the same professors are teaching all the same classes, and the same pinball machines are still in the Student Union, and there is still a line forming to play the new video game, Pong. And as I walk through the student union where I waste my youth, everyone I used to know is still there, and nobody is a day older than they were almost 30 years ago. Their youth is well preserved, and the memory is frozen forever in time.
Every time I snap out of one of these classic reveries, I can't help but wonder exactly how much things really have changed. I don't care so much about the pinball machines, and I imagine that they have replaced the Pong game with something a little more sophisticated by now, but I do wonder about the people. They are all just like me, close to 30 years older than they were back then. The question I ruminate over and over is which ones have allowed themselves to become older, and which ones have chosen to stay young.
If you were to ask most of my former classmates where they would guess I might be today, their answer for the most part would only include the words successful or even alive if it were preceded by not. Certainly, none of them would have imagined way back then in the days of open rebellion and self-induced stupor that today, I would be a healthy runner with a good job and a lovely family. That was just not the way I was heading back then. And I somewhat flaunted that fact.
But so much can happen in 30 years, and it is largely determined by the decisions we make, and the directions we chose to proceed. At some corridor in my life, very poor decisions were gradually replaced by some very good ones, and one of the most monumental turning points transpired when I made the determination to start running. Before I started turning that corner, I was already old, and ever since running become rigidly embedded in my lifestyle, I have become younger and younger.
So here I am in my 20th year of running, and my 45th year of life. Although I'm still young, I'm pushing youth's outer limits, and I'm not sure how much more time I have on the young side of athletics. I find myself searching for the same thing that Ponce de Leon was looking for in the early 1500's. Whereas he was searching for renewal in the magic waters of Florida, I'm looking no further than an elementary school track, and a place deep within myself.
I am seeing the present time as possibly my last chance to run faster than I ever have before, and am committing myself to this goal. I had a similar focus a few years ago, and soon became so injury plagued that I was thinking for a while that I might never run again. But in time, I healed, and now, I am once again ready to flirt with time I haven't run in a long, long time.
The first step is a sub 22 5K. Then, I'll attempt to follow a plan to sub 21. After that, it might all be in my dreams.
Can I run under 20 minutes again? Well, I only did it once in my life, and that was when I was still in my 20's. It's a long shot, to be sure. But I keep replaying the thought that a man is not old until regrets take the place of dreams. And so, I'll keep on dreaming, with no regrets, while mature youth is still on my side. After all, I would much rather attempt to live a dream than to lament over what might have been, if only I dared dream to begin with.
"There are those that look at things the way they are, and ask, "why?", I dream of things that never were, and ask, "why not? -Robert Kennedy
Have a great month of running. May your dreams only be an arm's length away.
Michael Selman lives, runs, and writes in Atlanta, GA. He has been nationally published in both Runner's World and Marathon & Beyond magazines. He would love to keep in touch with other runners, and may be contacted at TheRoadsScholar@aol.com
---
May 11, 2001
"My Favorite Day of the Week for Running"
Ah, Monday morning. While most of the world has strong desires of pulling the bedcovers back over its collective head until the day goes away, I eagerly pop out of bed and embrace the day. Monday, you see, is my favorite day of the week to run. All the hard efforts of the weekend are behind me, and Monday is the day I bask in the weekend's accomplishments, and reward myself with a run just for me. I leave my watch at home, and with it, the concerns of anything but the pure joy of running. Monday is the day to smell the roses, count the stars, hear the birds, and run simply because I can.
But then, there's Tuesday. And Tuesday is possibly my favorite day of the week to run. My legs are fresh from the easy run the day before, and I look forward to running a little bit faster, and capturing each split on my watch. It's too dark to see my times as I pass each landmark, but I try to gauge my pace by how I feel, and play a little game to see how close I can actually come to the actual time once I'm back inside. Some days, I know myself really well, and other days, I'm way off the mark. Tuesday is a day to see how well I know myself, and to learn how well I am doing at that task.
Then, there is Wednesday. This is undoubtedly my favorite day of the week to run. For starters, I sleep about an hour and a half later, because Wednesday is my track workout, and it's the one day a week I run after work. The warm fuzzies of the day actually start the night before, when I adjust my alarm accordingly. The whole day has a different feel to it. It's the only day that the run is ahead of me rather than behind me as I go through my work day, and the anticipation of the run somewhat distracts me.
On Wednesday, I pack a bag so I can change right after work, and bring an insulated jug that I fill with ice and water just before heading to the track. Wednesday, I have a very specific task to do, right down to the second, and the meter. I am acutely aware of my progress every minute of the workout, and adjust accordingly if a little tweaking is needed. Wednesday is a day to be an athlete, and to hopefully see gradual improvement from one week to the next.
But Thursday is, in a funny kind of way, possibly my favorite day of the week for running. The irony is that on Thursdays, I don't run at all. That's the day I give myself the gift of recovery and the hope of longevity. It's a second consecutive day that I sleep later, knowing that I am rewarding my body for pulling me through the accomplishments of the past three days, and giving it a break in preparation for the next three days. It's not that the temptation isn't there to run. It is, but common sense says to rest. Thursday is a day to be smart and logical. Even a runner can do that once a week.
On Friday, I wake up early, and hungry for running again. After starving myself the day before, I am ready to feast. I think that this may very well make Friday my favorite day of the week for running. But Friday is a day of control, and I have to temper the hunger. I know that I have a tough weekend ahead of me, and I need to be sure I go into it well rested and well prepared. Friday is much like Monday in the nature of the run, but very different in its purpose. Thursday runs, in similar fashion to Monday runs, are mindful, watchless runs, but my mind wanders in a different kind of way. It looks to the immediate future, rather than the past. Friday runs wonder what the next Monday retrospections are going to look like. Friday is a day of hope and dreams of future accomplishments.
Saturdays don't require an alarm to get me moving. I am so eager for Saturday to come that I sometimes hardly sleep the night before. Saturday must be my favorite day of the week for running. As George Sheehan expressed it best, Saturday is the lovemaking of running itself. Saturday, I race, and thus give a deeper purpose for all the other days of the running week. Saturday is, at the same time, the most serious work, and the most lighthearted play of the week. Saturday is competition and communion; a day of trying to distance myself from my best friends, in the most literal of ways, hoping to leave them behind me only until the handshake once the race is over. Saturday is a day of challenge and camaraderie. It is a day for being the fastest I can be, and being the best I can be.
Sundays incorporate a change of venue, a change of scenery, and a change of purpose. I love the modifications. They make Sunday my favorite day of the week for running. I usually drive down to the dirt path by the river. Sometimes, my wife comes with me and we run together. Other times, I meet friends there. On Sundays, I almost never run alone. Sunday is not just about running, but it's about visiting in a way that can only be done on a longer slower run. Eight, or ten, or 12 miles go by in a flash, and when it's over, whomever I'm running with always shares my amazement about what we've just accomplished and how easily done it was. That goes for the conversation as well as the run.
So there you have it. The cycle is completed, and then starts anew. Monday rolls around again, and I'm ready for another loop of the course. Just like most every run I do, each week brings me back to where I started, only a bit better off for having done it. And it brings me to a better understanding of the fact that, in actuality, I don't have a favorite day for running. That's because they all are.
Michael Selman lives, runs, and writes in Atlanta, GA. He has been nationally published in both Runner's World and Marathon & Beyond magazines. He would love to keep in touch with other runners, and may be contacted at TheRoadsScholar@aol.com
Michael Selman
Roads Scholar
---
April 23, 2001
"20:20 Foresight: Looking Forward "
As I get older, I find myself looking back more and more often. I think that this is partially due to the fact that every year, another chapter is written in my life, and another block of memories is created. There's just more history to ponder every time I take a backwards glance.
But I also spend a lot of time looking forward, and wondering how things are going to be as I approach senior citizenship. On the one hand, I fear it, as the ravages of age seem to catch up with just about everyone who sticks around long enough. On the other hand, I look forward to battling it head on, and slowing down the process to the best of my ability.
One of the most significant ways that I know to not give in to the age I am is to refuse to feel or act the age I am. It's a mental, as well as a physical strategy. I just can't picture myself being old, and I hopefully never will. But I also can see I'm not as young as I used to be, and things change as one grows older. Everything is viewed differently when one is in their 40's than when one is in their 20's. I imagine the perspective becomes exponentially more contrasting in one's 60's, and in one's 80's.
George Sheehan was the first 50-year old man in history to run a sub 5-minute mile and he set his marathon PR of 3:01 at age 60. But alas, age, or illness, even catches up with the greatest in the sport eventually. I participated in a few races that the great Dr. Sheehan also competed in. He was in his late 60's while I was in my prime in my 30's. He kicked my butt every time we raced, except the very last time I ever saw him. The same week I finally beat him, he announced to the world that he was battling cancer. It was a terrible loss when he passed away.
I once met Dr. Paul Spangler, and instantly knew I wanted to be like him. Advancing years may have slowed him down, but they didn't stop him. He was still running and swimming competitively into his mid 90's. He used a unique strategy that worked well for him. He outlived all his competition. When he finally did pass away, it was during a run. I'm betting he wouldn't have had it any other way.
I would have to run for another 50 years to threaten any of Dr. Spangler's records. That is a fact that helps me realize how young I still am. Right now, I don't see any reason why I can't do it. I imagine that many others in my age group feel the same. It seems that every time I advance to a new age group, the competition gets deeper, and tougher. If I do make it to the 90-94 age group, I'm guessing I won't be as alone as Dr. Spangler was. I imagine the competition will still be fierce, and the awards will be claimed three deep.
Running, perhaps more than any other sport, is a sport of longevity. In professional sports, 40 is over the hill. I'm often taken by surprise when I see interviews with former professional athletes, not too far into their retirement from the game, and see how old they look, and how out of shape they have become. It's hard to imagine that, in some cases, less than a decade earlier, these same people graced us with amazing feats of athleticism. In some ways, I'm in my running prime at age 45. While yesterday's athletic heroes are already retired at my age, I'm still trying to hit milestones in the sport I love. And there are goals that I seem closer and closer to achieving, as I get older. Qualifying for Boston gets a little closer to my grasp every five years, as long as I don't slow down. This may finally be the year I run under my age for 10K. That one has been on my mind for years. There are highlights ahead that are just as real as the recollections behind me.
Here's to all those wonderful memories, most importantly those still to be created.
Michael Selman lives, runs, and writes in Atlanta, GA. He has been nationally published in both Runner's World and Marathon & Beyond magazines. He would love to keep in touch with other runners, and may be contacted at TheRoadsScholar@aol.com
Michael Selman
Roads Scholar
---
March 30, 2001
"20:20 Vision"
It was May 21, 1994, and the image I see today is as vivid as it was way back then. I was standing at the starting line of the Duke Children's Classic, a 5K road race which wound through the Duke University campus. The weather that day was unseasonably cool, which made the conditions perfect for my 20:20 vision. I had my sights squarely set on running this race in 20 minutes and 20 seconds.
I had trained well for that race, with a balance of previous 5K races and 800's on the track for speedwork, and a base of 30 miles a week. I knew what my goal was, and I knew what I wanted to do to get there.
While I was nervously waiting at the starting line, someone asked me what I was planning to run the first mile in. 6:20, I told him, and he quickly took a couple of steps back as if to say I was out of his league. I knew this course well, having run this race several times in the past. I knew that the friendly first mile quickly betrayed you during mile two. The second mile punished you, and then the third mile was your reward for surviving the second. I figured that if I could run the first mile at 6:20, I could hang on to the end from there. I could see my 20:20 vision come to fruition.
Before the start, I edged near the front of the pack. This was unfamiliar real estate for me, but a 5K doesn't allow for tactical errors at the start, and this race always attracted a nice crowd. With a working knowledge of my capabilities, this goal was an aggressive one, and seconds lost before the start would be irretrievable later on.
I started cleanly, and felt like I was barely hitting the ground as I pushed a fast early pace. Quickly, the pace became uncomfortable, but formidable doses of adrenaline were pushing the pain aside. My focus was sharp. My vision was clear. Rarely have I pointed my training to a single race like I did in this one.
As the first mile marker appeared, and I charged past it, the split was called. 6:22. It's amazing to me how someone can be so finely tuned to their potential as to be able to predict within two seconds how long it will take to cover a distance of 5280 feet. My 20:20 vision was still in tact. But the bear was looming.
The second mile was tough. My mind was trying to tell my legs to back off, and my heart fought back, pleading me to not give in. Between miles one and two, I was no longer able to judge my pace, so I gauged my effort against the people around me. It was a real lift to realize I was still passing people, and that very few, if any, were passing me. Two miles came up at 13:08. The second, uphill mile was done at 6:45, which was about what I had figured would happen.
The third mile in this race is much like the first, with many downhill grades. Honestly, my brain felt like mush by this point, and I had no clue whether my 20:20 vision still had a chance of becoming a 20:20 reality. I was pretty sure the third mile would be quicker than the second, and slower than the first. But I hadn't a clue by how much in either direction. My 20:20 vision had become blurred and distorted.
As I stepped on to the track inside Wallace Wade Stadium, where the final hundred yards or so were run, I could first see the clock turn to 20 minutes, and then the seconds sadly slip away a little too quickly. My finish time was 20:25. I had lost my 20:20 vision, by less than two seconds per mile. My vision has never returned to that same level of sharpness since that day.
Since May 21, 1994, I have never had a similar focus for a single race. I have set, and exceeded goals since then, but they have never been quite as lofty, or quite as precise, as they were that day. Many things can blur a person's vision. Injury, and age, attitude, and priorities can all take away from a person's focus.
But these same things can also sharpen it. Injury can linger to the point where you feel like you'll never enjoy running again, but somehow, first the pain, then the memory fade into the background. Age can break you down, but only if you let it. It can also be a great motivator, as you work hard to not lose ground from one year to the next. Attitude is the same way. A bad one can retire you from the sport. A good one can urge you towards improvement. Priorities change. Running should not always be the top one. But when everything else is taken care of, and you manage your time well, watch out. The clarity of the past can return in the blink of an eye.
My 20:20 vision will most likely never return. Once you lose sight, it rarely returns to its original state. A certain focus, however, seems to be returning after a long hiatus, and things seem clearer than they have been in a long time. The running seems unclouded, and I'm starting to throw some good numbers around in my head again. Nothing that adds up to a 6:20 mile, or 20:20 vision. It's more like a sub 7 first mile, and a 5K time in less than 22 minutes. Even numbers like these have been obscured for several years now. The vision may be adjusted since it was 20:20, but the image I see is as sharp as ever. The clarity has returned, and I'm viewing it through eagle eyes. The time will tell.
Michael Selman lives, runs, and writes in Atlanta, GA. He has been nationally published in both Runner's World and Marathon & Beyond magazines. He would love to keep in touch with other runners, and may be contacted at TheRoadsScholar@aol.com
Michael Selman
Roads Scholar
Atlanta GA
---
March 9, 2001
"And The Old Man Died"
I hope you enjoy this month's submission. It's a special one to me.
And The Old Man Died
The old man poked his head out the front door to be sure that the coast was clear. He was about to do something drastic, and he preferred to have no witnesses. Perhaps, he was a little embarrassed about it. But he was frail and weak, with seemingly nothing to look forward to in his future, and he knew it. So the old man decided it was time to end his sorry old life. And he was going to do it by running.
He peered out to the neighbor's houses, first to his left, and then to his right. There was nobody else out in his well-maintained neighborhood at this moment, and he knew that his time had come. So the sorry old man slowly closed the front door behind him, and sheepishly ran out to the street. And he attempted to put an end to a life whose dreams had left him long ago, it seems.
As he slowly jogged down the street, he thought his heart would explode. Was this how it was going to end? He felt way too old for this kind of exertion, and the old man could feel the blood rushing to his head as he pushed on. He wondered just how long it would be before his demise would come. His legs were screaming for a break, but he ignored the body's pleas to stop. He was an old man on a mission, and he pushed relentlessly on.
He ran for about a mile, around the neighborhood, and he observed that his house was suddenly in front of him again. He could go no further, and so, right where he started the attempt, he stopped, stepped back inside his house, and collapsed motionless on his living room floor for what seemed forever. His whole body was pounding with every heartbeat, and he felt sick to his stomach. His chest hurt, and his legs throbbed, but that day, he didn't die. He lay there, on the floor wondering if he was making a big mistake with his attempt to kill himself off.
For the next couple of days, eradicating himself was the last thing on the old man's mind. That one attempt seemed like it was enough to discourage him from ever trying again. He hurt all over, and he was close to resigning himself to settling on just being old and miserable forever. But by the third day, he was starting to revisit the thought of eliminating his sad self again. And the fourth day, he made another attempt, using the same method. Again, he closed the door behind him, and he ran another mile. And a funny thing happened. Though it wasn't nearly enjoyable, he found it didn't hurt quite as much, and he actually felt a little better a little sooner afterwards. And the next day, the thought of trying again wasn't so for out of his mind.
The old man found that each time he ran, it became less and less painful, and now, instead of collapsing in the middle of the house after a run, he was actually starting to plan the next one. He purchased himself a running log, and monitoring his progress. He bought himself a watch, and started noticing his runs getting quicker and quicker. He was finding that he was having dreams of the future, and had something to live for. He was starting to actually feel younger than he ever had before. But in reality, the old man was succeeding in his quest. The old man was dying.
The old man started entering races. At first, he could not run one all the way without stopping. There were often very few people, if any, behind him, but the old man didn't seem to mind. After all, he was ancient, so it was positive that he was doing this at all. He continued running, and he continued racing, and he continued to experience a slow death. His weekly mileage increased to 15 miles, then through the 20's, and even into the 30's some weeks. and his race times dropped. 40 minute 5K times dropped to 35 minutes, then 30 and even 25 minutes and lower.
Then, on the very day he ran his fastest race ever, it finally happened. While he was driving to the race, he had a feeling this was going to be the day. And he was right. He had been running for about 6 months now, and was actually starting to feel very good. But his running indicated that he still had a serious death wish. He ran more than ever, and also faster. His life was becoming full, and his dreams were starting to appear in vivid color.
As he approached the finish line of the race this day, he looked down at his watch. 22:10. Never in a million years did the man dream of running such a fast time. As he crossed the finish line, with one last big push, he went to stop his watch to immortalize this race. Then he looked at the watch, just to be sure it was true. The watch was blank. The battery had given out. Foreshadowing can be spooky some times.
At the awards ceremony, the trophies went three deep in each age group. He waited and wondered as they announced the awards in the youngest age groups first. Finally, they announced the winners in his age group. First place, and then second place in his age group were announced. His name was not called. Then they announced the third place winner. It was him. He had won third place in his age group. The 25-29 year age group.
He went to pick up his award, and as he proudly carried it back to show his young wife and baby, he knew that he had finally accomplished his goal. He had finally killed off the old man, and replaced it with the fit, youthful 26 year old he had wanted to become when he first started running.. Looking back, he realized it was a slow, and sometimes painful death, but he knew the old man would not be missed. He liked who he had become much better.
He gazed at his blank watch one more time. And he realized that at the very moment the watch stopped never to beep again, that the old man died.
Michael Selman
The Roads Scholar
Atlanta GA
Michael Selman lives, runs, and writes in Atlanta, GA. He has been nationally published in both Runner's World and Marathon & Beyond magazines. He would love to keep in touch with other runners, and may be contacted at TheRoadsScholar@aol.com
---
February 16, 2001
"We Both Won"
Several years ago, Paul and I met after a tough 5K race, when I edged him out at the finish, after exchanging leads with him throughout the race. We could have gone straight to the refreshment table without a word, but instead we introduced ourselves to each other, and became friends. Over the next year or so, we battled intensely at the 5K and 10K distance, alternating wins, and becoming faster runners and closer friends as a result.
Then, competitively, we went in different directions. While I struggled with a string of injuries, and came close to becoming a non-runner, Paul started an amazing string of marathons, running one in 28 consecutive months. That string included a 50K, and a 50 mile run.
Eventually, I healed, and Paul's string of marathons voluntarily ended. Though the friendship remained strong, the racing rivalry never quite picked back up. He became an active grandfather, so other priorities replaced racing. Yesterday was his first marathon in about 1 1/2 years, perhaps inspired in part by the fact that I had run 2 near the end of last year.
So yesterday morning, I set my alarm for 4:30AM, got to Paul's house by about 5:45, and we drove south about 80 miles to Calloway Gardens, where the marathon was held. Perfect marathon weather awaited us, with cool crisp temperatures of about 35 at the start, calm winds, and sunny skies.
Paul and I planned the run the race together. We had done this one time before, back in early 1997, and enjoyed each other's company during a marathon with under 50 finishers. Yesterday's marathon was 2 loops of the concurrently run 1/2 marathon course, so during the first 13.1 miles the marathoners and 1/2 marathoners ran together. Only differing number ranges on the race bibs separated the two groups until the 1/2 marathon split, when the 1/2 marathoners forked to the right, and to the finish, and the marathoners continued to the left, and their second loop.
We lost almost everyone at the 1/2 marathon split, as the marathon had fewer than 100 runners, I believe. We found ourselves running alone as we started the second loop. We were already starting to feel tired, and Paul encouraged with this observation. "If the marathon were easy, a lot more people would be doing it." My reply- "If they were much easier, I would probably NOT be running them."
So we continued, mile by mile, gaining on, and passing close to a dozen people that second loop, and not allowing anyone to pass us. In my mind, I was thinking that with such a small field, that's a significant number of people to be reeling in. We were hurting, but it was that good kind of marathon hurt. While we complained to each other about how miserable we were feeling, we continued to hold a pretty good pace through those delirious final miles.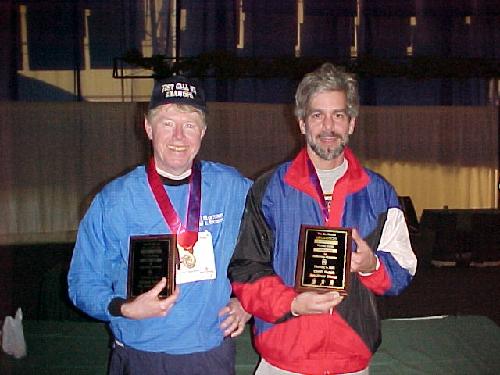 As we approached the finish line, we heard the announcer saying, "Here come two finishers, and I wouldn't be surprised if they have been running the entire race together. But ties are not allowed, so one of you is going to have to win." We plan to duke it out at the shorter distances again very soon, but as we looked at each other, that competitive spirit was nowhere to be found this day. We linked hands as we finished the race in a unison stride. We both won.
Our time? Well, you can't always judge a good time by the clock. We succeeded in achieving our goal. We accomplished what we came to do, so we had a great time. The fact that we both came home with age group awards was just icing on an already very sweet cake.
Michael Selman
The Roads Scholar
Atlanta GA
Michael Selman lives, runs, and writes in Atlanta, GA. He has been nationally published in both Runner's World and Marathon & Beyond magazines. He would love to keep in touch with other runners, and may be contacted at TheRoadsScholar@aol.com
---
February 2, 2001
"Reflections on This Column"
One of the most satisfying things about putting out this column each month is the correspondence that ensues as a result. It's amazing to me how many associations and friendships have evolved as the result of a once a month mailing about something we have in common...running. Each month, as I manage to find something new to write about, I wonder where the next thought is going to come from. With each new column, I wonder if the well will run dry, and there will no longer be anything new to write about. But at the same time, I always have the gut feeling that the next column is always to be found somewhere within the run.
This column has shown me time and time again what a small world it is. Or maybe it's just that runners are part of such a tight-knit community that the world just seems small enough that I can sometimes reach my arms all the way around it. I am far from famous, but every once in a while, people I know bump into people I don't know who have read my ramblings. They have turned up in surprisingly diverse places, like Buffalo, San Francisco, and even New Zealand. I've even met someone on an airplane who had read my writing before. Once, through this column, someone from Arizona forwarded one of my essays to a relative in North Carolina who was also a runner. She just thought he might enjoy it. Little did she know that she was forwarding the essay along to the very first person who ever published my thoughts in their local running club's newsletter. He was a man I used to run with and compete against.
Probably one of the most common questions I get as a result of this column is if writing about running is how I make my living. I'll admit, it's a rather flattering question, but I have always been quick to answer something along the lines of "if it was, I'd surely be a starving artist." There actually was a time that I dreamed of earning a living through my writing, and what I learned in the process is that it's not the money that drives most of us to do it. If it was, there would be entirely too few writers. Most writers write because of the burning passion of the subject on which we chose to write. It's also that uncommon passion that gets like-minded individuals to take notice and read what we write. The reality, however, is that there are very few who earn their income by writing about running. Even the most widely read running authors most often must subsidize their income in other ways.
But I have started to think of this do you run and write for a living question in a different way, recently. Of all the people in this small world who know people who know me through my writing, not a single person has surfaced that I knew before I started running. That fact has made me ask myself what exactly I was before I was a runner that would have defined me in the way running does? What exactly did I do for a living? It's almost like, before I was a runner, I wasn't anything. I worked, I ate, I slept, and I watched a lot of sports on television. It was a pretty obscure living at best, and one easily forgotten. I really did nothing at all for a living.
After many years of not having a clue, it suddenly dawned on me during today's run that what one does for a living is really how one lives their life, and how the way they live it impacts others. Both the millionaire who inherits his fortune, and the bum on the street, do something for a living. How each chooses to play the hand they are dealt will determine who makes the better living. Perhaps the bum, giving half of his newly acquired handout to his equally starving friend, makes a better living than the rich person who hasn't earn a nickel of his wealth, but is very happy to squander it all on himself. The bum certainly makes his living better.
I started this column four years ago, just because I wanted to share some of my thoughts on running, and a handful of you have been here since the beginning. Many more have somehow ended up here through the years. You have shared some of my struggles, as well as my rebounds, and in turn, I have shared some of yours. We have become friends during that time. There was a period of time after the column started when I was out of work, but there was never a time that I was not doing something for a living, even if it was nothing more than writing, and running. It may have not paid the bills, but it was what I chose for myself. This column has never been about much, but it has hopefully encompassed many things, as they relate to running, and writing, and the special view of life that the runner enjoys. And if you were to ask me today if writing about running is what I do for a living, I would have to smile, and say "indeed it is."
What do YOU do for a living?
Join the Yahho CommunityThoughts of a Roads Scholar.
Michael Selman lives, runs, and writes in Atlanta, GA. He has been nationally published in both Runner's World and Marathon & Beyond magazines. He would love to keep in touch with other runners, and may be contacted at TheRoadsScholar@aol.com
---
January 19, 2001
"Varying Degrees of Difficulty"
In the hot Georgia summers, the common phrase is "It's not so much the heat, but the humidity." Though the temperatures rarely go above the lower 90's, other meteorological numbers, such as dew points and relative humidity (I think they are somehow related) are thrown in to create something called The Heat Index. This is summer's way of suggesting that we forget the actual temperature, because THIS is how hot it really feels. The Heat Index in summer often checks in at over 100.
The wind chill factor is to winter what the heat index is to summer. Usually, we pretty much escape winter's clutches in these parts, but this year, we have already had more than our share of the types of white stuff, and cold stuff usually reserved for the cities we relocated here from. Alberta has been very busy sending its clippers our way, and the hardy among us have dusted off the polypropylene and Gor-tex in order to keep the show outdoors.
Both the Heat Index and the Wind Chill Factor are supposed to tell us how hot or cold you're going to feel when you're in it. But there is a third index that the runner knows all to well. Experts say that running adds about 30 degrees of additional warmth to whatever the temperature would feel like standing still. That means that running in summer's mid-day heat, while the heat index is 100 is going to make it feel like 130. But in the winter, a nippy wind chill of 25 will feel like the mid 50's, quite pleasant for running. It's the Runner Temperature Index, or how hot or cold a runner feels in the midst of a run. In the winter, it's a blessing, and in the summer, it's a curse.
Winter is usually my favorite season to run, and this year has been no exception, but it has been more of a challenge than usual. The cold weather, and stiff breezes have seen actual temperatures often dipping to the teens, with wind chills below zero. December 30, 2000 was a particularly memorable run.
I woke up early, and couldn't go back to sleep that morning, so I decided to get out of bed and go for a run while it was still dark. I turned on the weather channel to get the scoop. The actual temperature was 17 degrees, and the winds were blowing at close to 30 miles per hour. That made the Wind Chill Factor -16, the coldest I could ever remember here. I did the math. That 30 degree cushion was going to warm me up to a sweltering 14 degrees.
I dressed warmly, putting a sweatshirt over a polypropylene undershell, and topped it off with a Gor-Tex top. On the bottom, I wore thick winter tights, and Gor-Tex pants. Finally, I topped it off with a wool hat, and a pair of Thor-lo socks as mittens. I left my watch at home, as this was not a run for speed. The only exposed spot on my body was my face.
I took a deep breath, and stepped out the door. I could feel my beard, moustache, and nose hair immediately crystallize with my first breath. I suddenly felt like I was bonding with people living in Fargo. This was totally nuts, but I never for a moment thought about turning around and going back in the house.
As I started running, my cheeks felt like they were tightening up and freezing solid. I was hoping that the "Runner Heat Index" would kick in before the frostbite did. After a mile or so, I could feel my cheeks slowly and slightly thawing, and I actually started sweating under the many layers. But the sweat from my brow didn't go very far, as it started forming little icicles on my eyelashes. The Gor-tex was doing a good job of breaking the brisk wind, and I actually started to enjoy the fact that I was overcoming the elements after the first couple of miles. But at the same time, I was happy and relieved to be back in the house, once the run was over.
The next morning, the last morning of the year 2000, I was out early again. The actual temperature was only one degree higher than the day before, but the winds were calm. That put the Runner Heat Index in the mid 40's, and the run was comfortable from the first step. It was only a one-degree change in actual temperature, but an exponential difference in the degree of difficulty from one run to the next.
The wind chill factor is the true indicator of how you should dress in winter. If the wind chill dips below zero, take it very seriously, and dress for the chill, not the actual temperature. If it's windy, wear a windproof outer shell, and leave as little exposed skin as possible. It's the exposed areas that will feel the teeth of the wind, as I found out in December 30th. Trust me, I'm in no hurry for summer to be here. But if winter backed off just a little bit, you wouldn't see me complaining.
Michael Selman lives, runs, and writes in Atlanta, GA. He has been nationally published in both Runner's World and Marathon & Beyond magazines. He would love to keep in touch with other runners, and may be contacted at TheRoadsScholar@aol.com
---
January 12, 2001
"The Time Remains the Same"
May 21st, 1983. It was a warm, warm day on Long Island. I had been running for a little over a year at that time, and was still enjoying a steady improvement with my running. I had already run what years later I would finally accept as a lifetime PR at the 5K distance, but my youthful enthusiasm didn't allow me any way of knowing it at that time. I had yet to run my first marathon, and PR times at all other distances still awaited me sometime in the future.
Less than a year earlier, I had run my first 10K race, Shelter Island, in a little under an hour, and I was thrilled. About a month later, I ran another one in about 48 minutes, a ten-minute improvement, and I was elated. When you're just starting out, you can do things like that. The improvement continued through the fall. I remember making a goal of sub 45 for the 10K by the end of 1982. The feat was accomplished in October, on consecutive weekends, when I first ran a 43:55, and then a 44:10 seven days later. The runner had arrived, and beaten his goal.
Through the end of 1982, and into the early part of 1983, I ran a series of 10K races, all in under 44 minutes, and some in under 43. That became my standard, and I just knew I would never run the distance in over 45 minutes again.
Never lasted until May 21st, 1983, when the heat of the day made me pay for my 6:30 first mile, and had me walking by mile five. I finished in about 46:30, and the comment I wrote in my running log was as follows: "I never thought I'd run this slow again." It was a real disappointment to take a step backwards in time, and I was hoping it was an anomaly. For the most part, it was, but I was starting to learn some of running's little lessons, like the fact that weather and terrain could have an impact on your overall time, your place in the field told a clearer story than a time on a clock, and there were days when you just didn't have it.
Still, as the years carried on, a sub 45-minute 10K and a sub 21-minute 5K became my goals to conquer each new year. And every new year through 1997, I did it. I naively thought I could continue to run times like these forever. But the sub-21 minute 5K was starting to get harder and harder to achieve in each advancing year. I went through more than half of 1997 before I finally ran a 20:56 on July 12th 1997. By the next weekend, running had come to a halt for most of the rest of the year. I was injured.
1998 was a great year in almost every way, but not for running. Sciatica followed me everywhere I went for the first three months, and then, it bit me. I stopped running again in mid-March of that year, but rest didn't seem to help the pain. I started up again in June, but every step still hurt. I loved racing, but could hardly break 25 minutes for a 5K any more. Sometimes, my finish times would balloon to over 27 minutes. I often asked myself the same question that Jack Nicholson did. "What if this is as good as it gets?"
Once ravaged by injury, it's hard to let it go. If the nagging is no longer in your back, or your knee, or your shin, it still remains firmly entrenched in your head. Phantom pain. Fear of recurrence can be long lingering, and may remain long after the physical pain has subsided. It's a very unclear demarcation point between injury recovery and injury recovered.
The last two years have been one continual improvement, if you entertain the thought that improvement isn't always measured by a clock. I still rarely break 23 minutes for a 5K, and I am, in fact, not as fast now as I was this time last year. But I am one year further distanced from what was once pain, and continued to remain a painful memory for much too long. I am again a runner who enjoys every run, and thinks more about my next step than past ones. And I can't help but to think once again about getting faster.
Today, I see things a lot differently than I did on May 21st, 1983, when, referring to a dreadfully slow 10K time of 46:30 I first said, "I never thought I'd run this slow again." I've run much faster than that since then, and then I've run much slower. Last year, I managed a 10K in 47:30, and I was thrilled. I kicked off this year with a 48:55, and I was elated. Today, I look at that same 46:30 I ran on that warm May morning, and I say to myself "Some day, I will run that fast again."
The time remains the same. It's everything else that has changed.
Michael Selman lives, runs, and writes in Atlanta, GA. He has been nationally published in both Runner's World and Marathon & Beyond magazines. He would love to keep in touch with other runners, and may be contacted a TheRoadsScholar@aol.com
---
January 1, 2001
The Mirror Lies, the Runner Dreams
I swear, I have not aged a day since I started long distance running back in 1982, at least according to both my mirror and my imagination. I look in the mirror, and the image that stares back has the exact same youthful appearance it did all those years ago. Anyone who knows me will readily agree that I don't act any more mature than I did in my 20's. Most would even say I've regressed. I delight in that intentional lack of progress.
I look in my runners logs from years gone by, and know that I can still beat those fast times of prior years if I just train right, eat right, sleep right, and have the right course with the right tail wind on the right day. I just know in my 48 beat per minute heart that my breakthrough year as a runner is still out there, in my future. And if you tell me to grow up and start thinking my age, I'll tell you to get lost. I like believing this way.
Every new year, I wipe the statistical slate clean, and I start entering my runs in a new log. And shortly before the new year, I get to add another increment to the number they call my age. It just so happens that the augmentation I added late last year makes my age end with a five, and that means I get to compete against a new group of runners with higher numbers in their age than those I was racing with before. I don't think that age determines much more than who you are competing against. It certainly is no excuse for slowing down.
Along with every new year, there is, for me, a renewed determination to run more miles, and to best my race times from the previous year. In 2000, I actually succeeded in that goal for every distance I raced, with the exception of the Ĺ marathon. Part of that is because 1999 was not a particularly stellar running year. My goal for 2001 will be the same, and again, I have a chance, because this past year, although an improvement over 1999, I still fell short of my fullest potential. I figure if I can succeed again, and continue the upward spiral for each of the next 20 years, those lifetime PR's will be within my reach by the time I retire. There are 60-year-old men running sub 20 5K's all the time. I want to be like them. The fact that I've run one sub 20 in my life, years and years ago, and that these speedsters were running 16 minute 5K's at my age shouldn't make a difference, right?
Mirrors don't tell the future, or the past, but with a vivid imagination, they tell lies about the present. They only capture the moment of your gaze, in reverse. The mirror is who you are at any given moment. We age so gradually that, from one day to the next, we can't place our finger on when exactly getting older happens. As runners, some of us are guilty of believing we can buck the trend, and stop the process altogether: maybe even reverse it. Somehow, even among fellow runners, I sometimes think that I am the one will stay speedy while all my age group competition slows to a crawl. Aging and its effects might be for some people, but not for me.
I have raced through the entire 40-44 year age group here in Georgia. I have followed my own progress, as well as that of many others in my age group, with a great deal of interest over the last five years. Very few veteran runners my age have gotten any faster during that time. Most have gotten slower, and some have totally dropped out of the picture. Yet others have disappeared for a while, and then returned, significantly slower than before. It seems so ironic how the years seem to fly by so much quicker, but our race times get slower. I look at my peers' times and think to myself that I could be beating most of them in races by now, except for one minor detail. I've gotten slower too. But in my case, I've got a series of excuses as to why I've slowed, and the justifications as to why some day in the future, I will be faster than all of them.
I know, I know. This way of thinking is probably something I have in common with many other runners. Maybe, some day, I'll have to accept the fact that I can't stop getting older, and I can't stop the reminders my body and the finish line clock keep giving me. Some day, I may settle for being content in just holding steady from one year to the next. In the big picture, even that is a virtual improvement. But although I may be getting closer to that point, I'm not quite there yet. I still plan to break 22 minutes for 5K this year, even though I didn't do it once last year, or the year before that, or the year before that.
What is it that my mind refuses to process when the mirror stares back? I must be how old I am. After all, when I was born, Eisenhower was president, and he was re-elected to another term after that. I must look how old I am. Surely people don't think my daughter is my sister when we are seen together. I didn't learn about the John Kennedy assassination in history class like she did. I was sent home from school early that day, during history class. My teacher could work no more.
So, here I am, 45 years old, and feeling like I'm still 26, as I was when I started long distance running. And I continue to imagine I still look the same, too. I just refuse to accept my aging age quite yet. If I was a coin my age, I would be worth many time my face value today. But I am me, and can't even gauge my own face value. My face looks the same to me as it did way back then.
If all goes according to plan, the mirror will continue to lie, and I will continue to dream. This year may be my breakthrough year, when I suddenly run effortlessly to age group victories, and I finally realize my potential. And if it doesn't happen this year, that's okay too, because I still have my whole lifetime ahead of me. Just don't wake me up.
The Roads Scholar, Michael Selman runs and writes in Atlanta GA. He would love to hear from you. Please e-mail him at TheRoadsScholar@aol.com with any questions or comments.
He also has a collection of his thoughts which can be read at:
Thoughts Of A Roads Scholar.
---
December 15, 2000
"Some Days, You Know You Can Run Forever"
Some days, everything about running just seems to click, and for me, it always happens more so this time of year than any other. Summer crushes my enthusiasm for running like no other season. Dreadfully early alarms go off even on weekends, just so I can be done with my runs before the Georgia sun dismisses any hope of running in tolerable conditions.
Then comes autumn. Everything changes, and change is everywhere. The cooler breezes, even at mid-day are a refreshing shift, which makes summer's heat so easy to forget. The leaves become a fiery display of red and yellow and purple, that surrounds you everywhere you go. It all happens so fast, and leaves too soon, but for this one short window of time, it's about as perfect as nature can be. It perfect for running and it's not bad for everything else either.
This morning was another one of those runs where I felt like I could run forever. My legs were light, and my breathing was easy. The pesky little aches and pains that sometimes take the joy out of the run were nowhere to be found. I was lost in myself, and was in no hurry to be found. There was a great satisfaction during this run, in knowing that all those times when running was not too much fun, like when I first started, and when I was injured, and just about every summer, I still stuck with it.
I did not like running when I first started. If you are new to running, you may be experiencing the same feelings as you read this. Running to me was probably like inhaling is to someone who first starts smoking. Neither is necessarily pleasant the first time, and it might be even worse the second time. But if you stay with either one for long enough, they can each become highly addictive. The difference between running and smoking is that one is good for you, and one is not. That was reason enough for my motivation to continue running.
When I first started running, I loved the T-shirts. My motivation was a cotton/poly blend, size large. But as I continued, I found out that I loved the improvements I saw as a result of running, both in body and in mind. So I stayed with it, even though it still wasn't always so fun, and eventually, the improvement I saw was in me. I was no longer someone who runs. I became a runner, and that is when I first knew that I could run forever.
Whatever your motivation was to start running, if you feel you're losing that motivation, write it down. It will serve as a reminder of why you should continue, even on the days that you would rather do anything than run. Scribing it questions the message that is telling you to eat that piece of cake instead. It reminds your brain to believe it when other forces are saying quit. It is known as affirmation, and the positive ones are the ones we need to bring to the surface, pushing the negative ones out of the way.
What's my motivation for running? Sometimes, it's nothing more than trying to run faster times, or longer distances. Other times, it's just to see the look of surprise when someone finds out I'm 45 years old, because they assume I'm much younger. When I wake up with a resting heart rate of 48 beats per minute, I know that my running has done that. And it's just a feeling that I could run forever.
But running also gets me out in nature. Through running, I have learned that the moon rises about 50 minutes later each night than the night before, and a full moon always rises at about the same time of night each month. And through running, I don't have to read about a meteor shower, or a guest appearance by a comet to know it's happening. Through running, I'm keenly aware of when the first frost occurs, and through running, I know that some types of flowers don't like cold weather, and others do.
Through running, I have made the best friends of my life, and running introduced me to my wife. Through running, I have gone many places I would not have gone without running, both literally and figuratively. I shook hands with a president through running. Through running, I have been inspired enough to be more creative than I ever dreamed of being before, and then doing something with that creativity. The Roads Scholar would have been someone else without running, or possibly nobody at all.
What's your motivation? On a day like today, for me, it was simply a feeling that I could run forever. And that's what I plan to do.
---
November 3, 2000
"It All Comes Out in the Wash"
While I was getting ready for work this morning, my lovely wife was busy folding the laundry. "You know" she said with ultimate contentment. "It's such a nice feeling to see a set of my running attire for every day since I last did laundry." I knew what she was talking about right away. She's been running well, and running often. And it all comes out in the wash.
Your laundry reveals a lot about you. The window to the dryer can be like a window to the soul. It suggests the seasons, and it showcases your tastes, private as well as public. It reveals how you like to spend your leisure time, and it tells no lies about your running. If you're not running, there is less to wash, less to dry, and less to fold. Give me an extra load any day.
When running has a focus and a goal, it seems to also achieve the type of consistency that makes the early wake-up call easier to answer. More often than not, when running is going well, the alarm is turned off before I have to face the music. That's how ready I am to add another pair of shorts and a singlet to the pile of dirty clothes. There is no snooze button for the runner with a mission.
Folding a pile of our running clothes always puts me in my own world. As I watch Harriet fold her lace tops, I can't help but to think of how good she always looks in them. While I fold my special racing top, I always recall and relive the race I ran in it the past weekend. And when the pile is small, it means that the week was not as fulfilling as it could have been. We both take joy in the fact that running clothes in the laundry is a part of our lifestyle and our commonality.
Once in a while, the dryer seems to have a ravenous appetite. If there are more of my wife's bottoms than tops, I try to recall exactly which day she ran topless. You would think I would remember something like that! If I end up not finding a match for one of my socks, I wonder if I actually hopped instead of running one day. The dryer monster strikes again.
The laundry isn't much different than the running, if you think about it. With both, you will get out of it exactly what you put in. If you put running clothes in the wash, then it's running clothes you will soon be folding. And if it's good running you put in, than good races will be the result. You can't expect anything else, because it all comes out in the wash.
---
October 20, 2000
Standing on Common Ground
You are a speck in the midst of thousands of people standing somewhere just behind a starting line. They are all there for different reasons. Each has his or her own story leading up to this moment. Some are there representing themselves. Many are there in support of other people, or other causes. A few have amazing tales of extraordinary human spirit. Just standing where they are now, they have already defied the odds. What they are about to attempt is a true representation of what can be accomplished with hope, desire, and effort.
A surprising few are actually there for the same reasons you are. But standing on common ground, at this moment, everyone has the same two goals. One is to start, and the other is to finish. In a short time, all will accomplish the first. Within the next 2 1/2 to 8 hours, most will realize the second. Only 26.2 miles away from a lifetime achievement and a ton of memories all wrapped into a medallion hanging loosely around your neck.
The marathon. It's so much more than a race, as many already know, and many more are soon to find out. The marathon. The term is used by the layperson to represent an unimaginable, monumental, virtually impossible task. And in a way it is. Once completed, even the runner says never again, while the seasoned veteran can't help but give a knowing smirk upon hearing it. But for one who believes, and trains well, for one who asks "why not" instead of saying "if only", it is within one's grasp.
The whole feel of the starting line, and the people around you is so much different in a marathon than at the shorter distances. The air reeks of Ben Gay and respect for your fellow runner. Standing on common ground, you know that running royalty surrounds you, because you know what you have had to do just to get here. You understand your own motivation, and your own desire, and you somehow wonder what stories surround you. And you wonder if anyone has the self-doubt that still nags in the background. You can't see it in their faces, but you somehow know it is there.
They say that the marathon is actually two different races. From my point of view, the first 20 miles is a result of perspiration. These go fairly easily due to the months of physical preparation, the long runs, and the lifestyle changes you have been willing to make to be in top form. The final 10K is mostly inspiration. Once the legs give out, the mind must take over, and reminders of why you started keep you moving towards the finish.
A marathon not yet run is an uncertain future, and for some of us, that's why we do it. Anything can happen when you push your body beyond its stipulated limits. And sometimes, it does. If you're lucky, it's nothing more than a couple of blisters and blackened toenails, which you can carry to the finish line. At its ugliest, it keeps the medal from being draped around your neck, and it can turn your dream into a nightmare. It's the common ground of the marathon runner.
If success was a given, the thrill of the marathon might not be. Many of us do it simply to defy those who say we can't. Others do it as a process of changing our own tapes, which for years said we couldn't. But marathon success is never guaranteed. So much can happen in those 26.2 miles of common ground. Those miles can encompass a runners greatest accomplishments, as well as their most bitter disappointments. Knowing that, after all that training, you could but something went awry and you didn't, is a tough pill to swallow. But it burns a desire to return and defeat the beast. It's not a DNF. It's a UFB.
Unfinished business. You know you will return. It is the common ground of the uncommon person. The marathon runner.
---
October 1, 2000
Weekend Warriors
Another Saturday morning, and once again, we play the part of the gladiator, and we suit up to fight today's battle. But unlike the knights of the middle ages, who wore armor over every inch of their body for protection, we take quite the opposite extreme, wearing as little as possible into the war zone. Our only protection against the enemy is our game face, sunscreen, and footwear.
The confrontation is not for the weak-kneed, or for the faint-hearted, but each encounter is eagerly anticipated. We know we have prepared well for combat, and are determined to have victory. The friendly training grounds on which we have prepared have now become the battlefield on which we will soon struggle. No matter how passive we may appear during the week, when the weekend comes, we are truly weekend warriors.
As we stand in formation, nervous and a little less than completely confident about the fight we have ahead of us, a single shot is fired, and the war has begun. An all out charge ensues as, en mass, we trounce our foe underfoot, and suddenly, we realize that the enemy we are battling is multi-faceted. It is no longer just the road beneath us, and the climate surrounding us, but also, it is a battle with ourselves and possibly those in closest proximity to us, fighting the same battle that we are. We are facing a common enemy. We are facing each other. We are facing ourselves.
As the mÍlťe continues, we find ourselves fighting a strong urge to give in, combating that desire with an even stronger yearning for ultimate victory in whatever way we chose to define it. So we bear down, and dig even deeper in the trenches, and deeper in our desire to prevail and claim victory. We will not be denied, and we refuse to surrender. It is indeed many conflicts in one tidy package they call "Race Day."
All the basic training we have committed ourselves to in preparation for today's battle never had quite the same sense of urgency as the real thing. But we respond in an almost super-human way, accomplishing what we never could in a simulated environment. The adrenaline rush in the midst of the clash has made us stronger, faster, better. We're each on our own. We know that there are no reinforcements coming. Just positive affirmations that we can win the battle, and the war.
The ravages of the war are left in our wake, as we march towards our individual victories. The once peaceful streets are now littered with the spent shells that once held the ammunition we imbibed as we passed through. Now, the sense of final victory is so near that nobody wants to look back. We continue on to that final surrender with a singular focus, and we throw our arms in the air as we declare our triumph over the enemy. Time stands still at the moment of victory, and then we look at our watches to see how well we fought today.
It's always a hard fought battle, and we sometimes wonder in the midst of it why we choose fight it at all. The way we feel at this moment is the reason. It was a difficult fight, but one we had to do just this once, and we vow to never ever do it again.
At least not until next weekend, when the weekend warrior once again emerges.
---
July 28, 2000
Today, I Quit Running
It's hard to believe, but for the past 18 years (since April 16th, 1982, to be exact) I have considered myself a runner. Although I rarely ever ran 7 days a week, I started most weeks hoping I would. I loved running with an unparalleled passion, and at times, to the detriment of other things.
The simple act of setting my alarm for an hour or more earlier than I needed to, just so I could put on my Saucony Jazz and head out the door defined a big part of who I was. I was never the fastest, and could never run the longest, but I was always a runner.
All that changed during this morning's run, and I felt as if the world came crashing down on me. I found myself reflecting more on recent times than "The good old days." When every run was fresh, and unique. This whole year of running has been mostly uninspired, and I haven't really been able to figure out why. I've been shutting off my alarm more often these past few months, and opting for my pillow over my singlet. Most weeks I have struggled to reach the 20-mile plateau. It's just not been so fun lately. In fact, some runs have been downright boring, and I've been struggling with reasons to continue. So this morning, in the middle of my run, I decided that it was time to call it quits, at least for now.
As I ran around the neighborhood for the last time, it was a bittersweet trip, to say the very least. I soaked in everything I could of the elements that had brought me so much pleasure over the years. Once I realized, half way through this morning's run, that it would soon be over, I struggled with my entire identity. "The Roads Scholar retires from Running" does not make a promising essay. But I have always run for me, and running has not been fun. So I was good with my decision.
I soaked in everything on my last loop around the neighborhood as a runner. I recalled how I had given the roads a test drive by foot before we made an offer on the house. I needed to know these roads were good for running before I could know that this home was a good for living. I wondered if my years of compiled runner's logs would still hold the same value for me, the former runner. I reflected on the ever-changing seasons that the runner becomes so acutely aware of. We get so fine-tuned to the elements that we can tell the temperature as soon as we step out the door. We can feel the difference between 68 degrees and 70 degrees, and even throw in the relative humidity for good measure.
My daughter, soon to be 17, has never known me as anything but a runner. The same can be said for Harriet, who on Sunday, I take as my wife. Many of my best friends are runners, and some of my fondest memories have been created during runs with other people. I hope we can all still be friends once they find out that today, I quit running.
So what does the future bring? I can't say for sure. I may miss the routine of getting up, getting dressed, and doing my dance on the roads that once beckoned, but lately have just lethargically lain there. Some day, I might once again yearn for the freedom and lack of routine I've practiced for the past 18 years, which was just running however I felt like running that day.
I may miss being a runner.
But tomorrow, I will wake a different person than I have been. I'll wake up with an agenda, with a plan. My alarm will still go off early, and I'll still slip on my shoes and slip out the door. I'll still tour the neighborhood on foot, aware of the degrees and the humidity, following the same routes I've traversed since I moved here. But tomorrow, I will not run, because today, I quit running.
Tomorrow, I start training.
---
June 16, 2000
The Fabric of Our Running Lives
Last weekend, I finally got around to the spring cleaning that should have been done when we moved in to our new house a year ago. The main target of my attack was the boxes in the garage. Inside many of the boxes lay the masses of cotton and polyester that I have accumulated over the past 18 years of running. The skins of my hunts at every distance from 5K to marathon; the sacred T-shirt.
I didn't just take the boxes and move them from the garage to the attic. I had a reason to go through every box, and look at every shirt. You see, every race T-shirt tells its own epic, and the shirts with the best narratives are going in a special shrine which is being created in honor of the stories the shirts weave.
As I went through box after box, and reviewed the legend behind shirt after shirt, I found myself enormously entertained, but facing the most difficult task of reducing all the lore down to the "top ten" all time race T-shirts. Some were a given. My very first road race had a distinguished place in my heart. The race was the first annual Riverside Ramble, winding its way through an exclusive part of The Bronx. I couldn't even tell you what year it was, but my hunch is it was somewhere around 1978. I have never run a more hilly 10K in my life, and the trip took over an hour. But this was an introduction to long distance running. Years later, I found out that training and preparation could make the 10K experience even more enjoyable.
My first REAL race shirt also had a high ranking in my mind. By real, I mean a race that was preceded by some semblance of training. That was Shelter Island in 1982. This was a lovely 10K race nestled on an island between the north and south forks of Long Island, and the only way to get there was by ferry. I broke an hour that race, and then limped on blisters for the next week.
Then there was my first marathon. Definitely another keeper. It was the Long Island Marathon, in the spring of 1983, and I hadn't planned to run a marathon that day. Long Island has a 1/2 marathon and a marathon, both traversing the same course for the first half. At the halfway point, you could choose to stop or continue. I had planned to stop, but for reasons really unbeknownst to me, I continued. I ended up finishing in a little under 4 hours. The accidental marathon, I like to call it. Unfortunately, after sifting through all the boxes, this shirt was nowhere to be found.
There were other firsts, and firsts are significant to this runner. My first race after I moved to North Carolina, in October 1986 was one of them. I ended up living there for close to 10 years. The race was the Stroh's Run for Liberty, a road race held simultaneously in many cities across the country. I ran mine in Winston-Salem. Other milestones were my first race in Georgia, which is now my home, and my first hardware race, which didn't happen until over 10 years into my running career.
But there have also been bests. Those PR's at every distance. Unfortunately, some of those T-shirts have been worn beyond recognition, and no physical remnant remains. Other shirts never existed. Many PR shirts will be missing from the quilt. However, one that will be the centerpiece of this special place is my marathon PR shirt. That occurred at Tybee Island in 1997, and the very next evening, I "met" Harriet for the very first time, in the Runner's World chat room. You can't do much better than that.
And that's the other half of the story. Next month, Harriet and I will be married, and she will have her own special T-shirts also inducted in our shrine. It will be ours, a blending of running histories. It is a representation of hers, mine, and ours. It will include shirts from race we have run individually, and races we have run together, but they will all be special. Harriet will be going through the same exercise of sifting through her shirts, and selecting her top 10 also. She has her own history, her own firsts, and a couple of Boston Marathons thrown in for good measure, including the historic 100th. We each have our own stories to tell, and the best of the best will be included. Much of our running histories took place before we met, but perhaps some of the most significant took place in shared races.
The shrine is actually a quilt, which will be prominently displayed in our family room. To us, it will be the story of hers, mine, and ours. The most perfect blend of cotton and polyester. The quilt will be the fabric of our running lives.
---
May 31, 2000
The Unwritten Word
I have actually been writing about running for a much longer time than I have been "writing" about running. It started way back on July 21, 1982, with the following entry.
"A tough 3 miles in warm weather."
I had already been running since April, but until this day, I had never made an entry in a runner's log. Although I wrote very little that day, I can still remember that the run took place along the road that looped in front of Nassau Community College, and I vividly recall stopping to talk with a couple of friends as I headed to the locker room to shower after the run was done. I didn't write down all the details of that day's run, but I still recollect the unwritten word of everything surrounding that run.
Runner's logs, and the runners they belong to, are often like that. Words can never capture the total essence of a run, and often don't try to. But the imagination and the heart will back up the feelings and the essence that no words can describe. Without the simplicity of the log, for many of us, the spirit of the run might also slip away.
On June 16, 1984, I made the following entry in my log.
"Found a new 10K route to use while they are working on the old route. I may have lost it for good. This is a nice route. 10K in 50.54."
Eventually, this old route WAS lost for good, and soon after I wrote this entry, Interstate 40 forged a path right through the heart of my old daily route. A routes loyalty, however, is no better to our own when it comes to running. I've moved five times since then, leaving the roads I ran behind. The relationship between the runner and the roads he traverses becomes so personal, that I believe the road can feel a loss when the runner no longer commutes along them. Sometimes, progress drives us away from the routes we love. But sometimes, so does our own personal growth.
On July 31st 1986, I wrote the following:
"Trying to come out of a deep running depression. 5 miles is a start."
As I read that entry, I recalled that I had been experiencing upper back problems for over a month before. I had not run for the later half of June. I tried to start up again at the beginning of July, but my mental and physical states were not yet ready. July had covered about 35 miles total.
So here it was, the last day of July, and I tried again. Five miles from a standing start. My lower back was hurting the next day, but I still managed a tough 1.5 or so. I ended up missing only three days in all of August, and my final week was my first 40 mile week ever. It was an ecstatic recovery period, and though the miles and times are firmly documented, the overall feelings were mostly documented in the unwritten words of my log.
From year to year, the story has been the same. Most of what is detailed in the log is embedded firmly between the lines. Nobody else could ever pick up your log and have a clue about all it encompasses. And without it, we would not have those memory tags, those hyper-links to the displays in our mind that can only be viewed by ourselves.
Last month, I went to visit my daughter in Israel. Of course, I took my runner's log with me. In fact, it was one of the first things I packed. As it turned out, I ended up running only one time while I was there, but sometimes, running has to take a back seat. I hardly even missed it, as the days were full of the types of things I could not do every day.
When I got back home, I realized that I had accidentally left my runner's log abroad. Fortunately, I was staying at a relatives house, so an e-mail request had it back on its way back home. But mail from that far away takes time. So I waited.
I'm a traditionalist. I like the physical act of writing in my log, so I was resistant to the on-line variety. I tried one for a week or so, and I actually liked it, but it wasn't the same. So I stopped using it. That was over a month ago.
It's been interesting running without logging over the past month. In a way, it reminded me of the old philosophical question "If a tree falls in the forest, and nobody is around to hear it, does it make a noise?" My angle was "If I run 30 miles in a week, but I don't enter it in my log, and I can't remember the miles vividly, did I run?" My heart knows the answer to that one.
Yesterday, my trusty log arrived in the mail. I have not rushed to retrofit the last month on the blank pages. In fact, I may even keep them blank, and pick it up again on tomorrow morning's run. To go back now, and try to paint the picture of the last month would most likely be a futile effort. To be effective, the original entry must be almost real time. Otherwise the paint dries before it even hits the canvas. You can't paint a good picture that way.
Besides, this past blank month, as I look back on it years from now, will no doubt tell a vivid story. It might even speak volumes. It's a perfect document of the unwritten word.
---
May 10, 2000
Going Full Circle
Age is a real double edged sword. With every year, we gain more wisdom, common sense and emotional strength. At the same time, once we reach a certain point, we reluctantly succumb to the fact that we have reached our physical peak. Things that used to be smooth now have wrinkles. Things start to sag that didn't used to. Things that used to be easy are now done with a little more effort, and we know the progression will continue.
During my running life, I have had a couple of setbacks that have kept me off the roads for long periods of time. The first time was in the mid 80's, when I became so burned out from training for the NYC marathon and then crashing and burning at mile 16 of the race, I lost interest in running for over 3 years. I guess it was an overuse injury of the brain.
Before the layoff, I was running 5K races pretty consistently in the 20 minute to 20:20 range. When I started to run again in 1990, I regained everything about running that I loved except the speed. The enthusiasm, the passion, the atmosphere, the love of running were are there, even stronger than before. I just couldn't run quite as fast as before. My new bar was set in the 20:30 to 21 minute range. I once ran a 20:22, but my 20:10 days were over. I had gone full circle, but just couldn't get all the way back. In order to make ends meet, the circle had to shrink a little, in order for it to be full again.
In July of 1997, a week after I had run a good 20:52 5K, I had to lay off again, this time, due to injury. The injury was slow to heal, and as it did, another one surfaced, and so on and so on. Until about 2 months ago, I was unable to race competitively and feel confident. Now, I am coming back, and running fearlessly for the first time in a long time, and wondering at what level the bar will now be set at. I don't think it will be sub 21. So far, I have gotten my 5K back down to about 22:30, and know I will still improve for a while. I am starting to scratch the surface of where I can be again. I just don't know how much smaller this new full circle will be.
Today, Harriet and I ran the Ekiden marathon relay with 4 other team members. Each runner on our 6 member team ran two hilly loops around Grant Park totaling about 4.3 miles each. In the course of about 34 minutes, I got to go full circle 2 times. The second loop was a little slower than the first, as always seems to be the case each time one goes full circle.
Before the race, I saw a friend who, like me, has been on and off the roads in recent years, due to injury. He used to run 19 minute 5K's when I first met him. Then he disappeared for a while, and when he came back, he was having a hard time breaking 20. Then, he dropped out of sight again. Things were hurting. When I saw him today, I asked how the comeback was going. He gave me one of those so-so waves with his hand and said he was at about 95%. He's not been breaking 21 too much lately.
I thought about this for a while. When I made my first comeback, I thought I was at 95% for a long time before I accepted the fact that I was really at 100%. I was just unable to reach my prior plateau. Now, I am there again. I know I will still run faster, but at some point I am going to have to know when 95% is really 100%. Maybe my friend is really back 100% now, and it will just take a little soul searching before he realizes it. It's all a part of the process of progressively smaller full circles. I know that the joy of running, and the adrenaline of competitive running, is back at a level I haven't seen in a long time. My new limit of speed will be limited, and will most likely fall short of previous levels. But my new limit of enthusiasm for running is as limitless as the sky.
With the physical limits that age bestows upon us, we are also blessed with a remarkable ability to rationalize, and to put things in their proper place. This is not one of those "woe is me, I'm getting older" essays. Rather, it's a "you're not getting older, you're getting better" perspectives, in which the only conclusion is that life is grand, and the outlook is even better. Although going full circle may become a tighter loop each time we do it, we are assured that, each time we return where we started, that ends will continue to meet.
Today's race was great. I ran as part of a mixed master's team, appropriately named "Old, but Relay-able." The team's name won an award for most original, and the team of runners won another award for completing the marathon in 3:08:12, good for third place. Harriet and I ran our legs of the race within a few seconds of each other, and were both very pleased with our performances. I have been longing to run at her pace since I have known her. I used to be able to, before we met.
I guess that like the two loops we each ran today, we have once again gone full circle.
---
April 29, 2000
In Pursuit of Unfulfillment
One of the things I have realized throughout my life is that accomplishing goals is ultimately not so satisfying to me. In fact, it's probably the least enjoyable moment of the whole process of exploring my limits, whatever they may be. The hard work and preparation captures the imagination, and there are always new goals to occupy my focus, but the joy of accomplishment is short-lived, and can lead to complacency if we don't constantly look just a little bit beyond the finish line.
Runners are a paradox, perpetually young at heart, but aging ever so subtly from one year to the next. It adds to the lure and mystique of our unfulfillment. We deny vehemently the aging process, and strive for the same athletic goals we did when we first started all those years ago. We may have never reached them, even back then, but there is always tomorrow, and hope. We look in the mirror, and are convinced that we don't look a day older than we did as teenagers. How could we? We still feel the inner child, and expect it so display outwardly in the same manner.
Before I went to Israel, I had to have my passport renewed. The one from 10 years earlier had just expired. When I got the new passport back, I compared the picture with the one that had been taken for the old one. My current hair was much grayer, and a bit thinner. My face told the story of the past ten years. But still, in my mind, I said that maybe with a little Grecian Formula and a good night's sleep, I'd look just like in years past.
There are still PR's in my future, and don't try to tell me otherwise. It might be in the 5K, or maybe in the marathon. Possibly, it could lie anywhere in between, or maybe even beyond. But it is there, that carrot of unfulfillment, dangling just out of my reach.
We continue to run, I am convinced, so we can continue to achieve new levels of unfulfillment. Running practically guarantees it. There is always a boundary to what we can do as runners. It could be speed, or distance, as they are both barriers we love to push to the point of failure. If not for defeat in one manner or another, we would have stopped running in pursuit of other failures long ago.
So continue to have unachievable goals, and make every effort to consummate them. Only by trying to accomplish the impossible can you reach the improbable. And here's a wish that your running continues to be unfulfilling forever, as long as there is a tomorrow, and a dream.
---
March 6, 2000
Transformation
Transformation. Winter finds it around every corner. If your eyes are open to what is happening around you, it will be apparent to you Winter running is running to be cherished. The colder the better. After all, isn't running all about overcoming the elements? What better elements to overcome than temps in the teens and a howling wind in your face?
The first signs of winter start going up right after Thanksgiving. They illuminate the houses which they adorn, adding color and brightness to the neighborhoods. They capture the creativity of their owners. Subdivisions which were quiet and dull, are suddenly bright and alive with the Christmas spirit, and it is wonderful to see as you quietly judge them for originality on your run. Transformation.
Christmas slowly gives way to New Years, and the sights definitely start changing. The decorations come down, and now the streets, parks, and trails are suddenly full of people of all shapes and sizes. New Years always brings about resolutions, and a most common vow for non-recreational people is to whip themselves into shape. The question remains, will these resolutions become commitments as time goes on. It is sad to see the numbers dwindle by the end of March, but they invariably do. This year, make a resolution for yourself. Smile when you see them, and offer encouragement, and friendship. If they continue, keep on smiling and encouraging. If they disappear, get in touch with them and encourage them to get back into it. It is the least you can do. Transformation.
And the feelings of a winter's run. There is nothing that can compare. It starts before you even walk out the door. The feel of the tights hugging your skin, the wool hat pulled over your head and the gloves to keep you hands warm are all reminders that you are dealing with more than just a run. You are dealing with, and responding to nature. And the response is amazing. Within a mile, you feel that special tingling that only takes place during a Winter's run. A feeling that is emitted through every pore of your body, telling you that your machine is warming up, and the needle is moving away from the C, and working it's way towards the H. transformation.
As you continue your run, you start to sweat a little more, and try to remember why you even needed your hat and gloves to begin with. They soon come off, and you tuck them in the pocket of your jacket, which, at this point, is also extra weight. This is no longer a winter's run. It is a special run, and you are so glad you are doing it. As you breathe the cool winter's air, in the background, you smell the aroma of fireplaces, and are pleased that you chose the mode you did for warmth this morning. Transformation.
Now, you are looking around, absorbing everything. The predawn sky is ablaze with constellations that grace the winter skies. The familiar row of stars that marks Orion's belt buckle are there for company. Of all the designs in the sky, this is the one you can actually make sense of. But, as the night stars give way to the star of the day, the show is just starting. The wispy-tailed cirrus clouds start to appear from the night sky. First, they are a dreary gray, but, as the sun peaks over the horizon, they slowly paint the heavens with hues of pink and orange before finally settling in as the white color we have grown accustomed to. This is unique to the winter sky. Transformation.
And as you look around, you are so warm and toasty that it takes you by surprise that the fields you run by are still covered with a thick layer of frost. As you are freely sweating, you can't understand why the pond you just ran by is still topped with a thick layer of ice. When the penned dogs are barking at you when you pass, the smoke coming out of their mouth so thick, you can hardly see them behind it. Why doesn't nature know what you know? Transformation.
Finally, the run is over. The day has dawned brightly. You deeply inhale the clean winter air, and know that you have done well this morning. You go back in the house, wondering how anyone can have a negative thing to say about winter running. While you were out there, you created your own climate, and it was very warm and comfortable. As you walk into the kitchen, you take a peak at the thermometer sitting outside the window. It is sitting on 28 degrees, and again, you are taken by surprise. You know something the icy pond, the frosty grass and the barking dog didn't have a clue of. The heart of a runner is warmer than that. Much warmer. Transformation.
And now, alas, the days are getting longer, and warmer. Soon, it will be time to let go of old man winter. Many people will be happy to have it out of the way. After all, spring offers it's own unique brand of changes. Georgia's springs are especially spectacular. But that is another essay. For now, it is with a touch of sadness that you release winter from your clutches, but with open arms, that you greet a new season, and you sit back, and reflect on old man winter, and you know that life is good. Transformation.
---
February 20, 2000
I Cannot Tell A Lie
February is the month of Presidents Day. When I was growing up, we used to have two days off from school in February. We celebrated Lincoln's birthday on the 12th, and Washington's birthday on the 22nd. Somewhere along the way, the two birthdays were merged together, and moved to a Monday, and, now, we don't get it off anyway, so it's really easy to forget what we're celebrating altogether.
The stories I remember about both of these to great leaders alluded around their honesty. We learned about how "Honest Abe" walked the marathon distance to return a book to the library, lest anyone might think he stole it. George, as the story is told, confessed to chopping down the cherry tree, while still a tot, which, in a twisted sort of way, leads me to this month's article/confession.
I cannot tell a lie. I am shamelessly a a vulture runner, or, as my friend "George" prefers to call it, a cherry picker. Whatever you call the art form, it defines the question of how far someone is willing to go in order to pick up a piece of running hardware. We're not necessarily talking distance, although that may be part of the equation. We're referring to unabashed extremes. Us cherry pickers will do just about anything to legitimately place in a road race. We may travel hundreds of miles to find a secluded, low key race because we already know our main competition is running somewhere else. We may run a race that offers awards several deep, instead of the traditional three deep, thus increasing our odds. We may choose a race due to the demographics of the area. That's precisely how I won my first ever award, and I didn't even know it at the time.
My work has involved quite a bit of travel in the past. One such road trip took me down to Tampa for a couple of weeks one February. Since I had to stay over for a weekend, I decided to visit my aunt and uncle who live in West Palm Beach, about four hours away. I also resolved to run a five mile road race at John Prince Park while I was there.
I had been fighting a stomach virus the whole week before, and was not at top strength for the race. In addition, it was 82 degrees at race time, a far cry from the teens I had left behind at home. I barely averaged a 7:30 pace for the race, which was run simultaneously with a half marathon. There were tons of people ahead of me, and what seemed like only a selected few stragglers behind me. I left the race disgusted at my performance and didn't even give it a second thought.
Two months later, while looking over a regional running magazine, I noticed the race results listed under the Florida section. I had won my age group. How could this be, I wondered? It was about the worst race of my life, and everyone else seemed to be ahead of me. Then I thought of something. West Palm Beach is basically a retirement community. All those people who had kicked my butt were probably in their 70s and 80s. There were hardly any people in my age group. I had finally picked a cherry, and hadn't even stayed around long enough to enjoy the sweetness of the fruit.
It wasn't too long before I had picked another cherry, and again, I couldn't bask in the glory. It was in another five mile race, this time at Carolina Beach, NC. In this race, they presented hand carved, wooden pelican awards based on the number of people in each age group. I had a much better race than the one in Florida, clocking 34:25. Awards went seven deep in my age group, and my time was good enough to place me eighth. To add insult to injury, I stepped in some dog poop not three minutes after my mother had warned me about it. I listen to her more often now than I used to.
She called me the next week to say they had decided to go eight deep in my age group, and she would pick up my award for me. "No" I thought. "Lets get everyone who was at the race back there, so they could all applaud as I accept my eighth place pelican." She picked up my prized pelican, put it in the trunk of her car, and promptly closed the door on it's head. Now, a headless pelican adorns my den. Two cherries, and, still, no adulation. I had not yet refined my cherry picking skills.
I was finally handed my first award the following spring at a handicap race. That January, a cross country race had been scheduled. It poured rain for three solid days leading up to the race, and as a result, very few people showed up. There were tons of T-shirts left over, so a race was created to get rid of them. The format of the race went like this. In order to enter, you had to figure what your average 5K time was for the year before, and enter that information on the application. The start of the race was staggered, so the slowest people started first, and the fastest ones started last. In theory, if everyone ran their average time from the year before, we would all finish at the exact same time. Awards went to the first 25 overall finishers. There were 28 people entered. I came in 24th. We all applauded each other as the awards were handed out. Finally, I was there to receive my hard earned award.
My cherry picking skills have become quite refined over the last year or so. I actually place about a quarter of the time now. My crowning jewel came on the first Saturday of May, 1995. I was still living in my two bedroom corporate apartment at the time, and a guy from El Paso had been here on business and was staying in the other bedroom. He kind of looked and acted like Curly from the Three Stooges.
There were about a dozen races to chose from that day, including four on the Grand Prix Circuit. I looked them all over carefully. After a lot of soul searching, I decided on the 5K Run for Education in Buchanan, about a two hour trip from home. Awards were only two deep, and the age groups were kind of strange, so I figured maybe a lot of people would choose one of the other races to run that day. Mr. El Paso thought I was crazy leaving the house at 5 in the morning just to run a race, but my gamble paid off. I took second age group award in the 36-40 year age group. (I told you the age groups were weird.)
I came back to my apartment proudly displaying my award. Curly just looked at me in amazement. "You just wasted you time." he said. "You got up early for nothing. While you were gone, there was a race that went right past our apartment." I just smiled. I knew at that moment that I had perfected the art of cherry picking.
A while later, I was recounting this story to my friend "George", the Cherry Picking King, seeking his approval and adulation. He just looked at me and sadly shook his head. "Son," he said. "You missed the boat on that one. Not only did I run that race and win my age group. Immediately after that, I hopped in my van, drove to Cedertown, ran another race, and won my age group there, too. Two cherries in two hours. You still have a lot to learn about cherry picking."
I cannot tell a lie. I am a cherry picker. But George, you chopped down the tree.
---
February 2, 2000
"Running Around The Block" by Michael Selman
I love to write just about as much as I love to run. That's why I do both. They are passions, and the passions both often burn brightly. But from time to time, the desire for one or the other diminishes, and on rare occasion, I seem to lack enthusiasm for both at the same time.
As I have written in the past, my writing and my running are cause and effect. Although I can run without writing, if my running stops, I suddenly find that it becomes increasingly harder to write. I have had challenges with this in the past. When I have been injured for long periods of time, and unable to run, you didn't hear from me on the same monthly basis that you have become accustomed to. That's because running is my canvas, and with no canvas, there is no place to put the colors.
Usually, the only times I don't run are when I am hurt, and when I do run, every step is meaningful. But I have been in kind of a funk lately, and my running has been a little less than joyful. I recovered from last month's injury, and had the ability to run again, but I just didn't feel motivated. I got back to 25 miles a week, but they were miles without feeling, and as a result, I had nothing to write about. But that changed today, as I ran around the block, during Atlanta's second "THE Ice Storm of 2000" in two weeks. It's amazing how quickly history sometimes repeats itself.
When I woke up this morning, I had no expectations of running at all. In fact, I was pretty sure it was going to be a cross-training day, due to the weather outside. The ice storm, which was pending last night, had arrived in the wee hours of the morning. When I woke up, the precipitation was hard to diagnose. It might have been rain. It might have been sleet. It might have been freezing rain. But whatever it was, I knew I didn't want to run in it. The temperature was 30 degrees. It was windy. It was gloomy. The grass and the sidewalks were icy, but the blacktopped streets looked more wet than anything. I figured I could write first, and see if the skies cleared, and the air warmed later in the day.
But I couldn't write. I had nothing to write about. I got restless, and at about 10 o'clock I turned on the weather channel. It showed that Atlanta was going to have a short break in the mess that was falling, and then things were just going to get worse. The bad weather on the way was now just crossing the border from Alabama to Georgia. That could be an hour away. It could be two hours away. It all depended in its speed, but weather is so variable anyway. You never really know until you go outside and see for yourself. So I decided that's just what I was going to do.
By 10:30, I was out the door, complete with Gor-Tex, wool hat, and gloves. I have always loved cold weather running, but 30 degrees and rain is not fun, no matter what. I knew as I walked down to the street that it might be icy, and if it was, I was going to do an about face, and go back inside. But the footing was true. The street was wet, but not frozen, which was in stark contract to just about everything else around it. So I started to run, wondering to myself how long it was going to be before the weather turned really ugly. I got my answer about an hour later. Once I started out the door, I committed myself to 11 miles, and a runner does not go back on their commitments to themselves. When the heavy stuff hit, I couldn't tell quite what was falling. When the wind was in my face, I knew it was freezing rain, as I could feel the sting, and the coldness on my face, which was my only exposed area. At times, I could see stuff bouncing off the ground as it hit, and the icicles hanging from the mailboxes were ever increasing in length. Although it was hard to define quite what the weather was doing, I knew exactly what I was doing. I was running around the block. Both my writer's block, and my runner's block were melting away in the freezing rain.
By 8 miles, I had really had enough, already. The frozen rain was getting harder, and my gloves were holding the water. As a result, I could hardly feel my fingertips any more. But I had promised myself 11 miles.
I meant what I said and I said what I Meant. A runner's committed 100%
Speaking of committed runners, I didn't see another one the whole time I was out there. Could I be different, even for a runner? Scary thought. The only other life forms I saw at all were several smokers, all doing the same thing. No doubt, there were house rules in effect for these people that no smoking was allowed inside their houses. So they stood by open garage doors, smoking their cigarettes, watching me, and shaking their heads as I went by, as if I was doing something that was bad for me. Go Figure.
The last three miles were a killer, but they served their purpose. The last three miles were special, because the purpose of the run had been accomplished in the first 8. I knew by mile 8 that I had my passion for running back, as well as my passion for writing. If I had waited until tomorrow's fair skies and warmer temperatures to run again, I am sure I would still be running uninspired, and I would have nothing to write about when I was done.
So, I finished my 11 miles, and felt a thrill I haven't felt in a long time. Although I never realized it during my run, when I looked at my jacket as I walked back to the house, I saw that it was coated with a glaze of ice. I think I kind of understood those garage smoker's points of view as they shook their heads as I passed. If I wasn't me, I suppose I would think I was crazy too. It must look a lot different from the inside looking out, in this kind of weather.
What I realized early into today's run is that if you are running uninspired, or if you have stopped running due to lack of motivation, you probably need to do something more than what you have always done in the past. You are suffering from "Runner's Block" and it requires doing something different than you have ever done in the past. For me, all it took was a "run around the block" in the midst of an ice storm.
---
December 14, 1999
"Our Golden Triangle" by Michael Selman
This weekend, as has become tradition, I drove down to Wilmington, NC to celebrate a belated Thanksgiving with Mom and Dad. Many traditions have developed surrounding this weekend over the years. We always have our Thanksgiving meal on Saturday, since it is the most convenient time during the long weekend for us all to be at the same place at the same time.
We usually do our holiday gift exchanges during this weekend, too, for the same, above mentioned reason. It's nice to have the bulk of the holiday shopping out of the way before the end of November. Not every member of the family can attend every year, but we always try. This year, we fell short of a full house by one brother, his spouse, and my daughter, who is away in Israel for the year. We called her, however, and brought a little bit of Thanksgiving her way.
A couple of Thanksgiving traditions which have evolved more recently are two of which I am most fond. First, my girlfriend Harriet has accompanied me for the past 2 years, and that is a most welcomed addition. Secondly, she and I have joined my father for a 4 mile run on the Sunday morning after Thanksgiving, before we have headed back to Atlanta. It's an integral part of our weekend, and if we were ever not to do it, we would return home feeling less than totally fulfilled.
Every year, our run is more special than the year before. Dad is now 73 years old. Every year becomes a year closer to the time we won't be able to do this tradition any more, and this fact just makes it more precious. This year was questionable for a while. Dad's hamstring has been causing him problems in recent months, and it was only about 2 weeks ago that he was again able to run three miles without having to stop. Healing is not as quick as it used to be, but the desire to try and run is just as strong as ever. That can make recovery a difficult issue.
We set off on our run at about 6:30 Sunday morning. I was expecting a 12, or perhaps, if we were lucky, an 11 minute pace. The roads where he lives are not wide enough to run 3 abreast. So as we started, we assumed a triangle formation, with Dad in front, me off to the side, and Harriet a step or 2 back. I was surprised at how swiftly it felt like we were going. As we ran, we changed positions from time to time, with Dad always in front, or sharing the lead with either me or Harriet. But we kept on assuming one triangle position after another, always three points, connected with a very special bond. A bond of both running and family. Our Golden Triangle. Words didn't have to be spoken, and few were. As we ran, I could hear Dad breathing very hard. As he ran, his feet scraped the ground with almost every stride. He was working hard, and we knew he was loving every second of it.
We ran 2 miles out, and then turned around to come back to where we had started. 2 miles was done in 21:40. That was fast for Dad. Very fast. But he was setting the pace. On the way back, he seemed to pick up the pace. I was surprised, as he was coming back from injury, and this would be a fast pace for him under any circumstances. With more heavy breathing, and feet scraping, I hit the second half split as we crossed the imaginary finish line. 19:09. We had run the 2 miles back at a 9:30 pace. That was an unbelievable pace for him.
His recovery was swift, however. Within a minute or two of finishing, he was breathing normally again, and totally elated with what he had just done. Harriet and I were very pleased too, for him, and for knowing that we had again shared in something very special. Our golden triangle, where family and runner all bond together. Just another thing to be thankful for.
Michael Selman
Roads Scholar
Atlanta GA
Michael Selman is a freelance writer who lives in Atlanta GA. he has appeared in publications and web sites throughout the country, including Runner's World, Footnotes, and Cool Running.
Michael distributes a free monthly newsletter called "Thoughts of a Roads Scholar". Please E-mail him at TheRoadsScholar@aol.com to request to be added to his mailing list.
---
November 24, 1999
"Thanksgiving" by Michael Selman
With the Thanksgiving holiday upon us, we had a most interesting speaker at our running club's meeting this month. His name is Rod Spence. One of the founding members of our club, back in 1982, I had never met him before this meeting. Other founding members were also there, to hear him speak, but I had never met any of them either, despite being an active member of the club.
From his first words, one could sense that being in front of this group, talking about running, was a very difficult thing for him to do. You could feel a special bond, a special warmth as he fondly recalled how close competitive friendships had pushed him years ago to a sub 5 minute mile, and a sub 36 minute 10K. He consistently emphasized how much he loved running. But his words were hinting of sadness, and even a little bitterness.
Those close battles with his friends ended about 10 years ago, when he was first forced to take some major time off, and then came back with a vengeance. His 10K times dropped with a new type of training, and he eventually got good enough to easy beat his prior times. But there was still a sadness in his recollection of the better times.
He was retelling about, when he was still in the 36 minute range for 10K, he had started doing mini-triathlons locally, and had done respectfully in some half Ironman's. The next logical goal was THE Ironman, and he was in intense training. One evening, while he was biking with his daughter's fiancť, he noticed 2 large pebbles in the road just ahead of where he was riding. He swerved to avoid the stones, but caught one of them flush, and the next thing he knew, he was airborne, and heading towards a ditch.
He ended up flat on his back, and his next memory was of being airlifted to the hospital.
His better times were established from a sitting position, a paraplegic since that fateful day. His talk last night was from a wheelchair. He recalled how, while he was in the hospital, all he wanted to do was figure out a way to get out of his bed so he could kill himself. He so loved running, with every bone and muscle in his body, that he could just not see life without it. he fought back tears as he recalled one day, after the accident, while he was driving, he saw a runner training on the side of the road, and just lost it. His own sense of loss was that great. He choked up again, as he explained that one of the things he missed most was the comroderie of a run with friends. It's a bond that can't be replicated any other way.
But in time, he learned to accept it. He later got involved in wheelchair athletics, including wheelchair racing, and tennis, and has found positive outlets for his personal needs. He works with disabled youth now, a venture he would have never tackled before the fall. But he still hurts badly, over 12 years later. Coming back to his club, to retell his story to a room full of able bodied runners, had to be difficult for him.
His message was clear, without spelling it out for us. Enjoy every run. Don't sweat the small stuff, like shinsplints, sciatic, compound fractures, or any other minor inconvenience. be thankful for what you DO have every day. It may be gone forever tomorrow. It took a lot of guts for him to come and talk to us this month. In doing so, he probably relived every highlight of his running life, and realized again how badly he missed it. The whole time he talked, he was choking back tears, not because he was feeling sorry for himself, but he was just hurting for missing is passion in a room full of people who can still enjoy theirs.
Today, Rod is living what some of us might consider our worst nightmare. Yet there he was, in front of the room, telling the rest of us how thankful he was for what he has today. The resilience of the human spirit that evening moved us all. Finishing a marathon would be a stroll in the park compared to what Rod Spence has accomplished.
There are some people who run. There are other people who are runners. Rod was a runner, in every fiber of his body. A runner's heart never changes. He is still a runner to this day. I am so glad he came to talk to us this month. I know that I have appreciated every run just a little bit more because of it.
Michael Selman
Roads Scholar
Atlanta GA
Michael Selman is a freelance writer who lives in Atlanta GA. he has appeared in publications and web sites throughout the country, including Runner's World, Footnotes, and Cool Running.
Michael distributes a free monthly newsletter called "Thoughts of a Roads Scholar". Please E-mail him at TheRoadsScholar@aol.com to request to be added to his mailing list.
---
November 2, 1999
"A Tick and a Tock from the New Millennium" by Michael Selman
In the scope of a thousand years, we are but a tick and a tock away from the new Millennium. Two more months to look farther back then we ever knew possible and two more months to plan just how different things are going to be on the other side. And for most of us, running will be part of it.
I knew on the first of this year that I wanted running to be a part of my Millennium celebration. Runners are like that. We like for running to snugly fit somewhere in the middle of our significant events, and the places life takes us. Going out of town for a wedding? Look for a local race while you're there. Got a business trip? Stay an extra day, and run a race. Having induced labor this weekend? Maybe you had better not look for a race to run, but you might just still look at the schedule to see what you are missing. Surely, I'm not the only one who thinks this way.
New Millenniums always seem to give us pause for reflection. As they draw closer, us runners just have to pull out our volumes of runner's logs, read entries we wrote 15 years ago, and feel proud in our recorded accomplishments. We can easily relive each PR as if it happened yesterday, and painfully recall why there was a six month period back in 1987 where not a single entry was recorded because there was none to make. The good, the bad, and the ugly, all documented, if not in books, at least in our heads, and among our most highly prized possessions.
I can't really explain why, but I think that running in the 21st Century is going to feel different to me. I must be at just the right age, or point of diminishing ability, that I can confidently say that PRs at most distances are behind me. The other side of the new Millennium provides me with a nice excuse to say "I am now starting with a clean slate, and run a new tier of PRs." It will be a 21st century standard, where everything will again be new, and every accomplishment will be an exploration into the unknown.
I will never forget my first 18 years of running. It has changed everything else about me, and every change has been for the better. That won't be any different in the 21st Century. But in two short months, a tick and a tock of the Millennium clock, it will all be archived to the 20th century running files, and, until I set some 21st Century standards, every race will be a PR. My first one will be on January 1st, at a little before 1 PM, when I complete my very first 10K.
I had that planned a year ago. After all, I am a runner.
Michael Selman
Roads Scholar
Atlanta GA
---
October 5, 1999
Ready....Set...Go. by Michael Selman
The alarm went off at 4:35, because my next performance is on Saturday morning, at 9AM sharp. This morning was another dress rehearsal. I dragged myself out of bed, dressed the part I am playing in the big show, and went out to practice my lines.
The backdrop today was constellations, a sliver of moon, and a dampness in the cool air. The performance itself will be under the brightest of lights, but today was just practice. The whole time, I wondered how Saturday's production will go. So much goes into each gig. Once completed, the ovation you receive is primarily your own, but it does not deminish all that has gone in to it.
As I practiced my part this morning, I was thinking of the last big event. It went well, but still left me with a feeling of wanting to perform just a little bit better the next time. Thus, the dress rehearsals, as the one this morning. In five short days, I will again take center stage, and perform to the best of my ability. The butterflies never deminish, no matter how many appearences you make. The purpose never wanes, no matter how many dress rehearsals you conduct.
By nature, we have a strong need to be entertained. That's why there are so many sports to play and watch, so many channels to view, so many resorts to visit. And that's another reason we run. The entertainment value of running is what keeps some of us involved. We simply love to run, and compete with ourselves, as well as others. And we maximize our merriment by entering races, and doing what we love to do. Another dress rehearsal.
Our main audience is ourselves. Sometimes, millions of viewers line the streets. Other times, we perform before no one. But we are always doing it for ourselves, and for our own personal entertainment. And Saturday, at 9AM, another curtain will be lifted with the sound of a gun, or maybe someone just yelling Ready....Set...Go.
However it starts, it will be over soon thereafter. Then we will know that all those alarms at 4:35 were well worth it. As the final curtain falls, our performance is done. Whether we are happy with our performance or not, it's so funny how quickly we start thinking of our next dress rehearsal, and our next big show.
We need that kind of entertainment. Let the show begin.
---
September, 1999

Editor's Choice - September, 1999
Running Cheer by Michael Selman
I guess it's always been in my blood to get up at an ungodly early hour on Saturdays. These days, I do it to drive half way across the state so I can arrive at a race an hour before the 8 o'clock start. But even years before I started running, Saturday's beckoned me to get out of bed at the crack of dawn. Why? Well, there were to reasons. Hanna and Barbera. I loved cartoons with a passion, and they knew how to make them back then.
My older brother and I had a set routine on Saturdays. We'd always get up early and try to open a new box of sugary sweet cereal on Saturday mornings, so we could dig for the treasures inside. Cereals used to have stuff inside the box to entice you to buy them. Tops and whistles, balloons, and even Tootsie Rolls. I remember one time, we got two Tootsie Rolls in a box instead of the customary one, and we decided that whoever the guy was at General Mills who put the cereal in this box probably put in a Tootsie Roll at the end of one day, and then, when he came in the next morning, he forgot about the one he put in the night before, and added a second one. It's the only time we didn't have a fight about who would get the cache.
We would pour our cereal, add sugar ( I always added about 5 teaspoons to a bowl of Frosted Flakes,) splash some milk on top, and then move to the den for some serious fun. Huckleberry Hound, Yogi Bear, Quick Draw McGraw, Pixie and Trixie. They were all there every week, without fail. We would also throw in a little Three Stooges and Little Rascals just to be sure we grew up to be well adjusted adults.
One thing about the cartoons always humored me. Whenever a chase took place, which was every cartoon, the background always repeated itself. Jinx, the cat, would be in hot pursuit of those two meeses he hated to pieces, and first a chair would whiz by, then a sofa, a doorway, a bed, then the same chair, sofa, doorway, and bed over and over again. It was like they were running in circles.
Years later, I discovered that running on a track was very similar. When I first started running, I lived about a quarter mile from the local high school track. I used to run there about every run. I'd see the road, the basketball court, the school, the baseball field twelve to 40 times each workout, depending on how far I went. I guess I figured it helped with my mental toughness. I actually used to imagine I was chasing Pixie and Trixie. I didn't grow up to be a well adjusted adult, after all.
About a year later, I moved, and didn't step on a track again for a long time. Our new house didn't have a track near by, so I just ran circles around the neighborhood for the next ten years. I am definitely a creature of habit.
When I started working in Georgia, I moved to Gwinnett County, and was once again living near a high school track. I longed again for the boredom I had experienced so many years ago, so I gave the track a try. Much to my chagrin, it was not the tedious, monotonous chore I had remembered it being in the past.
It was late summer easing into early fall, and activity was at it's height around the track. The football team would be practicing for the new season, and I could usually hear the band in the distance. All you could really identify, though, was the percussion section, the drums beating steadily, the cymbals crashing, the xylophone hitting all the right notes.
Oh, and did I mention that the cheerleaders were also out in force? They would be practicing their routines between the end line of the football field and the track, and I'd try to sail by them with an effortless stride, as if gliding on air. I'll bet they all thought I was in remarkable shape for a graying old man. I always hoped to possibly catch an admiring smile as I floated by, but that never happened. They were focused on their cheers.
Then one day, everything changed. I had already started my workout at the track and was about two miles into it, cruising along at a steady eight minute pace, when the cheerleaders started arriving. They practiced for about a half an hour as I ran another four miles as dusk descended. With their routine completed, their coach yelled " Okay, everybody give me a mile on the track." From the way they reacted, you would think they had just been sentenced to life without parole. They whined and complained as they shuffled onto the track as I started my seventh mile. I thought to myself "Gee, I'm happily doing this for fun. What's their problem."
They broke up into smaller groups going at different paces once they hit the track. They jogged a bit and walked a bit and I had lapped them all before they were half way through. I knew that they all had to be impressed with the fact that I kept chugging along. Still, not a single admiring smile of acknowledgment. I passed them all a second time before any of them had finished, as they were mostly walking by now.
As I was finishing my eighth mile, there were only a couple of stragglers still on the track, and they were about 3/4 of the way around the track the forth time when I started honing in on them. As I approached them, I noticed one of them looking for me out of the corner of her eye. Was this going to be the admiring smile I was waiting for? As I went to pass her, she didn't smile, but, instead started running with me, challenging me. What I did next defies explanation.
I sped up. What was I thinking? I was just finishing up an eight mile run and was exhausted. I figured she couldn't keep up. She countered. I lengthened my stride. She stayed with me. Oh, my word, what had I just committed myself to? A hundred yard dash after an eight mile run. This cheerleader blew my doors off and left me in the dust, distancing herself by about ten yards. As I stared to catch up with her, she suddenly decided the race was over. She stopped running, and declared herself the victor. I was about to protest, but came to the sick realization that the whole cheerleading squad had seen the battle unfold and were cheering for their teammate wildly.
I wanted to scream "Wait a minute. I ran two miles before any of you even got here. I ran the whole time you were practicing, and I passed you all twice while you were doing your wimpy little mile. And besides, I'm already on the far side of 40, and you all are still teenagers."
Instead, I hung my head.
The next day, when I returned to the track, I finally got what I had hoped for. All of the cheerleaders smiled at me. Most of them even laughed.
I don't do track work there, anymore.