| Canadian Olympian Triathlete Sharon Donnelly |
Sharon's Frontpage Archive 1999
November 19, Sharon's Puzzles
Unfortunately, Sharon's puzzles have been taken off-line by the Puzzle Factory.
October 30, Canadian Forces Sports Awards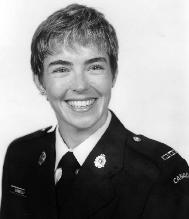 Sharon was inducted into the Canadian Forces Sports Hall of Fame at the Forces annual Sports Awards Dinner for 1999.

In addition to her well documented non military athletic achievements, Sharon was a member of the Canadian Forces Cross Country Running Program from 1990 to 1995. In 1995, she was named as the Canadian Forces Female Athlete of the Year. She also competed at the CISM World Triathlon Championship in 1997 where she won a silver medal.
October 20, 1999 Ottawa Life Magazine
Sharon is the cover story in the November edition of Ottawa Life Magazine. The cover photograph itself is a reason to buy the magazine. Read Major Mike Fabbro's story on Canada's top Olympic distance triathlete.
October 10, 1999 Runner's Web Interview
The Runner's Web (www.runnersweb.com) interviewed Sharon for their web site following the conclusion of Sharon's 1999 season.

The interview can be read here.
September 12, 1999 Montreal, Quebec ITU World Championships
Sharon placed 22nd in today's world championships in Montreal. She exited the water in 25th place which is very uncharacteristic for her as she is normally among the leaders. She was part of a very large chase pack following a lead six-pack which included race winner Loretta Harrop.

Sharon, who was the Canadian Team Captain, was the first Canadian female.

She blamed her weak performance on a reduced training schedule since injuring her right shoulder earlier in the summer. "I've only been training well in the pool for the last couple of weeks," said Donnelly, who added that she was in "excruciating" pain when she beat a weaker field of competitors for the Pan Am title in Winnipeg. "I wasn't strong enough to get out in front in the water today. I was getting beaten up in the pack, and that's not something I'm used to." Donnelly entered the race 10th in this year's points rankings. "Now that I've qualified for the Olympic Games, I'm going to get my shoulder looked at and take a break from swimming for the next six weeks."

She will also be moving to Kingston, Ontario to join husband Dave Rudnicki who has been posted to Royal Military College.

Sharon who was the first Canadian to have met all of the qualifying criteria for the Sydney 2000 Olympic Games has now been joined by Simon Whitfield who placed 7th today.
August 15, 1999 Cornerbrook, Newfoundland World Cup
Sharon placed 8th in the Cornerbrook, Newfoundland ITU race in a time of 2:12:41.
She came down with a cold the day before the race and decided to compete only because the race was in Canada. Sharon exited the water in 10th place, an unusual position for her as she is normally among the leaders, had an 8th fastest performance on the bike and an 11th fastest run.
Click the photo above to visit the ITU Photo Gallery for the Cornerbrook ITU Race.
Pan American Games Gold! &nbsp Pan AM Games Video - 50 Seconds
Sharon won the Pan American Games gold medal with a gritty sub 2 hour performance.
She has been suffering from a sore shoulder recently. Originally injured in a bike crash while training, it was aggravated lugging her bike and bikes around ITU races this year. Getting kicked in the shoulder at the start of the swim did not help.
Sharon exited the water in first place and formed a pack of six riders which sped around the Birds Hill Park course. While six runners started the run in close proximity, it soon became a three person race with Sharon, Carol Montgomery and Carla Morena of Brazil. On the last of the 3.3K loops Sharon pulled away to win by 18 seconds over Morena 1:59:14 to 1:59:32.
Carol Montgomery of Vancouver gave Canada a bronze as she placed third in 2:00:14.
Sharon returns home tonight - July 25th.
Pan American Games Preview
Sharon has been named to Canada's Pan American Games Triathlon Team for this summer's games in Winnipeg, Manitoba. She will be competing on Saturday morning, July 24th.

Canadian Triathlon Team - Pan American Games
Beverley Smith of the Globe and Mail has a Pan Am Preview on Sharon in the Globe and Mail.
You can read the story on the Runner's Web News page.
For local reports on the Pan Am Games visit the Winnipeg Sun or the Winnipeg Free Press.
Also visit the Triathlon Canada web site.
You can also check out the FrontPage on the Runner's Web.
Canadian Champion, Again!
Sharon regained the Canadian Championships she first won in 1997 by placing second to American Barb Lindquist in today's Canadian Triathlon Championships in Edmonton, Alberta.

Sharon's time was 2:01:13 to Barb's 1:58:55. Carol Montgomery of BC was third.

Full results are available from the Race Site.

Read Mitch Cooper's story in the Ottawa Citizen.
Sharon's Interview in the Humber Log, Cornerbrook, Newfoundland
Sharon was interviewed recently by the Humber Log, a newspaper in Cornerbrook, Newfoundland . The article has been reproduced in the Runner's Web News. A link to the original article and photo is also available there.
June 20 Monte Carlo, Monaco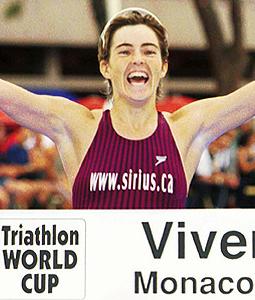 Sharon Claims Silver!
Sharon claimed her first podium finish in an ITU World Cup triathlon today as she placed 2nd in the Monte Carlo, Monaco race.
She led out of the water in this morning's race by half a second over Nicole Hackett of Australia. Off the bike and into the run Sharon again led Nicole Hackett with a total time of 1:24:07.2 as 5 athletes had a 1 minute lead on the rest of the field.
Magali Messmer of Switzerland won the race in a time of 2:02:11.7 with Sharon finishing in 2:02:30.7 and Loretta Harrop third in 2:02:50.1. Canada's Carol Montgomery was 6th in 2:03:22.4. There were no other Canadians in the women's race.
With her 2nd place finished Sharon moved up to 13th on the 1999 ITU World Rankings.
Martin Cleary of the Ottawa Citizen interviewed Sharon while she was in Brussels yesterday. You can read his column here.
June 13 Kapelle-op-den Bos, Belgium
ITU World Cup Race
Sharon placed 17th in this morning's ITU World Cup race in Kapelle-op-den Bos, Belgium. She was 4th out of the water 10 seconds behind Nicole Hackett of Australia and 2nd after the bike transition behind Mieke Suys of Belgium but there was a pack of 24 athletes within 20 seconds of the leader at this point which made for a very competitive run section. Sharon's final time was 1:59:14.
Sharon now travels to Monaco for next week's race in Monte Carlo.
June 9 Ottawa, Ontario
Sharon on Cablevision
Sharon will be interviewed by Michelle Lavoie on Rogers Cable TV One on One - Channel 22 :
Wednesday, June 9th, at 9:30 PM,
Friday, June 11th, at 6:30 PM
Sunday, June 13th, at 9:30 AM.
This show is available only in the Ottawa area.
May 25,1999 Ottawa, Ontario
Upcoming Competitions
Sharon will be packing her bags soon for a trip to Europe to compete in two triathlons, the Kapelle-op-den Bos, Belgium on June 13th and the Monte Carlo World Cup on June 20th.
May 15,1999 Toronto, Ontario
Triathlon Canada announces PanAm Triathlon Team
Triathlon Canada announced today four (4) of the five (5) members who have been named to the 1999 Pan American Games Triathlon Team. The 1999 Pan American Games will be held in Winnipeg, MB and triathlon is the first event on the program (July 24th). A maximum of three (3) men and three (3) women entries per country will be permitted in this event, however Canadian Olympic Association, ("COA") restrictions will limit the maximum Canadian team size to five (5) in total (2 men, 3 women).
Two of the three members of the women's team are being announced at this time. Sharon Donnelly of Ottawa, ON and Isabelle Turcotte Baird of Quebec City, QC have been named to the women's team.
Sharon Donnelly won the Canadian Triathlon Championships in 1997. Since that time she has focused on World Cup events, and has become Canada's most consistent international performer. Sharon is the first Canadian triathlete to meet the COA selection criteria for the 2000 Olympic team. She placed 11th at the 1998 Goodwill Games and has several 4th and 5th place results from the ITU World Cup series, including 5th at the 1998 Sydney World Cup over the 2000 Olympic course.
For the complete press release go to the Runner's Web News page.
May 10,1999 Ottawa, Ontario
Sharon Returns Home
Following a very successful summer/winter down under, Sharon has returned home to Ottawa to regroup from an excellent winter of training of racing before heading off to Europe for two races.
Sharon plans on racing in Belgium and Monaco on June 13th and 26th.
She will then return home before heading off to the Pan American Games in Winnipeg, Manitoba. The triathlon opens the Games on July 24th.
The ITU Worlds are next on her schedule on September 12th.
This past weekend Sharon was to be found along the canal cheering on the 10K runners and Marathoners in Ottawa's Nordion 10K and National Capital Marathon. In las year's Nordion 10K Sharon ran a personal best time.
May 2,1999 Sydney, Australia ITU World Cup
Sharon Ninth, Meets Olympic Qualification!
Sharon completed her Canadian winter visit to Australia with a ninth place finish in today's Sydney ITU World Cup. It is fitting that Sharon completed her Olympic qualification on the Sydney Olympics course, She has also been selected to represent Canada at this summer's Pan American Games in Winnipeg, Manitoba. Sharon returns home on Tuesday for a well deserved break before preparing for the Pan Ams.
Triathlon Canada also has a race report.
After this race Sharon is ranked 17th on the ITU World Rankings.
April 18,1999 &nbsp Gamagori, Japan ITU World Cup
Sharon 24th Sharon placed 24th in the second ITU World Cup race of 1999 in Gamagori, Japan. After a 3rd place swim finish Sharon succumbed to the cold conditions, finishing 24th in a time of 1:58:13. The weather turned on Saturday night just before the race with the air temperature dropping to 16c, compounded by the 15.4c water temperature and constant rain and wind during both the women's and men's races. The cold, two lap 1,500m swim in the Gamagori Boat Racing Stadium prompted wetsuits for all the triathletes. The flat 40k bike course was 7 laps, each with 14 corners requiring caution in the wet conditions
April 14,1999 A.C.T. Athletes of the Year for 1998
Sharon was named the A.C.T. triathlete of the year for the third straight year at last nights annual amateur sports dinner.
April 11,1999 Triathlon Canada Olympic Team Status
Sharon is top ranked Canadian Canada's 2000 Olympic Status (Updated April 11, 1999) is available from Triathlon Canada.
April 11,1999 &nbsp Ishigaki, Japan ITU World Cup
Sharon 15th, makes third COA Standard!
The 1999 ITU World Cup Triathlon season opened in Ishigaki, Japan this morning. Loretta Harrop led the women's field, Nicole Hackett was second and Barb Lindquist of the USA broke the Australian domination as she came third. Canadians Carol Montgomery and Sharon Donnelly were 7th and 15th. Sharon's performance gives her her third Canadian Olympic Association qualifying standard; she needs one more top 14 finish to qualify for the Sydney Olympics. She is the only Canadian, male or female, to have reached this level.
Sharon was out of the water with the lead pack and then had to come to a complete stop on the bike leg when she got caught behind a crash. Sharon had the 4th fastest swim time with her 17:08 split only 4 seconds behind Lindquist's leading 17:04, and her run time of 40:54 was the same as Harrop's. Her overall time was 2:03:30.
April 6,1999 &nbsp Ishigaki, Japan Preview (April 11, 1999)
Sharon is on her way to Japan to compete in Sunday's 1999 ITU Series opener in Ishigaki, Japan. Last year Sharon placed ninth in this event.
April 1,1999 &nbsp ITU Olympic Qualifying Rankings
Here is how John Walker's complete and current Women's Olympic-Qualifying
Triathlon Rankings Summary reads, after the African Triathlon Championships
on March 28:

Women's Olympic-Qualifying Triathlon Rankings Summary - 28 March 1999
Rank, Points Name, Country Previous Rank Total Races

1: 6125 Michellie Jones (AUS) ( 1. 6125) 12:0
2: 5775 Emma Carney (AUS) ( 2. 5775) 17:0
3: 4600 Isabelle Mouthon (FRA) ( 3. 4600) 15:0
4: 4465 Jackie Gallagher (AUS) ( 4. 4465) 10:0
5: 4210 Erika Molnar (HUN) ( 5. 4210) 19:0
6: 3955 Loretta Harrop (AUS) ( 6. 3955) 13:0
7: 3675 Joanne King (AUS) ( 7. 3675) 11:0
8: 3635 Mieke Suys (BEL) ( 8. 3635) 15:0
9: 3245 Barb Lindquist (USA) ( 9. 3245) 15:0
10: 3080 Rina Hill (AUS) ( 10. 3080) 13:0
11: 2760 Magali Messmer (SUI) ( 11. 2760) 13:0
12: 2600 Marie Overbye (DEN) ( 12. 2600) 11:0
13: 2580 Wieke Hoogzaad (NED) ( 13. 2580) 12:0
14: 2560 Gail Laurence (USA) ( 18. 2060) 23:2
15: 2295 Kiyomi Niwata (JPN) ( 14. 2295) 20:0
16: 2230 Evelyn Williamson (NZL) ( 15. 2230) 16:0
17: 2155 Sharon Donnelly (CAN) ( 16. 2155) 16:0
18: 2075 Haruna Hosoya (JPN) ( 17. 2075) 20:0
19: 2055 Jennifer Gutierrez (USA) ( 19. 2055) 17:0
20: 1960 Christine Hocq (FRA) ( 20. 1960) 18:0

March 29, 1999 &nbsp ITU Worlds in Montreal
The ITU announced this morning that the 1999 ITU World Championships will be held in Montreal, Canada on September 11-12. Montreal is just a good bike ride East of Ottawa.
February 17, 1999 &nbsp Sharon is training in Australia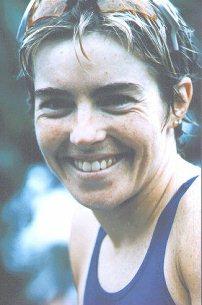 Thanks to James Rankin Photography Sport-Commercial-Portraits for these great photos of Sharon and her training group in Australia's Gold Coast area.
February 15, 1999
Sharon was named to Canada's National Triathlon Team for the third consecutive year today. View the complete list on the Runner's Web News Page.
January, 1999
Sharon is in the Gold Coast region of Australia training for the 1999 season. She starts her day with a 4:30 AM wakeup and has a full training day. Temperatures are in the 30-35 degree range in the Gold Coast, as opposed to the minus 20 degrees in Ottawa.
Her first event is the Ishigaki World Cup in Japan on 11 April.
Photo of Sharon Leading Off the Swim in Noosa, 1998
&nbsp
Top of Sharon's Frontpage Archive 1999
Sharon's Frontpage