| Canadian Olympian Triathlete Sharon Donnelly |
Sharon's Frontpage Archive 2001
January 6, 2002 - Sharon's Last Update for 2001
Another Year Just Flew By…!!
It is hard to believe that we are already into the 2001 Holiday season! In fact, I am late getting this report out to my website. It may have to wait until the New Year. It has been a very busy two months since my last report in *October. I have been getting in some great bike training on the roads courtesy of the amazing unseasonably warm temperatures in Ontario. Even last week, Dec 12th, I did a 2hr ride in 8 degrees Celsius temperature! But I am sure that the snow will soon fly in! I wish everyone a safe and happy holiday season - I will be celebrating Christmas Day with my husband Dave on the beaches of Cuba! It will be our first vacation, non-sport related, in over 7 years. Basically it will also act as the honeymoon we never had! With the schedule I had in November and December, Cuba will be a welcome break.
November
The month started with an evening at St Lawrence College Recognition Night where I was presented with an honourary diploma. It was wonderful and I was extremely honoured to receive it since it recognized the community work that I have done as much as my sports achievements. I believe that it is a great institution and am proud to hang the diploma on my wall.
One week later I was busy giving a talk at the Toronto branch of my RMC Alumni, followed the next day by the Ontario Triathlon Awards Banquet where I was awarded the Lisa Hamann award for my contribution to triathlon and community. Two days later I attended the Official Kick-off for the Lung Association Christmas Seal Campaign in Toronto at Nathan Phillips Square with Maple Leafs, Gary Roberts, Donavan Bailey and Ben Heppner, opera tenor. I gave a one-minute talk on asthma and sports and the Lung Association's Asthma Action Hotline. I was thrilled to meet Ben Heppner and I even brought a CD for him to sign! He then asked for my signature for his kids.
I really enjoy being a spokesperson for the Lung Association. Being an asthmatic and growing up with a smoking parent who successfully quit, I feel that I am a good representative. It is my way of giving back for the all of the help I have received.
I traveled to Toronto and Montreal during the month for president meetings of my sponsor Empire Financial Group. It was great to meet all of the staff of the company who has been so generous in their support of my endeavours and will continue to support me through to the next Olympics.
However, the highlight of the month had nothing to do with sports, celebrities etc. It was my trip to the movie theatre with three girls and a mother on the opening day of Harry Potter! It was so much fun! I am not sure who was more excited - the girls or me!
December
As in November, the month got off to a great start with the Christmas party of my sponsor, Sirius Consulting Group. It took place at the Chateau Laurier in Ottawa and the huge ballroom was packed! It was great - as it always is! This year they had a magician and of course since I was at the table closest to the front - I was pulled up! I was pathetic! I certainly will not quit my day job and take up magic!
The highlight of the month was, without a doubt, my involvement with the Special Olympics fundraiser, Sports Celebrities Festival. These festivals are held in every province and the Yukon and the finale was held in Toronto at the Westin Harbour Castle on 4-5 Dec. The first night commenced with a meet and greet for all of the sports celebrities, volunteers and later the Special Olympians themselves! Of course the rookies (five of us) were highlighted and given a warm welcome. Some have been 'friends of the festival' for over 15 years like Paul Henderson, Darryl Sittler and Ernie Whitt.
After the dinner we were escorted to a ring of tables for signatures for the Special Olympians who then were brought in. It was awesome. I was sandwiched in between Carlos Delgado and Dan Ferrone for the signing period.
The night extended on with the urging of Marnie McBean to join her for a beer! How could I resist. It seems like yesterday that we were partying in Sydney! So a group of us (Marnie, Ken Read, Alison Sydor and Buck Martinez) talked of sports politics and anything else that cropped up. It was extremely interesting and could write a lot more about what I learned there!
Let me tell you, the organized breakfast at 0700hrs came early after only 4.5hrs sleep! It took place in the conference center with over 1500 people. I was seated at the head table and was called up by Brian Williams and driven to the stage in a golf cart! At my table was Micheal 'Pinball' Clemens, Tracey O'Grady, Jennifer Robinson, Daniel Nestor, myself, Buck Martinez, Andrea Dowey (Special Olympian of the year) and JP Ricciardi. There was another table with a bunch of other notables. Micheal Burgess sang the anthem and the Special Olympics key song. We were shown a wonderful video of Special Olympians and other special guests were involved. An incredible morning!
That was closely followed by the Darryl Sittler Sports Celebrity Face-Off. Two teams of celebrities and Special Olympians were pitted against each other in floor ringette. It was a blast! Marnie and Curt Harnett were the loudest by far, and it was hilarious to see Marnie take Micheal Clemens over the boards and act out a fight! I now see why he is called "Pinball." Because at one moment he was in front of me with the ring and then next he was at the other side! He just ran circles around everyone. BUT - he didn't score! Edge the WWF wrestler was the overwhelming scorer. But I had to hand it to the goalies, both Special Olympians - they were awesome! I am glad that we weren't up against a whole team of them - I heard they did that last year and they annihilated the sports celebrities!
After the game, time to unwind for a few hours, talk with some others, a run outdoors and then get ready for the Black Tie Auction Gala! Wow! Another 1200+ people, and seats were $400 a piece! I was seated at the Toyota table that had donated a Toyota Celica (It went for $28,000 in the live auction). The volunteer of the year, David Chan was great and he purchased a photo, [below]. The evening was a resounding success with over 1.4 million raised! I had donated a picture and book and had a joke going with Alison Sydor that I would put a bid on her donation of a bike jersey if she put one down on mine (I figure that ours were the least expensive items in the room!) Well, she didn't get a chance because my table partner Buck Martinez bought it! He also obtained a hockey jersey and tickets and that is a story that is available here.

Sharon at the Sports Celebrities Festival in Toronto, December 2001 &nbsp [Click photo for larger image]
The evening again extended well into the wee hours - again at the urging of Marnie, and I dragged Alison along with me too! Needless to say, a great time and a very successful event!
The month is wrapping up with some great training, developing my upcoming year schedule and getting ready for Holiday in Cuba!
I am really looking forward to the upcoming year. All of my appearances and promotional work is done and I am focusing 100% on my training and racing. I am feeling great about it. I will list my upcoming races and training periods once I return from Holidays and before I leave for my first training session in Tucson, Arizona on Jan 12th. Until, then have a safe and happy holiday season!!
Sincerely,
Sharon Donnelly
December 21 - Sharon's Webmaster is on holidays
The SharonDonnelly.com webmaster is on holidays for two weeks from december 21st to January 5th inclusive. There will be no web site updates during that period.
Happy Holidays!
December 20 - 2002 Canadian National Elite and Development Teams Announced
Triathlon Canada today announced the 2002 Canadian National Triathlon Team and Sharon is again on the time.

For the complete list of team members, visit Triathlon Canada.
December 18 - Heroes help boy turn aside adversity
Just what we need for this drizzly festive season: A warm, uplifting Christmas story, a tale of triumph over tragedy and the unceasing fight in a young boy whose life was very nearly snuffed out 13 months ago.

It's the story of Ben Killen and that youngster's painstaking recovery from a fractured body and broken spirit - and the supporting cast of unsung heroes who helped to mend the latter.

"My definition of a hero," wrote Ben's mother, Therese Conway Killen, in a thank-you note to the cast - elite triathletes Mike Neill and Olympian Sharon Donnelly and local lawyer Gary Tranmer - "is someone who finds a vein of excellence in themselves and has the courage to tap into it full strength in order to save or inspire someone else. Ben has had heroes who saved his life. He's had heroes who helped him to heal his mind and body. And you are the heroes who have helped heal his spirit. How do I thank you for that?"

Story taken off-line by the Kingston Whig-Standard.
November 1 - Sharon at St. Lawrence College


Sharon attended St. Lawrence College to receive an Honourary Diploma.
October 26 - Third 2001 Update as of October 26, 2001
Update #4 - So much has changed…
In the two months since I wrote my last update, the world has undergone a huge upheaval. The events of Sept 11th and the ensuing actions have had a huge impact on me, as I know it has for everyone. Life must go on, especially considering that if we change our habits and daily lives because of these actions, then the terrorists have succeeded. No one can say how long this confrontation will last, but one thing I do know: The world as we know it has changed. It is up to all of us to make the change a positive one and since the only person we can control is ourselves - then that is the place to do it! " I cannot do everything, but still I can do something; I will not refuse to do the something I can do." Helen Keller I hope you enjoy my fourth quarterly report, and I look forward to finishing up the year with a Christmas bonus report! Read on…
August: (cont'd fm last report): The month seemed very busy for the main reason that I was traveling to Toronto weekly to be seen by Dr Scapaticci who performed acupuncture and ART (Active Release Technique). ART is extremely effective, and incredibly painful - but it WORKS! It is a type of manual hands-on therapy that corrects muscular and soft tissue problems caused by adhesion formation as a result of injury, overuse or other trauma. 'It hurts good!' The highlight of the month was definitely watching my friend, Chrissy Redden win her first World Cup in Mountain Biking at Mt Ste Anne, Quebec. We had celebrated the New Year together (with our husbands!) in a ski hut in Gatineau Park to celebrate our Olympic experiences as well as to toast the upcoming year. We told each other that we would watch each other at a race and would see each other win it. Unfortunately, her race schedule did not match up with mine, but I was able to see her race and win she did!
September:: The month I will never forget. I was on a train to Toronto to see Dr Scap and to meet up with Robin Mednick to sign copies of the Heroes in Our Midst book when the horrible events of September 11th took place. I cried. I thought of all of those innocent people, I also immediately thought of my friend who I have been advising for triathlon who lives in NYC and works in those building complexes. (I finally was able to reach her 4 days later to find out that she had been there when it happened and was able to run safely from the falling debris. She has only been able to start work recently from home since her work building is unsafe and will be destroyed). I arrived in Toronto to see people stopped in front of TV's watching the replays of the events. I was in shock when I saw it - as everyone was. It seemed like a movie! My appt with Dr Scap was cancelled since the building had been evacuated. But I continued on to see Robin and I am glad I did. It helped to be surrounded by friends. I was not the only one there that day to sign the 500 books. Among those that were there that day, was Robert Finlay who wrote about what it felt like to be an athlete at the 1972 Munich Olympics when the massacre of the Israeli athletes by terrorists occurred. It made the days' events hit even closer to 'home.' I usually can deal with any problem, or at least get an escape, by going for a trail run. But that did not help me. I found myself heading out and then turning around 10 min later, to walk back home, discouraged. What pulled me out of the quagmire was the same thing that helped me deal with my Olympic race: support of family and friends. And this is exactly how everyone else seemed to be dealing with it as well: pulling together, supporting each other and reaffirming how we care for each other. I also knew that I must continue. To do otherwise, would mean the terrorists have won. The remainder of the month's schedule was hectic which helped me as well. I was busy with: rehab; Alzheimer's fundraising participation in Toronto, Oshawa and Coburg; TSN's "Off the Record" show; Official Book Launch in Toronto; RMC fundraising activities; quarterly meeting of the DND/CF Ombudsman Advisory Committee; and best of all, visits of friends at our home in Kingston.
October : Excellent weather conditions made for great training and I was so happy to be able to finally cycle and run pain-free! I entered into a local x-country running race, making sure that I ran well 'within' myself. After, I realized that although I was progressing, I was a far cry from being race fit. Which led me to the decision to call it a season and to not compete at the last World Cup in Cancun (the Brazil World Cup that had been scheduled for the weekend before Cancun, had been cancelled due to financial problems). Thus I could continue with my rehab and start now on building a solid base for next year. After all, the next three years are the important ones with a Canadian selection team in each of the years - Commonwealth Games, Pan Am Games and then Olympics. I have been following a consistent strengthening routine and a very flexible aerobic plan! This means that I have been doing other activities such as mountain biking through all types of terrain - even a BMX track!! On one of my rides with some friends, we showed up at the local BMX track with some kids hanging out there. Of course, in no time the race was on! I quickly earned a whole new respect for BMX racers!! In fact there was one stellar kid that whooped all of us - he was catching some awesome air! Of course, my Gary Fisher dual suspension mountain bike was not ideal for the course, but still, I thought I might be able to keep up with one of them! NOT! The worst was having the slowest of their bunch mark me out as "the wimp" and challenge me to a race - yeah, so he beat me and I had to put up with his taunts! But I am going to go to the track again soon so I can take him on - he better watch out…the race is on!!
Upcoming Events:
01 Nov - receive Honourary degree from St Lawrence College
09 Nov - Keynote speaker at RMC Alumni Toronto Branch - topic: Leadership
10 Nov - Ontario Association of Triathletes Award Night - receive Lisa Hammam award
12 Nov - Lung Association Christmas Seal Campaign Kick-off: Toronto City Hall with Mayor Mel Lastman and opera singer Ben Heppner, I will speak about life as an athlete with asthma
19 Nov - ChexTV Durham/Oshawa Interview with Dan Carter
22 Nov - Kingston girls' book club reading (8-10pm)
05 Dec - KCVI School visit
Tentative 2002 Race Schedule:
17 Feb Brazil Team Triathlon Series (4-5 days, woman only team: Canadian)
16 Jun Commonwealth Games Selection Race - Victoria, BC
06 Jul Canadian Triathlon Championships - Toronto, Ontario
04 Aug Commonwealth Games - Manchester, Great Britain
04 Nov World Triathlon Championships - Cancun, Mexico
* The World Cup schedule will not be published until Jan/ Feb 2002. Once I receive that, then I will make my season plan. I will be focusing on qualifying for the Commonwealth Games (and the qualification races for the Canadian Team) and the World Cup series - since points from those races count for my 2004 Olympic qualification.
* Also, I plan on have two separate training camps; one for approx 2-3 weeks in Jan and another for 6-8 weeks immediately after the race in Brazil (Feb-Mar). I hope to confirm the dates and locations by late November.
* I will also be doing numerous running and other small triathlon races in Southern & Eastern Ontario as part of my training and preparation. These also will be confirmed early in 2002 and some may be added within a week of doing the event if my training schedule requires it.
Thank you again to all of my family, friends and sponsors for helping me in my athletic pursuit. I could not do it without you. My website which is maintained by Sirius Consulting Group, is always the best way to keep updated on my results, activities, sponsor's information, and guest book/email access.
Sincerely,
Sharon Donnelly http://www.sharondonnelly.com
"Only those who are afraid to fear, fear too much. Strength is not the absence of weakness but how we wrestle with our weaknesses." Noah Benshea (from the book written by Mark Tewksbury, Visions of Excellence
October 22 - Sharon Cancels Remainder of Racing Season
Sharon has decided to end her competitive season for 2001 to allow time to effect a complete recovery from a hamstring injury.
She will continue with her base training and strengthening right now and will do some winter racing in Brazil and head down south to get back into some racing prior to the Canadian qualification event for the 2002 Commonwealth Games.
September 25 - Sharon autographs a copy of Heroes in our Midst

Sharon autographs a copy of "Heroes in our Midst" for Sirius Consulting. Click image for larger photo.
September 6 - Sharon's Activities this Month..
September 17 - at 12noon, Book Launch "Heroes in Our Midst" Air Canada Centre, Air Canada Club, Gate 2 (entrance off Bay St) Book Launch Info

September 18 - 6pm: Sharon will be a guest on TSN's "Off the Record with Michael Landsberg" .
August 16, 2001 - Third 2001 Update as of 16 August
Here's To Summer!
Summer is great but this one has not been good to me, at least in the racing sense! I unfortunately spent my main two racing months of July and August dealing with a hamstring injury. It all happened soon after I came out with my update #2, in the beautiful month of June…

June:
I was starting to come into form after a late start to my season and I could feel my body responding to my training. I then left for a 2 ½ week training period in Victoria B.C. where I stayed at the CFB Esquimalt Wardroom and trained with the large group of triathletes set up at Pacific Sport. The schedule was extremely demanding and much more than I had been doing at home in Kingston. In one of the last sessions, at an early transition workout in a very cold 10degrees, my hamstring decided it had had enough! I could not have imagined at that time, how long it would take to recover - I am still not recovered at the time of writing this update!

July:
So I enter into the most important part of my year - injured! This is not what I had planned, but things like this are never planned! Also, the three most important races of the year were happening in the month of July and in Canada!! I was "bummed" to say the least (and literally speaking as well! The injury was to my hamstring tendon located at the upper insertion point - on my 'sit bone.' It was painful to do any sitting, like driving a car, eating at a restaurant and of course riding my bike!)
My first race was Canadian Championships in Drummondville, Quebec, on July 1st. I made a decision on race morning to race with the understanding that I would pull out of the run at the 3km mark if the pain was too much (I can feel whether a pain is causing me further injury or not - but I had to make sure that I was clear to myself that I would do this since I had never quit a race before) The swim and bike were okay and the pack of 5 that I was in started the run with about 2 min lead over the chase pack. At the 3km mark, I was in third position well ahead of any other threat to my position. I was extremely sore, but not in pain, so I continued my jog to a third place ignoring the crowds' yells to chase down second place only 15 meters ahead of me.
The reason for my concern was that the Toronto World Cup took place only 6 days later on July 7th! I needed to save my hamstring for that race. My family and supporters would all be there and it was the course where I placed second last year with a top 5 run time! I knew that would not be the case this year! But I came away positive with my swim, since I had a great wetsuit swim in the chilly 13degree water, the fastest transition and onto the bike first! The excitement soon wore off as the drizzle started on the oil slick course and half of our front pack went tumbling on one of the corners. We were not injured as we were going so slow due to the conditions, but we lost our 3min advantage over the chase group. I got back up and rejoined the large chase pack. Onto the run, I could feel my leg tightening up in the cold conditions and made the decision I had discussed at the Canadian Championships the week prior - I pulled out! It was tough! But I had to think of the World Championships in Edmonton only two weeks away. If I had been running in the top five position, I might have continued, but not in the position I was after the bike fall. I had to think of Worlds.
World Championships, Edmonton - July 22
I had undergone aggressive two weeks of treatment (physio, massage, chiro etc) but nothing was helping - I still hadn't done any running! The only running I had done was in the pool! Whenever I cycled, pain would shoot down my leg and there would be no power in my leg. I was not happy - but I was determined to race - only because the race was in Canada! If the Worlds had been held in any other country, I would not have competed. I pulled out of all planned races for August so that I knew in my mind that I could leave myself on the course in Edmonton, knowing that I had all of August to rehab. However, I also knew that I would not injure myself further - consulting with my therapists assured me of this. But it would set my recovery back - I could deal with that. Race day - cold and rainy. I didn't have a great swim, but it was not required since the fast swimmers soon got sucked up by the chase pack. I stayed near the front of the large pack for the duration of the bike to stay away in front of any possible crashes! I started the run with a group of about 22 women. It was an extremely tough run. My hamstring got more sore as the run progressed, but I dug as deep as I could to finish 18th. It was hard to pass in front of the home crowd hearing all of the cheers when I could not perform at what I was capable. It was tough to see the splits and see that I could have reached my goal of a top 8 finish, had I been healthy. But that is sport!
August:
I am still undergoing my treatments and will be traveling to Toronto to see a soft tissue specialist. I am still finding it tough to run but I can now sit without pain! So that is an improvement. I have a huge soft cover for my bike saddle (from TempurPedic) which allows me to continue my bike training. I just made the very hard decision to withdraw from the GoodWill Games since I knew I would not be race ready for Sept 2nd. So I will be focusing on the last two World Cups of the year on Oct 28 and Nov 4th.
Lessons Learned/Interesting Points:
· Follow my gut instincts as I always have regarding my training. I ignored them when I was with the group out west and I paid the price - I know better! It is good to try to push the envelope - that is how we improve, but I also have to keep tabs on my limits!
· I had set out to have a 'laid-back' race year - I just didn't think it would be this 'laid-back!" One must always try to see a positive and I remember having the goal of enjoying the summer and spending more time with friends, family etc. That plan started to disappear in the Spring, as I penciled in more races and traveling for the summer months. My injury forced me to follow my original wishes!
· My most enjoyable weekend was the weekend of Kingston Triathlon where I swam for Empire Financial Group relay team, handed out awards and volunteered for 8 hours at the Kids of Steel race the following day. It was wonderful to see the hard effort and enjoyment in so many young faces. I love sport!
· When injuries happen, a natural feeling is to worry about supporters and family. Am I letting them down? Will they continue to support me? I am so fortunate to have an amazing support group made up of family, friends, sponsors, supporters who understand and believe in me. I thank them all! That is all for now folks, sorry for being so long-winded - I should write a book someday! Speaking of which, a special book will be available in book stores in September called "Heroes in Our Midst." It is a collection of 110 short stories written by past and present Olympians with a foreword by Wayne Gretzky. One of those stories is mine! So I have been published! All proceeds from the sale of the book go to FAST - the Foundation for Athletes and Sport Training to benefit junior athletes and sport education throughout Canada. A condensed version of ten stories was put together for the Bid Team 2008 to bring to Moscow and mine was one of those stories. I received a copy of the booklet and was incredibly motivated and inspired by reading those other stories. I guarantee that you will enjoy this book!
Enjoy the remainder of the summer, signing off…
Sharon Donnelly
http://www.SharonDonnelly.com
August 14 - Sharon Withdraws from Goodwill Games
Due to the lack of progress in recovering from a hamstring injury which has been hampering Sharon's ability to train and race for the past several months, Sharon today withdrew from the Goodwill Games, which will be held in Brisbane, Australia September 2nd.
Sharon will now be focussing on the last two World Cups of the year in Rio and Cancun.
August 9 - "Triathlete inspired by Donnelly"
Kids of Steel triathlon - Kingston, ON

After 11-year-old Spencer Watson crashed her bike midway through the cycling segment of the K-Town Kids of Steel Triathlon, she asked for Sharon Donnelly.
Olympian Donnelly, the guest of honour at yesterday's race, was there within moments.
"I went over and put a participant medal around her neck," recalled Donnelly.
Story taken off-line by the Kingston Whig-Standard.
July 30 - "Heroes in our Midst"
Heroes in Our Midst edited by Robin Mednick and Wendy Thomas
Foreword by Wayne Gretzky
Top Canadian Athletes Share Personal Stories from Their Lives in Sport

Heroes in Our Midst is a collection of 110 personal stories from top Canadian athletes. Every contribution is a story, with something inspiring, heartbreaking, funny, or fascinating to say.

Contributors range in age from 15 (diver Alexandre Despatie) to 90 (runner Ray Lewis). Sharing their personal stories are Gaetan Boucher, Charmaine Crooks, Sharon Donnelly, Sylvie Fréchette, Curtis Hibbert, Daniel Igali, Curtis Joseph, Silken Laumann, Marnie McBean, Elaine Tanner, Mark Tewksbury, and Debbi Wilkes. The variety of stories is truly amazing, and every one has the power to inspire or delight.

More...from Runner's Web
July 22 - World Champuionships - Edmonton, AB
Sharon placed 18th - 3rd Canadian - in this morning's ITU World Championships race in Edmonton in a time of 2:02:44. She was 11th after the swim and had the 8th fastest bike split.
Complete results are available from SportStats
July 17 - Goodwill Games Invitation!
Sharon has received an invitation to compete in the Goodwill Games triathlon on September 2nd in Brisbane, Australia and has accepted.
She has withdrawn from the ITU World Cup race in Corner Brook, Newfoundland to give herself a chance to recover after the Edmonton ITU World Championships this weekend.
July 10 - From the Edmonton 2001 Web Site
7/6/2001 15 Days to go... Meet Sharon Donnelly…"Army Trained, Army Tough"

Sharon Donnelly is not your average week-end tri-warrior, even if she does have credentials from Canada's Royal Military College. Capt Donnelly, graduate of RMC (B.Comm), has served as a logistics officer since 1990 in both the Regular Forces and as a Reservist. In 1997, with belief in her abilities, and no safety net, Donnelly made a major life decision and took a leave of absence to train full time as a triathlete. Raised as a swimmer, she was introduced to the sport of triathlon by a friend at RMC. For her first race she had a car, and her friend who needed a ride had a bicycle she could borrow. She was hooked. Her accomplishments in the sport include a gold medal in the 1999 Pan Am Games and two Canadian championships. Donnelly credits much of her confidence in herself, and her abilities as an athlete and a person, to the time she spent at RMC and in the forces. This experience drew her out of her shell, giving her self-confidence, time-management and communication skills as well as the discipline she requires for training, being a role model, dealing with press and people in general. At a recent RMC athletic awards ceremony she stated, "Never underestimate the power of teamwork. You can accomplish anything. Keep striving for your dreams, be patient and live with passion." When asked how she applies this philosophy to such an individual sport, she claimed to be only the 'front man' for an amazing group of people including her coaches, sponsors, family and husband. "Their support after good races and bad alike has been phenomenal". Triathlon appeals to Donnelly because of its continual challenging nature. It's an outdoors sport - a natural choice for a kid raised in an indoor pool. Donnelly feels that there is always something to improve and finds that very motivating. It is also an attractive sport because it is so equalizing. Men and women, elite and age group, all compete at the same distances. It is also one of the only sports that has an emphasis on the age group categories during races, letting everyone mingle together as equals. Canada produces some amazing triathletes in both the standard distance and the Ironman. Donnelly suggested that it was the successes of past athletes such as Joanne Richie that have inspired today's elites who now inspire tomorrow's elite athletes. Another major factor in Canada's success is the cyclical nature of the training and competitive seasons.
July 17 - Goodwill Games Invitation!
Sharon has received an invitation to compete in the Goodwill Games triathlon on September 2nd in Brisbane, Australia and has accepted.
She has withdrawn from the ITU World Cup race in Corner Brook, Newfoundland to give herself a chance to recover after the Edmonton World Championships this weekend.
July 7 - Toronto, ON
From the CBC web site:
Sharon Donnelly was slowed by a bike crash and injury in today's Toronto Triathlon.
Donnelly was among the leaders during the bike portion, but rainy conditions on the course led to a crash on the sixth lap. She continued to race, but later pulled out at beginning of the run portion.
The 33-year old, whose Olympic medal hopes last year also ended in a bike crash, later said she pulled out in order to conserve her energy for the world championship later this month.
"This is a training decision," said Donnelly, noting she also has a sore hamstring. "It's hard because this is the first race I've quit. This is not easy."

More from...
Complete CBC Report
Race Site
ITU Toronto Report
Triathlon Canada
Runner's Web
July 1 - Drummondville, PQ
Sharon was 3rd in the Canadian Championships in Drummondville, PQ in a time of 2:07:54.
Complete results are available at the Race Site
June 16, 2001 - Victoria, BC
Sharon placed 4th in today's JDS Uniphase Victoria International Triathlon in a time of 2:06:14.
Complete results are available at Results Canada
For more detailed race reports, visit the Runner's Web.
June 11, 2001 - Victoria, BC
Sharon is in Victoria preparing for this Saturday's JDS Uniphase Victoria International Triathlon.
Results will be available here after the race.
June 3, 2001 - Beat Beethoven 8K Run, Kingston, ON
Sharon was the first female and 16th overall in today's Beat Beethoven 8K in her hometown of Kingston, Ontario.
Sharon won the race last year as well.
For complete results visit the Kingston Road Runner's Association or SportStats sites.
May 28, 2001 - Sharon's Guest Book
Sharon's guest book has not been available for new postings for a period of time.
This was due to some code changes made by the Applications Service Provider (ASP) who host the guest book.
These problems have been fixed and Sharon's guest book is open for business.
Stop by and sign her Guest Book now.
May 20, 2001 - Caribbean Bronze - Ottawa Sun
Ottawa's Sharon Donnelly fought off painful back spasms during the bike portion of the event to place third in an International Triathlon Union points race in St. Kitts-Nevin.

More...from Triathlon.org.
May 18, 2001 - Sharon's Speech to RMC Varsity - 10 April 2001
RMC Varsity Speech - 10 April
Bonsoir et bienvenue au Contre-Amiral Morse, au Colonel Lacroix, aux Élèves-officiers et aux invités. Premièrement, j'aimerais vous remercier de m'avoir invitée à votre banquet des équipes sportives.
May 17, 2001 - Second 2001 Update as of 14 May
Time again for another update! So much has happened since my last update, that it will be difficult to keep this update to a reasonable length. I must do these updates more frequently. If you missed my last update, you can find it on my website http://www.sharondonnelly.com . Numerous significant events/activities have taken place since then, so read on for the recaps:

8 March - Lunch with IOC Inspection Team at CN Tower in Toronto This lunch was a surprise for the inspection team. They were not told that their "working lunch" would be a classy but relaxed meal with about 60 athletes representing the 2008 Bid. This team of athletes is made of past and present Olympians and Para-Olympians as well as other prominent Canadian athletes. There were about 8 athletes per table and one IOC inspection team member per table. All of the 2008 Bid Athletes Team were dressed in our Roots Bid wear and we certainly made a great impression. The officials were extremely impressed with the idea of having so many venues within a 6km radius. We'll all be crossing our fingers for the vote on July 13th!

10-17 March - Training Camp I attended the Canadian Forces Triathlon team training camp at Homestead Air Force Base (south of Miami). I trained with the group for every session and passed on my observations throughout. As well, I gave a number of training sessions, which included transitions, pre-race preparation, race strategies and specific training workout ideas. It was a lot of fun and I really enjoyed helping the team. It also gave me the opportunity to escape our brutal winter get some outdoor warm training!

24 March Brockville 5km road race: Great opportunity to get a race in to test my run fitness so close to home! 17:40 was a bit slower than I had wanted but it was not quite a Personal Best type of course! It was a lot of fun doing such a low-key, fun event.

6 April - Mamma Mia!! Dave and I went to see the Toronto production of Mamma Mia. It was incredible and got the adrenalin going! I would love to see it again. The next day, I went out and bought ABBA's greatest hits! It was also great to "dress-up" and leave our sports lives behind for a day.

8 April - Pan American Triathlon Championships: 11th place Clermont, Florida. The race started at 12:00 and the temperature was in the mid 90degrees! I led the swim, but couldn't put a gap on the field and a big pack of 9 women formed for the bike. It was extremely hot and I remember starting to get the chills near the end of the bike! The run was a survival shuffle as I had difficulty handling the heat. My run time was about 5 min slower than normal! Of course, the lack of Gatorade on the run course and at the finish line didn't help my case. I returned home knowing that I was capable of much more, but also aware that I must start my training in earnest. This would be difficult with the schedule I had planned for the remainder of April and old man winter still at our doorstep in Kingston!

10,11 April: Guest Speaker - Royal Military College Varsity & Intramural Athletic Banquets I put a lot of hours into the preparation of my two speeches because it meant so much to be able to go back to my university and tell them about how RMC had helped me. It was special that I was able to award the Kelly Gawne Memorial Trophy to the overall female athlete at the college because I had been the first ever recipient of the trophy in 1989. The trophy is in memory of an ex-roommate of mine who had been tragically killed in summer training after our second year of school. The talks went off extremely well and it was gratifying to have cadets come up to me and say how I moved them and how I truly affected them in such a positive way. Those two days were so busy and emotionally draining but I also enjoyed them immensely. (Go to my website to see my Varsity speech to the cadets)

28 April - ITU World Cup: 8th Place St Petersburg, Florida. Another hot day! And another 12:00noon start! It was about 7 degrees cooler than Clermont, but it was still almost unbearable. I stayed with a home stay, a wonderful woman Denise Wagner who competed in the age group race the day after mine. Dave joined me two days after I arrived and started off his stay with a round of golf with an Ottawa friend, Peter Sims who was down there on vacation. The swim was very wavy and I had to really adjust my stroke to account for the waves coming in. I exited the water with a small group of 5 and we quickly got organized on the bike. With 3 U-turns per lap, and it being an 8-lap course, it was not long before one girl got dropped from our pack. With one lap to go, I was removing my Ventolin from the bike and I dropped it. I of course could not stop to retrieve it - I could only hope that the air conditions would not affect me later on in the run. We came into the run transition with about 1:20 lead over the second chase pack. I felt pretty good for the first half of the run, but slowly my lungs started to rebel and they got tighter and tighter. As my oxygen supply got smaller and smaller - so did the speed of my run! The last half of the run was a struggle and frustrating when other athletes came from the second pack to pass me. There was not much I could do except concentrate on my breathing. I was so happy to see the finish line. I received 2 IV's in the tent and treatment for my asthma. But I was pleased that I swum and biked well with the other women. I do realize that I need to increase my fitness level - something that I already knew! The following day, I was up very early to watch the age group race, which included my home stay, many friends as well as all of my Canadian Forces Triathlon Team members. That race would determine which 6 men would be competing at the World Military Triathlon Championships in Slovenia in July. Later that day I did a swim workout with Dave Scott (he is a triathlon legend!) at the local pool. I was only going to do about 3000m but, I got talked into extending it by 2000m! Considering that my lungs had not yet recovered, it was a tough workout! In fact, my lungs took about 4 days to recover from the race.

30 April - 3 May: Empire Financial Group Convention I traveled from St Petersburg to Biloxi, Mississippi for my sponsor's yearly sales convention. I was slated to give a motivational talk on the Wed. I thoroughly enjoyed doing it and I ended my talk with a 4 min Sydney Olympic video. They all loved it and even the guest motivational speaker who had presented before me - asked me when I was going to enter the business of motivational speaking! The remainder of the time, I spent as much time as I could with as many of the members as I could and each morning I went out for a run with a few of them. I went around with a list of all of their names and making notes to remember their names and those of their spouses! When the Quebec region staff learned that I could speak French, I found myself mainly conversing in French for the remainder of the conference! I also saw Lords of the Dance, which was playing at the hotel. It was incredible! I went on a tour of New Orleans and attended a cooking class at the Louisiana School of Cooking (now that is my kind of tour - FOOD!) So overall, it was an exhausting 4 days, with little sleep, even less training, but very productive in being there for my sponsor's major event of the year. Their support, like that of all of my sponsors, is crucial to my continued involvement and success in my sport.

13 May: International Points Race - St Kitts, Caribbean Islands Courtesy of American Airlines the main sponsor of the event, I flew down to contest unarguably, the toughest Olympic Distance triathlon in the world! On the Friday evening, the organizers put on 2 catamaran boats for an evening cruise with drinks and food for all athletes! Then on Saturday, they had the kid's race where they gave out prizes, many of which were donated by the field of foreign athletes! Sunday, had the age group race at noon and thankfully our elite race started at 3pm. Because this meant that by the time the run came, half of the run course would be in the shade! It was a blessing! The swim was too loops and was extremely wavy. I was very happy, since I knew that I was strong in those conditions - of course I found out that I need to brush up on my surfing skills because when I was coming in to the finish, a wave took me and dumped me right onto the sand - I figure that I had done at least a 1&1/2 somersault and when I got up, I was looking out to sea! I figure I scored about a 9.2! My humour quickly disappeared when I had to start out onto the bike. I knew what I was getting into since I had previewed the course. But when I had trained on the course - I had only done one loop (20km). Any more and I would have been toasted for the race!! The 40km cycle was two loops with the steepest climbs I have ever done. The loop started with an immediate 800m climb of 18% (felt like a vertical wall), then a steep technical downhill, followed by a 1.5km climb with various steep pitches followed by another wicked descent. Then thankfully a 4km out and back flat stretch which was inhabited by stray cows, goats and wild monkeys! Then back up the hills that we had just come screaming down! By the start of the second loop, my one minute lead off the swim had all but disappeared as other girls had passed me on the course. My lower back had started to go into spasms and I was in extreme pain. There was one point during the bike that I looked around and seeing no one, I let out a big scream!! I tried to stretch out my back, but nothing seemed to help I began to think of all of the Computrainer bike workouts that I didn't do over winter, the lack of strength training in my program for the winter. Those thoughts certainly did not help! There was some comfort in seeing some other cyclists crawling up the hills as slow as I was! After 1hr35 on the bike for only 40km, I was so happy to start the run! The run that followed was varied terrain with some deep sand thrown in, short steep hills and a beautiful golf course section (my favorite). I got into a good rhythm, but had to adjust my running form to accommodate my back. I could not keep a proper form of hips forward since it would aggravate my back and cause my hamstrings to cramp. I made do and began to get a second wind. I had come off the bike in 8th position (way back!) and ran up to third spot with the fastest run. So I was happy with the run and that I kept pushing and didn't settle for less. But I also knew that I must spend some more time on the bike, realizing that this bike course was extreme and is not indicative of a World Cup. As I am writing this, my back is still recovering! My whole left side was swollen and I have not been able to bend over or do any lifting! I am confident that it will recover in a few more days.

I am really looking forward to a large block of training with no other commitments. The months of May and June will be dedicated to my training and getting prepared for the July series of races, with the focus being the World Championships. Thanks go out to all of those who have supported me and continue to support me. I wish you all the best for a safe and healthy summer.

Schedule reminder:

16 June International Triathlon -Victoria, BC
9-24 June Training in Victoria, B.C.
01 July Canadian Championships - Drummondville, QC
07 July World Cup - Toronto, ON
21 July World Championships - Edmonton, AB
29 July World Cup - Cornerbrook, NFLD (my birthday!)
05 Aug Kingston Triathlon - (fun training race)
26 Aug Mrs T's - Chicago, USA (only if not selected to GoodWill Games)
02 Sep GoodWill Games - Brisbane, Australia (if selected) or Boston Invitational Triathlon
15 Sep L.A. Triathlon - Los Angeles,USA
28 Oct World Cup - Rio de Janeiro, Brazil
04 Nov World Cup - Cancun, Mexico
May 13, 2001 - St. Kitts Triathlon - St.Kitts-Nevis, Caribbean
Sharon was third in this ITU World Cup race in a time of 2:38:42 behind Tereza Macel of Canada (2nd) and race winner Jessi Stensland in 2:35:42.
The ITU points race, held in humid 85 degree F tempererature in the West Indies, is lauded as having arguably the world's most difficult 40k bike course, featuring four climbs at grades up to 18 percent and technical, off camber descents.
Full results are avilable from the ITU web site.
Triathlete Magazine has a race report.
April 28, 2001 - ITU World Cup - St. Anthony's Triathlon, ST. Petersburg, FL
Sharon was 8th in St. Anthony's in a time of 2:04:37
Complete results are available from Triathlon.org
For links to race reports from Florida newspapers, visit the Runner's Web.
April 8, 2001 - Pan American Championships, Clermont, FL
Sharon placed 10th in today's Pan American Championships in Clermont Florida in a time of 2:07:18.
Read Triathlon Canada's race report here.
For a list of the top 10 and ITU race reports, visit Triathlon.org.
April 5, 2001:
Sharon was named triathlete of the Year at last night's Associated Canadian Travellers Amateur Awards held at the Ottawa Congress Center.
March 24, 2001 - Brockville Recorder 5K
Sharon won the women's division of the last of the Brockville RoadRunners series of three winter five kilometre runs in a time of 17:41.
Visit the Brockville Recorder for a race report.
March 16, 2001 - Banquet Awards Photos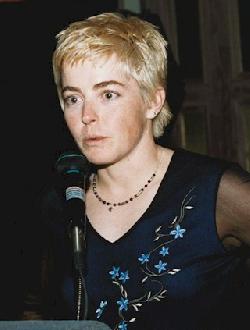 Sharon Donnelly accepts the Coach of the Year Award for Lance Watson, her coach at the recent Triathlon Canada Awards night in Toronto.
For more photos visit the Triathlon Canada web site.
February 28, 2001 - 1st Quarter Update - 2001
While the markets continue to fall in this first quarter, my training is continuing its gradual climb towards the race season.
It was an abnormally slow start to the year, but this was forecasted, as I was aware of the time required to recover from an Olympic year. January was marked by some unusual activity in the way of cross-country skiing, an activity that I have given up for the past three years in order to focus on my core product - Olympic triathlon! But with the 2000 Olympics just over, a back to basics approach and a recovery period meant the opportunity to participate in other favored ventures.
More...
February 9, 2001 - Texas Bound
After enjoying spending a good part of winter at home, Sharon headed off to Texas this week to resume her training in a climate more conducive for triathletes.
For the past several years Sharon has spent most of the winter in Australia as part of her Olympic preparation.
This winter Sharon did some cross training on cross country skis, including entering several races.
Stay tuned for updates from Sharon in Texas.
January 7, 2001 - Resolution Run
Sharon won the Kingston Resolution Run today in 31:34.
Full results are available from the KRRA page.
December 31, 2000 - Sharon's 2001 Schedule
Sharon's 2001 Schedule
Sharon's 2001 schedule has been updated and is available here.
December 21, 2000 - "Donnelly has eyes for Athens"
Ottawa Sun Story
By ROB BRODIE, Ottawa Sun
Once is not enough for Sharon Donnelly.
The 33-year-old from Ottawa has confirmed she intends to take a run at making Canada's triathlon team for the 2004 Olympics in Athens.
Donnelly, who had her first Olympics ruined by a crash early in the bike portion of the event in Sydney in September, had earlier talked of only competing through 2002. But she told the Sun this week the chance to relive the Olympic experience is too much of a lure to pass up.
Story taken off-line by the Ottawa Sun.
March 24, 2001 - Brockville Recorder 5K
Sharon won the women's division of the last of the Brockville RoadRunners series of three winter five kilometre runs in a time of 17:41.
Visit the Brockville Recorder for a race report.
March 16, 2001 - Banquet Awards Photos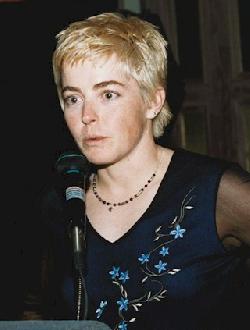 Sharon Donnelly accepts the Coach of the Year Award for Lance Watson, her coach at the recent Triathlon Canada Awards night in Toronto.
For more photos visit the Triathlon Canada web site.
February 28, 2001 - 1st Quarter Update - 2001
While the markets continue to fall in this first quarter, my training is continuing its gradual climb towards the race season.

It was an abnormally slow start to the year, but this was forecasted, as I was aware of the time required to recover from an Olympic year. January was marked by some unusual activity in the way of cross-country skiing, an activity that I have given up for the past three years in order to focus on my core product - Olympic triathlon! But with the 2000 Olympics just over, a back to basics approach and a recovery period meant the opportunity to participate in other favored ventures.

With only five skiing sessions under my belt - I participated in the 50km Lake Placid Loppet and finished in 3hr32min. It was incredible fun and I had a smile on my face during the whole race (except of course during the downhill sections where my eyes were as big as saucers and my skis acted as perfect snow plows - clearing the trails thoroughly of any leftover snow!!) That race satisfied my skiing love for at least another year and I headed back to the production of my main product - triathlon!

The kick-start to my base training would be a training camp in Austin, Texas organized by Paul Regensburg of the National Training Center, in Victoria BC. I have just arrived home from that camp and it was exactly what I needed at this time of the year. I am looking forward to a great season!

I spent 9-25 February in Austin with a group of about 20. A large number were younger developmental athletes from Victoria and a smaller number were from other areas, mostly Ontario and Quebec. My training schedule was closely mirrored to that of the Victoria training group with one main exception: intensity. Their program involved a large amount of intensity, but for myself, this time of year is about building a base. My goal of this training camp was to get my head back into the training mode, work on my aerobic base (hours on the bike saddle - which is hard to do back in Kingston on an indoor bike trainer!) and take advantage of their swim sessions under coach, Neil Harvey (he helped coach me when I was a youngster and he is a great coach!). I did not get in as much running as I had wanted, mainly because of the lack of running areas near where we were located.

On the subject of location, I was surprised at the quality of cycling in and about Austin. I have heard so many wonderful things about it and I was shocked to see so much of the riding being done on highways! Yes there are some beautiful routes, but there is a lot of traffic and highways to get there. One tourist brochure said, "A very scenic and favorite route of local cyclists is the Loop 360 with its wide shoulders and gradual hills." Well, that is a three-lane highway (in each direction) with speed limits of 65miles/hr! Yes there are very wide shoulders, but with loads of debris, grates and of course on and off ramps to contend with! It was not my idea of great riding! (It felt like I was riding on the shoulder of the 401)

But on the positive side, the drivers are quite courteous - probably because they are used to having cyclists on these routes. The running near our accommodation was less than ideal, but the running trails by the river in downtown Austin were superb, although running on a Sunday is more like a football practice in way of avoidance skills: walkers, strollers, dogs, bikers etc!

Then finally there is the open water swimming - AWESOME! We swam at the tourist spot - Barton Springs. A beautiful section of a small river, partly dammed off with flowing water through it - there is a cement deck around most of the perimeter with lifeguard chairs etc. It is over 300m long and about 50m wide. It is hard to imagine, but it was incredible. I have never enjoyed open water wetsuit swimming more than at that place.

The social side of the camp was great too and we visited many of the favorite local eateries such as: the Salt Lick, Chuys and a restaurant on 6th Ave on the first evening of Mardi Gras! Also, the local triathlon shop, Austin TriCyclists on Barton Springs Rd was extremely helpful and saved more than a few athletes!

Overall it was a very productive camp for me. I really enjoyed meeting the other triathletes and the two cyclists (one, Manon is a member of the new all-women's RONA team). In the 16-day period I trained approximately a total of 63 hr (34.5hr cycle, 19.5hr swim and 9 hr run). My focus was on bike training and my running took a little more of a hit than planned. But I was satisfied and I am now focusing on the run phase in the next few weeks as I am back in the clutches if old man winter here in Kingston.

Projected activities, training and racing plans follow. A Semi-Annual report will be forthcoming; however, there will continue to be regular updated reports on the activities that have been listed. After all, an informed audience is a profitable one!
February 9, 2001 - Texas Bound
After enjoying spending a good part of winter at home, Sharon headed off to Texas this week to resume her training in a climate more conducive for triathletes.
For the past several years Sharon has spent most of the winter in Australia as part of her Olympic preparation.
This winter Sharon did some cross training on cross country skis, including entering several races.
Stay tuned for updates from Sharon in Texas.
January 7, 2001 - Resolution Run
Sharon won the Kingston Resolution Run today in 31:34.
Full results are available from the KRRA page.
December 31, 2000 - Sharon's 2001 Schedule
Sharon's 2001 Schedule

Sharon's 2001 schedule has been updated and is available here.
December 21, 2000 - "Donnelly has eyes for Athens"
Ottawa Sun Story
By ROB BRODIE, Ottawa Sun
Once is not enough for Sharon Donnelly.

The 33-year-old from Ottawa has confirmed she intends to take a run at making Canada's triathlon team for the 2004 Olympics in Athens.

Donnelly, who had her first Olympics ruined by a crash early in the bike portion of the event in Sydney in September, had earlier talked of only competing through 2002. But she told the Sun this week the chance to relive the Olympic experience is too much of a lure to pass up.
Top of Sharon's Frontpage Archive 2001
Sharon's Frontpage